Reserves jump-start UCLA to victory over Denver on emotional afternoon
The emotions lingered long after the pregame ceremony ended.
Wiping his eyes with his shirttail, UCLA's Tyger Campbell walked over to the family of late former teammate Jalen Hill near midcourt inside Pauley Pavilion. The point guard draped his arms over shoulders as part of a group hug that grew as more teammates joined in remembrance of the power forward who died earlier this year in Costa Rica.
The last Bruin out of the locker room before tipoff, Campbell struggled mightily in the first half against Denver on Saturday afternoon. Reminders of Hill were everywhere, the Bruins running the "24 out" play that involved the shooting guard back screening for Jaime Jaquez Jr., who wears the same No. 24 that Hill once did.
UCLA pays tribute to the life of Jalen Hill during a pregame ceremony Saturday at Pauley Pavilion.
Campbell didn't play up to his usual standard, but he wasn't the only Bruin a bit off his game. Campbell and fellow guard Amari Bailey combined to miss all six of their three-pointers while also failing to show the fight their coach wanted.
At halftime, Mick Cronin sent a dual message. The coach ditched his tie and juggled his lineup, inserting Dylan Andrews and David Singleton in place of Campbell and Bailey to start the second half.
"Our guards, you can't look like they lost their dog when their shot don't go in," Cronin said afterward. "You've got to go play harder, which is what Dylan and Dave do, so before you ask that's why they started the second half and you saw what happened."
What happened was the reserves sparked a 17-0 surge to open the second half, their energy and activity powering the No. 19 Bruins to an 87-64 victory over the suddenly rattled Pioneers. Singleton finished with two three-pointers and Andrews provided 11 points and six assists in addition to hounding defense on point guard Tommy Bruner.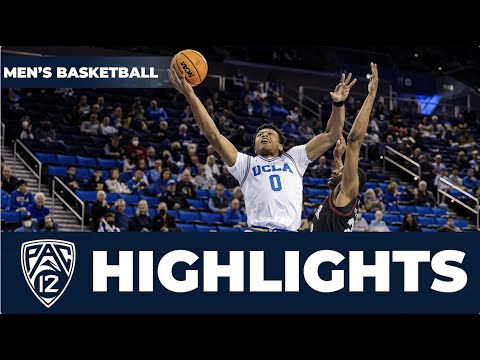 "One thing about me is I'll try to come when my name is called and just bring high energy off the bench," Andrews said. "One thousand percent effort."
UCLA's fifth consecutive win before its schedule takes a more demanding turn also came largely courtesy of Jaquez and Jaylen Clark. Clark scored a season-high 24 points on 10-for-13 shooting to go with four steals and Jaquez added 18 points while making nine of 11 shots.
The Bruins (8-2) were active defensively, forcing 24 turnovers and winning with ease despite being outshot, 50% to 48.1%. Cronin was most pleased with his team's increased rebounding activity, grabbing nine offensive rebounds on its 21 misses in the second half.
Even with their team well on the way to a blowout, Clark and Singleton kept up the intensity, bowling over a photographer in the final minutes while chasing a loose ball.
Afterward, Cronin refused to pin his team's early issues on the ceremony for Hill, who retired from basketball in April 2021 because of anxiety and depression.
Hill traveled to Costa Rica earlier this year to spend time with his sister, Tatianna, the siblings exploring jungles and eating seafood together, according to one of Tatianna's Instagram posts. Jalen's body was positively identified in September after his skeletal remains were discovered the previous month in a mountainous coffee-growing area roughly 40 miles from San Jose, the capital of the Central American country. The cause of death was undetermined.
"I think the pregame ceremony was awesome; I don't believe in any excuses for performance," said Cronin, adding that his team would attend a celebration of life for Hill on Sunday. "Probably will be the first time that it will be more tangible and real just because of the way everything's happened."
Clark, who also briefly attended the same high school as Hill, acknowledged being in a fog of emotions throughout the game.
Law enforcement officials in Costa Rica have identified the remains of former UCLA basketball player Jalen Hill through forensic analysis.
"I was just like, 'Damn' the whole time," Clark said. "Like, if you look at me, I'm looking around, I ain't seen his mom and dad since, what, the last game he played? It's just really, really sad to see someone I knew … to just be gone like that."
Having worn No. 24 in high school before switching to No. 4 in his first two seasons as a Bruin, Jaquez said he called Hill upon his retirement to ask if he was OK with Jaquez taking his jersey number. Hill was all for it.
After joining the group hug before the game, Jaquez said he told George Hill, Jalen's father, that the Bruins would always be there for the Hill family.
"We hold them dearly in our hearts throughout this season and the rest to come," Jaquez said. "And let them know that we're there if they need anything and we love their son like a brother, and just letting them know our appreciation for him."
Get the latest on L.A.'s teams in the daily Sports Report newsletter.
You may occasionally receive promotional content from the Los Angeles Times.