UCLA's freshmen living up to the hype, carry Bruins into Pac-12 title game
LAS VEGAS —
This is why they came.
The top-ranked freshman class in the country, less than a year after arriving on campus, will play for UCLA's first conference title since 2006 on Sunday as No. 5 seed UCLA faces No. 7 seed Washington State (23-10) in the Pac-12 tournament final at 2 p.m. at Michelob Ultra Arena.
Led by top-ranked point guard Kiki Rice, who scored a career-high 22 points and made 12 of 13 free throws in the semifinals, the Bruins (25-8) slayed top-seeded Stanford during UCLA's first tournament victory over the Cardinal in 17 years. Players celebrated by dumping water on coach Cori Close's head in the locker room after the game.
But Close allowed them just 90 minutes to celebrate Friday night. By Saturday morning, they were already reviewing scouting reports for Washington State, which is making the program's first appearance in the conference title game.
No. 5 seed UCLA rallied from a 16-point deficit and upset No. 1 seed Stanford Friday night during the Pac-12 women's basketball tournament semifinals.
"We didn't come here just to beat Stanford," Rice said after UCLA's walkthrough Saturday. "We came here to win a championship. So we have one more game that we have to take care of."
The freshman from Bethesda, Md., has starred in UCLA's postseason run, averaging 15 points with 18 total assists to only two turnovers.
These big stages feel like her playground, because, she says, they're an opportunity to show the work she has put in.
All the freshmen share the big-game mentality.
"That's why they're the No. 1 class in the country," Close said.
Embodying the team's mantra of "sometimes you, sometimes me, always us," each freshman had their breakout moment this year. Londynn Jones was named to the Pac-12 All-Freshman team and scored a career-high 22 points against USC on Jan. 8. Gabriela Jaquez flashed her potential immediately with double-figure scoring during three of her first four games.
"Every opportunity, they're ready," grad transfer guard Gina Conti said. "They stay ready for their moment and that speaks volumes, especially being freshmen."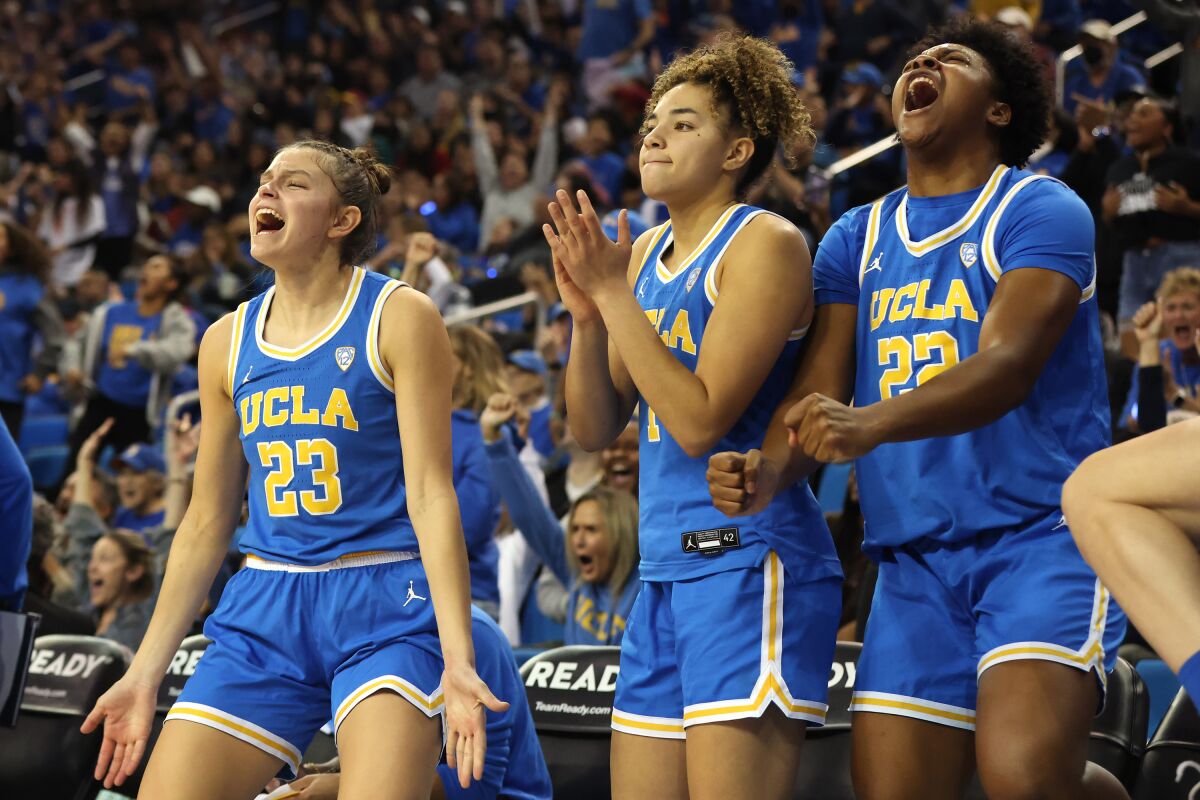 Freshman forwards Christeen Iwuala and Lina Sontag came off the bench against Stanford to lift the Bruins in a physical battle against Cardinal star Cameron Brink. Sontag had four points, four rebounds and three steals, and Iwuala had four rebounds and two assists in less than seven minutes.
"It would be very easy for them to sort of pack it in, go, 'Well, I'm not going to get all the rewards this year. I'll wait my turn until next year,' " Close said of the freshman post players after the semifinal win. "But the strength of mind to be able to say, 'No, I'm going to find a way to get better today, I'm going to work through it today, and I'm going to be available for my team whether it's one minute, whether it's 20 minutes and it doesn't matter.' That's really been, I think, one of the keys to our growth."
The Bruins stormed through the Pac-12 tournament powered by the lessons from losing three consecutive games by 10 combined points to Colorado, Utah and Arizona.
Although the results were painful, the Bruins found solace in their performances that showed their progress. They were meeting goals in passion plays and paint touches, and identified two key areas of improvement: defensive rebounding, especially from guards, and live-ball turnovers.
Then, when the Bruins executed the plan in a home sweep of Oregon State and Oregon during the second week of February, Close could see her team finally finding its identity.
While putting USC in position for its first NCAA tournament appearance since 2014, coach Lindsay Gottlieb is also adjusting to life as a mother of two.
But a loss to Washington State on Feb. 23 at Pauley Pavilion was the one major late-season hiccup, Close noted. Progress isn't always linear, Rice admitted.
"We know that we're young and that there's gonna be a lot of pieces that had to get put together in order to get to this spot," Rice said. "I think we've done a really good job just riding the highs, riding the lows, and then putting it together at the right time."
Slogging through the difficult Pac-12 that could send as many as eight teams to the NCAA tournament, Rice went through a period of overanalyzing her game, Close said, as teams forced her to adjust once they started scouting her aggressive drives into the lane.
"That's just part of the learning curve," Close said.
Rice's answer was to maintain her aggressiveness and earn free throws. She's 24 for 27 from the line during the Pac-12 tournament. Knowing teams would go under screens against her, Rice has been working on her jump shot, which is especially dangerous in the midrange.
After Saturday's practice, Rice was among a group of players who stayed on the court for extra shots. It was UCLA's first off day after playing three games in as many days. Close, sitting under the baseline, motioned to Rice to end her workout, but with a slight smile, Rice requested to shoot a little more.
"Two threes?" Rice asked filled with hope.
Close allowed it.
Get the latest on L.A.'s teams in the daily Sports Report newsletter.
You may occasionally receive promotional content from the Los Angeles Times.