The best places to celebrate Dia de los Muertos in Los Angeles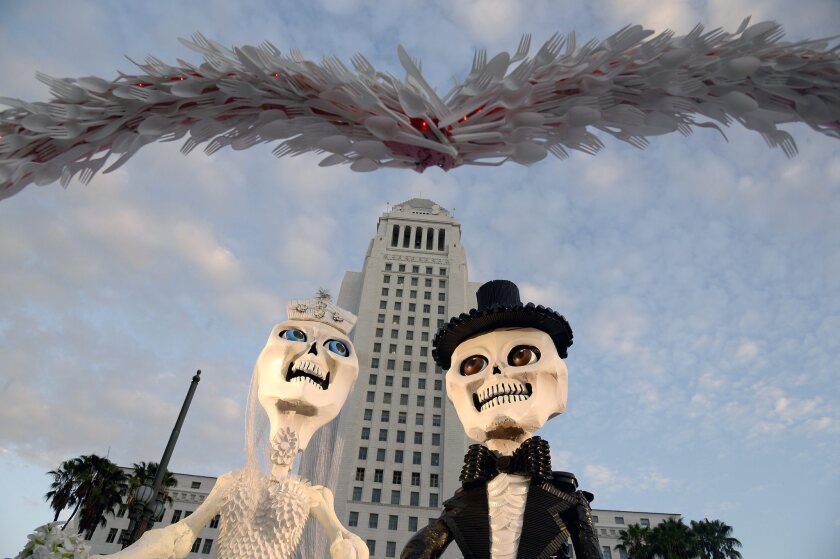 There's no shortage of places to celebrate Dia de los Muertos in Los Angeles. It's a time to celebrate life and death and to remember our loved ones in altars with pan de muerto in one hand and champurrado in the other.
Here are five places in L.A. to go on Sunday.
Sunday, Nov. 1, 4 p.m.
Self Help Graphics
1200 Plaza del Sol St., Los Angeles (at Mendez High School)
Self Help Graphics and Art has been one of the firsts to observe the holiday in the U.S. For its 42nd anniversary, the community arts center is looking to the past for inspiration. With classic cars and well-dressed zoot-suiters, the scene will be less T-shirts and jeans and more fedoras and suspenders. Setting the mood is R&B and soul singer Brenton Wood, who takes the stage at 8 p.m.
Come early for the procession, which starts at Mariachi Plaza, and stay for the exhibition "Alas de los Muertos: The Return of the Souls," curated by Sonia Romero.
Sunday, Nov. 1, 11 a.m. to 9 p.m.
Olvera Street
845 N. Alameda St., Los Angeles
The festivities, organized by the Olvera Street Merchants Assn., have been going on since Sunday, but they'll culminate in all-day entertainment Saturday and Sunday. Folklorico groups, Aztec dancers and various theater groups are slated to perform. The highlight is the community altars set up around the plaza.
If that's not enough, organizers promise free champurrado and pan dulce for all who attend.
Sunday, Nov. 1, noon
Plaza de Cultura y Artes
501 N. Main St., Los Angeles
With plenty of hands-on workshops, you'll be able to make your own calavera masks and decorate your own pan de muerto. The museum and cultural center will have music, dance and art performances.
Come Thursday night to see an altar for Antonio Rudolfo Oaxaca Quinn, or as he was more widely known, Anthony Quinn. The Hollywood actor's legacy has found new admirers in many Eastside Latinos. Alexander Quinn, Anthony's son, will be on hand for this tribute.
Sunday, Nov. 1, 4 p.m.
Plaza de la Raza
3540 N. Mission Road, Los Angeles
The cultural center will open up with a traditional ceremonial blessing with Maestro Lazaro Arvizu. Guests are encouraged to bring a photo of a loved one for the community altar. Make papel picado, sugar skulls and masks while Aztec dancers perform.
Don't miss the special Day of the Dead exhibition at the Boathouse Gallery.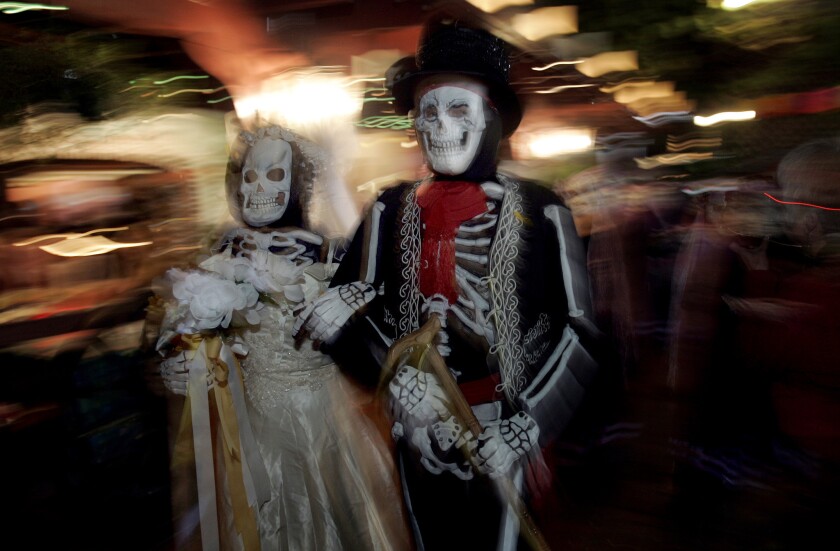 Sunday, Nov. 1, 3-9 p.m.
San Pedro Dia de los Muertos Festival
6th Street (between Mesa and Centre streets), San Pedro
Part of 6th street in downtown San Pedro is closed down, and two stages on both ends are set up with music for adults on one end and children's entertainment on the other. The event will include a variety of mariachi groups providing the soundtrack for the afternoon and evening, including Mariachi Divas. The festival will hold an altar competition and exhibition that has grown more competitive throughout its short history.
Follow @stevesaldivar on Twitter.
ALSO:
Celebrating Dia de los Muertos with candied pumpkin tamales
Halloween and Día de los Muertos food and drink specials around town
---
The essential weekly guide to enjoying the outdoors in Southern California. Insider tips on the best of our beaches, trails, parks, deserts, forests and mountains.
You may occasionally receive promotional content from the Los Angeles Times.