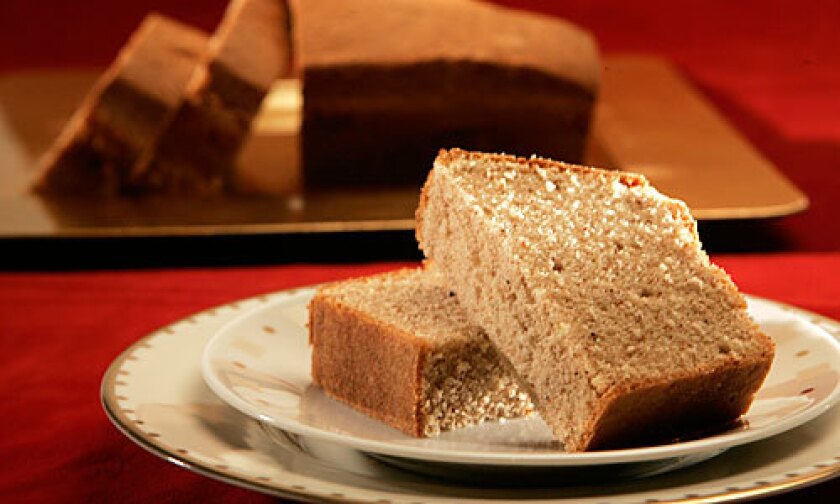 Total time: 1 1/2 hours
Servings: 8
Note: This recipe, inspired by the original 1841 recipe, was reconfigured by test kitchen manager Noelle Carter to follow a more reliable modern method for making poundcake while still honoring the flavors of the original, in which generous amounts of cinnamon, mace, nutmeg, wine, brandy and rose water were added to the batter before baking.
1/2 cup plus 2 tablespoons (1 1/4 sticks) butter, at room temperature
3/4 cup sugar
3 large eggs, at room temperature
1 1/2 cups cake flour
1 teaspoon cinnamon
1/4 teaspoon powdered mace
1 tablespoon grated nutmeg
1/2 teaspoon baking powder
2 tablespoons white wine
2 tablespoons brandy
2 tablespoons rose water
3 drops lemon oil
1. Heat the oven to 350 degrees.
2. In the bowl of a stand mixer, or in a large bowl with a hand mixer, beat the butter until it is light in texture.
3. With the mixer running, slowly add the sugar and continue to beat until the mixture is light and fluffy and almost white in color, several minutes.
4. Beat in the eggs, one at a time, until each is fully incorporated.
5. In a large bowl, sift together the flour, cinnamon, mace, nutmeg and baking powder.
6. In a measuring cup, combine the wine, brandy, rose water and oil.
7. Slowly incorporate the dry ingredients and liquids into the batter: With the mixer running, add one-third each of the dry and liquid ingredients, alternating between the two. As each is incorporated, continue to add a third each until the batter is well-mixed, scraping the sides as you go.
8. Place the batter in a greased and floured 8-by-4-inch loaf pan.
9. Bake the cake until a toothpick inserted in the center comes out clean, about 1 hour, rotating the pan halfway through baking for even coloring. If the cake begins to color too much before it is done, cover it loosely with greased foil.
10. Cool the cake in the loaf pan on a rack for several minutes. Remove the cake from the pan directly to the rack to cool completely.
Each serving: 332 calories; 5 grams protein; 39 grams carbohydrates; 1 gram fiber; 16 grams fat; 10 grams saturated fat; 117 mg. cholesterol; 60 mg. sodium.
---