What are new potatoes? How to choose, store and prepare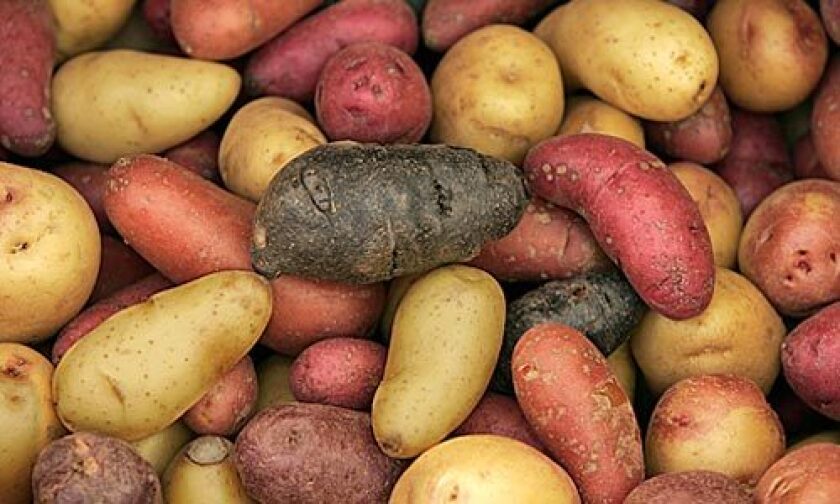 Many people generically refer to any small potato as "new," but there's a lot more to it than that. New potatoes are those that have been freshly dug and brought to market without curing.
After harvest, most potatoes are stored for up to a couple of weeks to set the peel and heal any nicks or cuts, allowing them to last longer. Without this step, new potatoes are moister and seem sweeter, though with a slight, appealingly minerally bitterness in the finish.
How to choose: The best way to tell truly new potatoes is to rub the skin with your thumb -- it should be delicate enough to scrape clean.
How to store: New potatoes can be stored at room temperature, but because they have not been cured, they won't last as long as regular potatoes -- several days instead of several weeks. When refrigerated, the starch will begin to convert to sugar, so if they're chilled for very long they'll taste sweet.
How to prepare: Steam new potatoes in a tightly closed pot until they are tender enough to be pierced with a knife, about 12 minutes. While the potatoes are cooking, beat together 2 tablespoons softened (not melted) butter and some chopped shallots and herbs (parsley and tarragon are particularly good). When the potatoes are cooked but before they cool, toss them in the herb butter and stir to coat well. Serve hot.
---
The essential weekly guide to enjoying the outdoors in Southern California. Insider tips on the best of our beaches, trails, parks, deserts, forests and mountains.
You may occasionally receive promotional content from the Los Angeles Times.