Hold the starch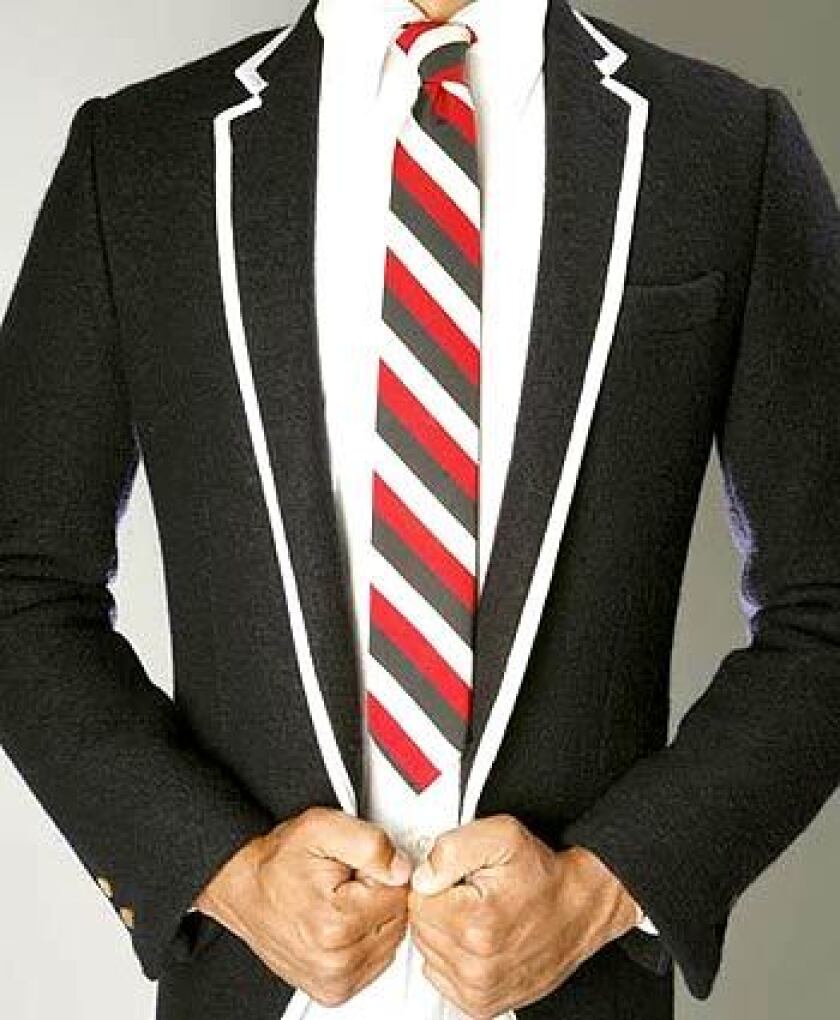 THE shrunken suit, with its ankle-baring trousers and fitted jackets, looked like just another wacky runway fantasy -- something that would disappear long before it ever hit the racks.
But three seasons later, it's not only still with us, it's about to land in the venerable halls of Brooks Brothers, the haberdasher that has dressed presidents and given us the button-down collar. The announcement last year that the avant-garde designer Thom Browne would be Brooks' first guest designer in its 189-year history had men on both sides of the aisle questioning the logic -- a mash-up of such opposites seemed destined to be a disaster.
But the collection, named Black Fleece in a nod to the company's sheep-and-ribbon logo, has turned out to be a breath of fresh air for the staid clothier -- and proof that Browne has more up his little sleeve than Christopher Robin jackets.
The collection offers up 25 men's looks with a slimmer silhouette than the average Brooks man is accustomed to, but they would still pass muster on the trading floor. (Although the cape will always be a dicey proposition for any man who doesn't answer the Batphone for a living.)
Fabrics include old-school boiled wool, cashmere, tweed and herringbone twills, and the color palette mixes Browne's favorite shades of gray with Brooks' reliable navy blues and blacks and just enough pops of red, khaki and cream to keep things fresh. In L.A., it's the sort of fourth-generation power suit you'd expect to see on bench-pressing baby moguls, CAA up-and-comers and first-year entertainment law associates trying to stand out at Craft on a weekday afternoon.
Browne has the most fun playing with traditional patterns -- such as a blue-and-red tattersall check he uses in a natty head-to-toe ensemble (wool jacket $2,100, trousers $800, reversible topcoat $2,500) and an on-trend, sharp-looking navy wool morning coat with white grosgrain contrast lapel taping ($2,900). He also riffs on the label's preppy pedigree by putting an allover embroidery of the Golden Fleece emblem on nubbly, charcoal trousers and white dinner jackets; a $2,700 suit isn't a bargain, but the price is almost a third less than Browne's namesake line. And $150 Oxford cloth shirts with this much design are nothing to sneeze at either.
The Black Fleece line is also Browne's first foray into women's wear, and it's the perfect showcase for his tailoring skills. Traditional, heavy-looking fabrics become dramatic, cinched-in gowns, dresses and skirts embellished with pleats and buttons. A navy, red and white plaid cashmere sheath ($1,900) has a hip Seven Sisters feel, and so does a pleated cashmere and cotton voile skirt ($1,800) paired with a gray wool coat with contrast-tipped lapels ($2,900).
Black Fleece is scheduled to debut at Brooks Brothers (including the Rodeo Drive and South Coast Plaza stores) in the second week of September.
And it just may be the kick in the trousers the old geezer needs.
adam.tschorn@latimes.com
---
The essential weekly guide to enjoying the outdoors in Southern California. Insider tips on the best of our beaches, trails, parks, deserts, forests and mountains.
You may occasionally receive promotional content from the Los Angeles Times.