LAX Theme Building will house USO center starting in spring 2018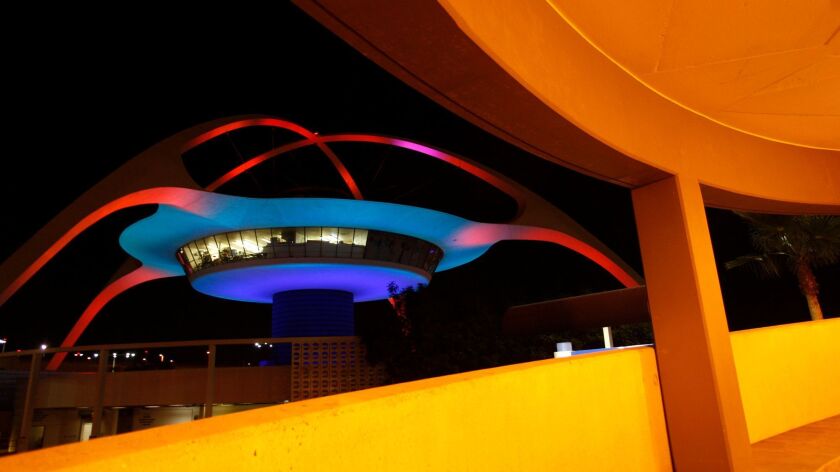 Los Angeles International Airport's iconic Theme Building will house a Bob Hope USO center for military members that's scheduled to open in spring 2018.
The move into the building's ground level will almost double the size of the current USO center at the airport, according to a December news release.
The free-standing Theme Building in 2014 shuttered its Encounter restaurant on an upper level. (You cna visit the upper observation deck for free the second Saturday and Sunday of the month.)
Bob Hope USO, a nonprofit that operates in Southern and Central California, serves about 8,500 military members each month at LAX.
The organization, which has a 20-year lease on the space, will move into part of the building's circular base in a space that resembles a wedge of pie. It is raising funds at this web page to pay for the needed renovations.
Groundbreaking on the 7,100-square-foot center took place Dec. 6. It will feature a snack bar and a dining room, a nap room, a family and play area, private family rooms, a movie-screening room and big-screen TVs as well as space to store luggage and charge electronics. (USO provides these services to the military for free.)
The USO's current building is located between Terminals 1 and 2. It will be demolished to make room for an automated people mover, part of the airport's $14-billion improvement project.
The Theme Building was completed in 1961 and cost $2.2 million. The L.A. Conservancy calls the building a "Modern icon" that became a Space Age landmark for the city. It was designed by Pereira & Luckman.
ALSO
Twist named Las Vegas' best restaurant of 2017. And Eatt takes the cake for best dessert
Tour China's biggest cities for $1,399, including airfare and hotels
9 ways to make your cruise ship's cabin seem more spacious
---