Honolulu's best cocktail bars are disguised as furniture stores and hidden in office buildings
Honolulu, Waikiki hotels at dusk.
(Robert Sablan / Getty Images/Perspectives)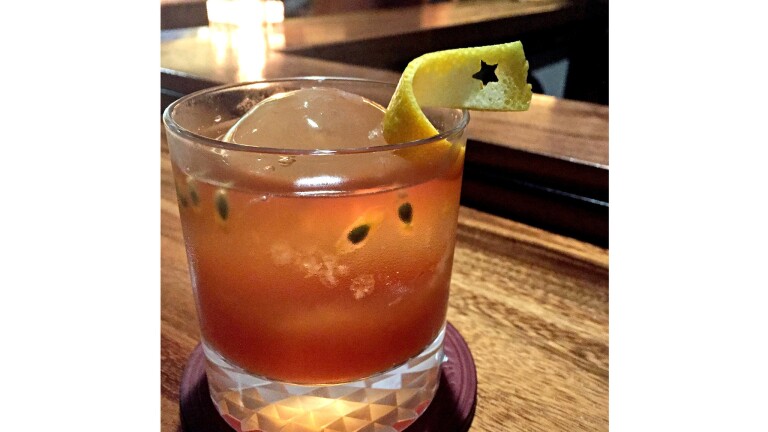 A cocktail with passion fruit at Bar Leather Apron in downtown Honolulu.
(Jenn Harris / Los Angeles Times)
The Laotian fried chicken from Pig and the Lady restaurant in Chinatown, Honolulu.
(Jenn Harris / Los Angeles Times)
Bartender Justin Park pours one of his cocktails at Bar Leather Apron in downtown Honolulu.
(Jenn Harris / Los Angeles Times )
A plate of pork chops from Side Street Inn in Honolulu.
(Jenn Harris / Los Angeles Times)
A cocktail from Bar Leather Apron in downtown Honolulu.
(Jenn Harris / Los Angeles Times)
The bed at the Surfjack Hotel and Swim Club.
(Jenn Harris / Los Angeles Times)
By the 29th hour of my weekend visit to Honolulu, I had developed a craving for a proper cocktail. The Post-it note-yellow concoctions my friend and I had sampled at Duke's Waikiki were right for a couple of just-off-the-plane visitors, but now it was time to get serious about sipping. We found an outstanding cocktail bar hidden in a downtown office building and an excellent wine bar in a furniture store. That's Honolulu — just when you think you know it, you don't.
The tab: Our weekend away came to $674.75 for three nights in two hotels, $227 for meals and $193 for cocktails.
From LAX, American, United, Delta, Hawaiian and Virgin America offer nonstop service to Honolulu, and Hawaii, United and Alaska offer connecting service (change of planes). Restricted round-trip airfares begin at $590, includes fees and taxes.
Five ideas for the perfect Hawaiian getaway »
The bed
We stayed at the Surfjack Hotel & Swim Club (412 Lewers St.; [855] 945-4082, from $177), a recently renovated boutique hotel about a half mile from the beach. The must-Instagram pool (the words "Wish You Were Here" are written in tile along the bottom) and the sleek Midcentury decor made us feel like cool kids. We paid $315.75 for one night, including taxed and a $25 hospitality fee, which made it pricier than some of the other hotels in the area, but the free snacks and nightly movie screenings at the pool were worth the higher price tag. We also spent $359 for two nights at the Aqua Palms Waikiki, a comfortable, budget-friendly hotel about one block from the beach (1850 Ala Moana Blvd.; [866] 970-4165).
The meals
We had dinner at Side Street Inn (1225 Hopaka St., Honolulu; [808] 591-0253), a dive bar and restaurant and a much-needed antidote to Waikiki's glossy chain restaurants. We ordered pan-fried, crispy island pork chops ($21.50); fried rice with barbecued pork ($13); and tuna poke ($15). The next day we headed to Chinatown to the Pig and the Lady (83 N. King St., Honolulu; [808] 585-8255), a Vietnamese restaurant on flavor steroids. We ordered the pho French dip sandwich ($15), and we couldn't resist licking our fingers after the Laotian fried chicken ($12). We were pleasantly surprised to find craft cocktails infused with lemongrass and ginger ($10-$11).
The find
I had looked up Bar Leather Apron (745 Fort St., No. 127A, Honolulu; [808] 524-0808) online, double-checked the address and made a reservation. But when we entered the Topa Financial Center, we thought we were in the wrong place. After a walk down a long hallway and up a short flight of stairs we found a dimly lighted room with a small lounge, a six-seat bar with an impressive selection of liquor and just two employees. Bartender Justin Park made two excellent off-menu cocktails ($12 to $18) after inquiring about our spirits of choice and whether we liked our drinks shaken or stirred. He used passion fruit picked earlier that day in his grandmother's backyard to make the drinks. We could have spent all weekend on those bar stools.
Lesson learned
For a great glass of wine, you'll have to visit a furniture store. An Uber driver had recommended the Amuse Wine Bar in the Honolulu Design Center (1250 Kapiolani Blvd., Honolulu; [808] 237-5428) where, surrounded by designer furniture, you can help yourself to a couple of fingers of Pinot Noir from self-serve dispensers. There's also a small bar where the bartender can pour your Pinot or fix you a cocktail.
---
Get inspired to get away.
Explore California, the West and beyond with the weekly Escapes newsletter.
You may occasionally receive promotional content from the Los Angeles Times.