The 6 best places to go for spring break for California wildflowers, beaches and baseball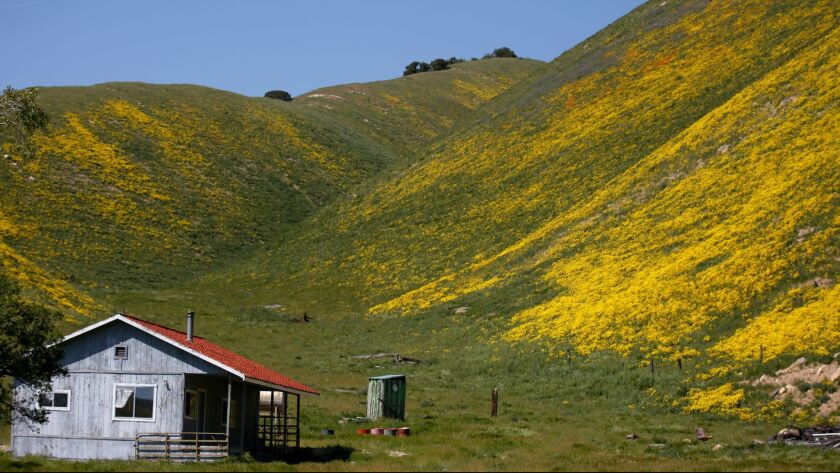 You have this block of free time, thanks to spring break. The weather is great. The road beckons. Where should you go?
Here are six suggestions culled from various excursions: a trip on Monday to see the bloom in Carrizo Plains to see whether the hype met expectations (it did); our California Bucket List (which publishes daily so you have 98 other choices in a compendium that grows each day); and our idea of what constitutes the perfect spring break day, a day that combines baseball and history.
1. Carrizo Plain National Monument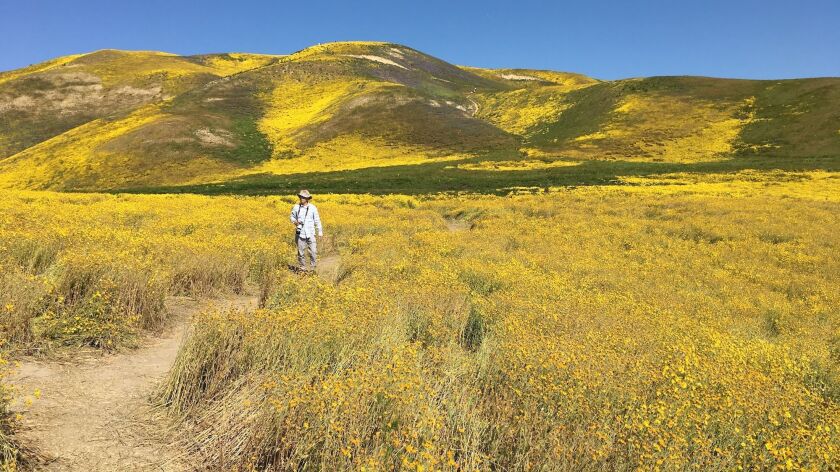 This way-out-of-the-way national monument in Central California is a flower lover's dream. You can explore the plain ringed by mountains on a network of unmarked dirt roads (making it a four-wheelers dream too) that lead to canyons and flatlands filled with wildflowers right now.
This year's epic bloom is predicted to stick around until the end of April, but go soon if you don't want to miss the best of the show.
Your chance to see Southern California's epic wildflower bloom is running out. Here's where to go »
Start by driving the 40 or so miles along Soda Lake Road, which bisects the park lengthwise. Half the road is paved, some is packed dirt, some is washer-board rough — and all of it is pure fun.
You can drive up to vast fields of yellow (goldfields and tidy tips) and purple (phacelia), and hike in on little footpaths to take a closer look. Four-wheelers can turn off on dirt roads that wind up hillsides to amazing scenic spots overlooking the gold-tinted plain.
Even cars without high clearance can navigate Soda Lake Road; stick to the northern part if you want to stay on pavement.
Visitors who want a bird's-eye view of the plain should stop at Overlook Hill in the north and climb the short but steep path to the top.
You'll see wildflowers along the way and be rewarded with expansive views of Soda Lake and the surrounding foothills.
You can also take an easy stroll on the boardwalk along Soda Lake, usually a dry lake bed. This year it sparkles with water, albeit briny, and has a bright white ring from salt residue.
One thing the Carrizo Plain doesn't have: gas, food, water. Fill your tank, pack lunch and snacks, and bring a gallon or so of water.
If you forget, the nearest towns (such as Taft or Maricopa on the east side) are about 50 miles away.
Info: Carrizo Plain National Monument
2. Channel Islands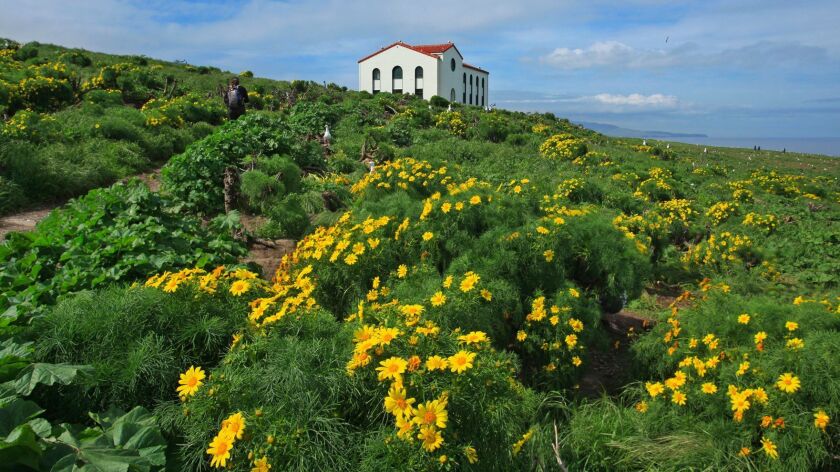 For $15 a night, you can get a killer ocean view from your accommodations. That's the price of a campground at Channel Islands National Park. It's an ideal last-minute getaway for those who like roughing it.
The islands aren't far from the mainland but they're miles from civilization. Giant coreopsis and mustard are blooming now too, which makes this a pretty time of year to go.
And you may see dolphins along the way, or sea lions and seals playing in the coves.
The California Bucket List: Your daily guide to the best adventures and experiences in the Golden State »
Anacapa is the closest island, about an hour's boat ride from Ventura Harbor. Start by making camping reservations at Recreation.gov.
Campsites are primitive, so take all the gear (tent, sleeping bag, etc.), food and water (at least a gallon a day) you'll need for your stay.
Then book your boat ride through Island Packers. Round-trip tickets cost $79 for adults 13 to 54 years old and $57 for children 3 to 12 years old.
You can also reserve campsites/boat rides for Santa Cruz and Santa Rosa islands.
Info: Channel Islands National Park, (805) 658-5730; for camping reservations, Recreation.gov; Island Packers, (805) 642-1393 for boat reservations.
3. Carpinteria State Beach
You may get a little tar between your toes, but otherwise, everything about Carpinteria State Beach is geared toward sheer enjoyment, especially if you're with kids.
No giant crashing breakers here — your wee ones can play without fear (although if you want the big waves, Rincon Beach Park is three miles southeast of town).
The town is chill, and Linden Avenue has a cool little collection of shops just about 85 miles from downtown L.A.
Info: Carpinteria Chamber of Commerce
4. Balboa Fun Zone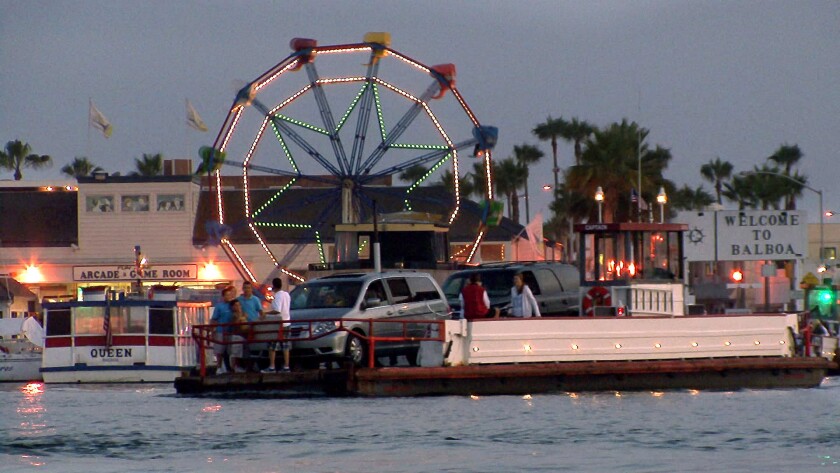 Before the Mouse roared, there was the Balboa Fun Zone, a staple for three-quarters of a century in Newport Beach.
Forget dark rides; here there's a vintage Ferris wheel that's part ride, part lookout point for great vistas of the island and the peninsula.
You can grab a slice at New York Style Pizza and pretend you're in the Big Apple, but with the vintage vibe and the chance to take a sunset ferry ride across the harbor, a fixture since 1919, why would you want to be anywhere else?
Info: Balboa Fun Zone
5. See the waterfalls while they last
The heavy winter rains have plumped up area waterfalls, but they probably won't continue pouring their hearts out forever. After all, summer will come. It will get hot. And the rains will stop.
But for now, you can see and enjoy some of the rushing water in and around L.A.
San Antonio Falls at Mt. Baldy is a 75-footer reached on a hike that's less than 1 1/2 miles out and back. The elevation gain is about 300 feet.
You'll need to buy an Adventure Pass for $5 to park. You can get the pass at the Visitor Information Center in Mt. Baldy Village, Snow Crest Lodge or Mt. Baldy Lodge.
Info: San Antonio Falls
Sturtevant Falls in Arcadia is a little more than three miles out and back. Going out is a little easier than coming back because the first half-mile will be uphill when you return.
But you can gather your strength as you admire these 75-foot falls. You'll want the $5 Forest Service Adventure Pass, sold at the general store at Adams' Pack Station.
Info: Sturtevant Falls
Eaton Canyon in Pasadena is about a four-mile round-trip hike, but the trail is fairly flat. You'll get your feet wet because you have to cross water.
Info: Eaton Canyon. The trailhead is at 1750 N. Altadena Drive, Pasadena.
If you're headed to Santa Barbara, you can read about some of the falls there.
6. Dodger Stadium for Jackie Robinson Day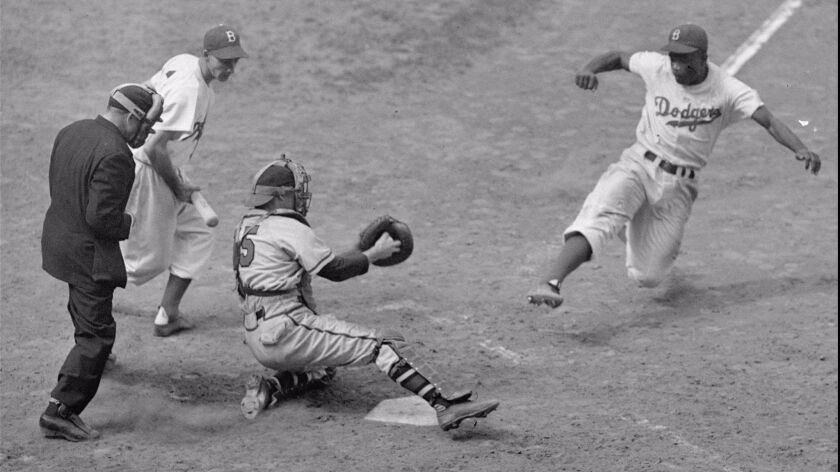 It's not often you get to attend a sporting event that's also shines a light on history.
On Saturday, the Dodgers play the Arizona Diamondbacks, which should be interesting given the chemistry between the two. Plus Arizona has gotten off to a decent start.
But what makes this important has nothing and everything to do with what happens on the field. Saturday is Jackie Robinson Day, when No. 42 will be honored on the 70th anniversary of the date he broke the color barrier in baseball.
He became the first African American in Major League Baseball. A statue — the first ever at Dodger Stadium —commemorating his courage and reminding us of his tremendous athletic prowess will be unveiled.
Robinson played not in L.A. that day but in Brooklyn, where the Dodgers were then. He played for the Dodgers until 1956.
Despite all the pressures — which included insults from fans and other players, death threats and dirty plays on the field — he was named rookie of the year. Two years later, he was named most valuable player.
Tickets may be scarce, but, as Robinson showed, you can never give up, never give in.
Info: Dodgers
travel@latimes.com
@latimestravel
---