Hip meets heritage in Vancouver, Canada's revitalizing Gastown, Railtown and Chinatown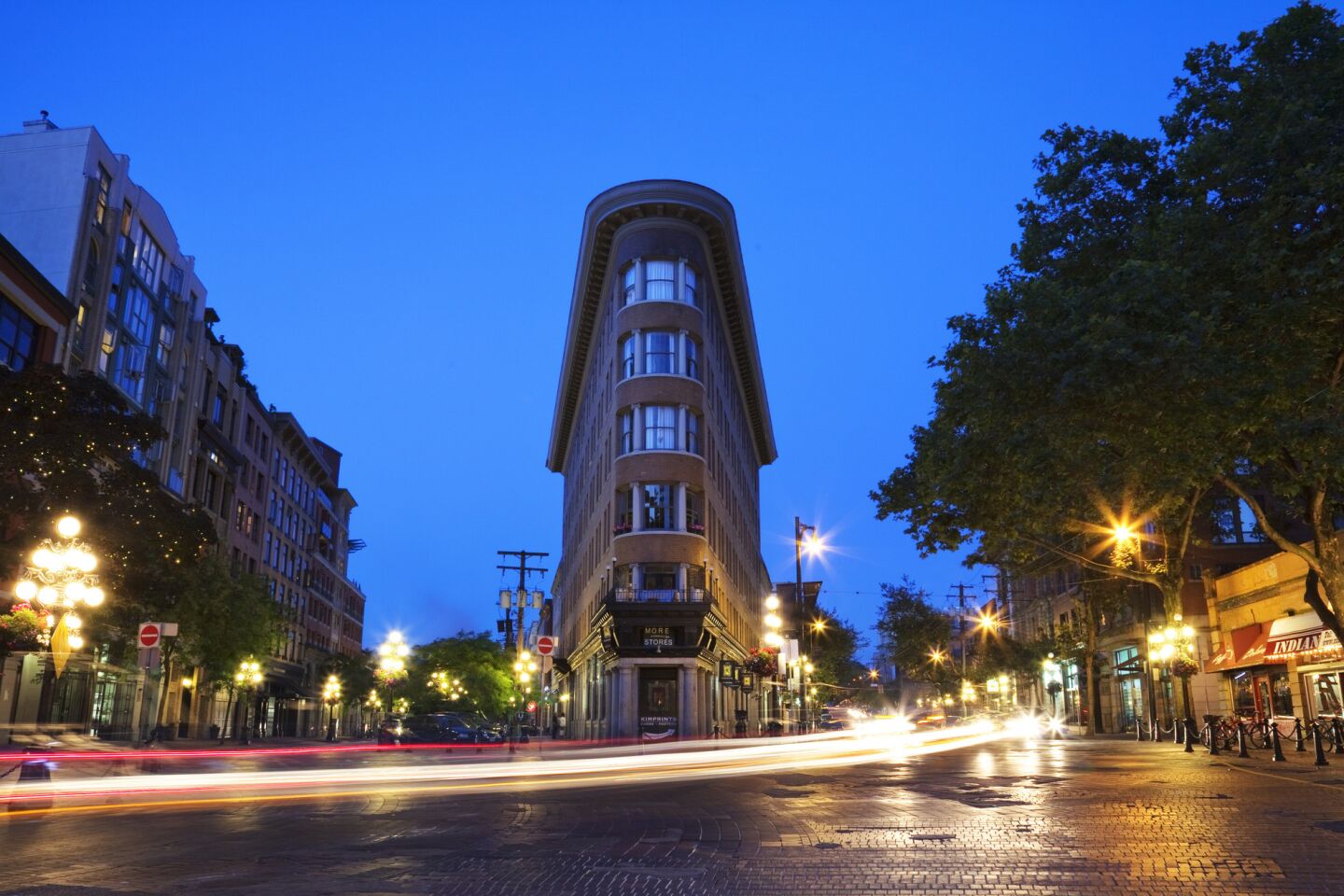 Vancouver's Gastown is full of fun architecture. Here stands the Hotel Europe, whose three-sided "flatiron" building was built in 1908 and 1909 in the city in British Columbia.
(Martin Child / Getty Images)
Vancouver has one of the biggest Chinatowns in North America. Here, a pagoda casts its reflection at the neighborhood's Dr. Sun Yat-Sen Classical Chinese Garden.
(Michael Wheatley / Getty Images/All Canada Photos)
VANCOUVER, Canada —
Tucked alongside the city's forest of gleaming glass towers are three historic neighborhoods that had been overlooked until recently.
These neighborhoods, the city's oldest, had fallen into disrepair and were home to those struggling to survive in one of Canada's poorest postal codes. Gastown is Vancouver's birthplace; Railtown boomed as the warehouse district for the transcontinental Canadian Pacific Railway, which was completed in 1885; and Chinatown was the hub for many of the 15,000 Asian immigrants who helped construct that nation-building line.
Now collectively called Downtown Eastside, or DTES, they were Vancouver's epicenter at the turn of the 20th century before it shifted west, leaving the neighborhoods to fall on tough times. Community activism successfully fought repeated attempts to evict the poor before Expo 86 and the 2010 Olympics.
That's why the DTES now harbors Vancouver's richest collection of 19th and early 20th century architecture, rare in a metropolis with a history of demolishing its old, character-rich buildings.
I sensed the first rustlings of a renewal in Gastown in the mid-2000s as one-of-a-kind décor and furniture shops as well as local designer clothing boutiques took advantage of cheap rents for roomy brick-walled, plank-floored spaces.
Tiny Railtown quietly followed suit, its warehouses morphing into artists' studios, loft lodgings and manufacturing space for hip brands such as Herschel Supply Co. And traditional Chinatown has also recently turned a corner, its colorful but often empty shops welcoming a tide of young entrepreneurs attracted by rents one-tenth of those in adjoining downtown.
Though still unpolished and edgy, the neighborhoods are actively thriving and evolving — each at its own pace and with its own vibe — with new restaurants and shops opening weekly.
A stroll past the No 5 Orange strip club, the pot-smoky Marc Emery's Cannabis Culture Headquarters or the chic Matchstick Coffee might still include running a gantlet of panhandlers and buskers, but the areas offer a stimulating place to experience squeaky-clean Vancouver's grittier side.
Skateboards and modern art pop up amid the traditional in gentrifying Chinatown
Vancouver's Chinatown is Canada's biggest, although it began a serious population decline in the 1980s. In those days, newly arriving immigrants preferred settling in suburban Richmond, which has since become the city's contemporary Chinatown.
Only recently has gentrification begun to appear among the fragrant traditional herbal remedy shops and the window displays of dangling Peking ducks.
Bao Bei, a trendy Chinese brasserie with Asian-themed tapas, mixes the past and present. It even has an ornate neon sign, the type Chinatown — and Vancouver in general — was known for until a 1974 anti-neon bylaw "cleaned up" the city. Just down the road, the dark, swanky Keefer Bar serves up Asian-themed cocktails.
A wacky mix of creative places is popping up. Newly minted Juniper is a locally sourced West Coast-themed restaurant with a gin-centric bar. Tiny Bestie is a German sausage-and-beer joint serving a much-revered currywurst. Mamie Taylor's — in the space where Keefer Bakery once sold Chinese coconut buns and other goodies — is an American comfort food eatery with a dazzling array of cocktails and taxidermy.
Low rents (when compared with downtown) encourage creative young entrepreneurs to try their hand at retail in Chinatown. Flatspot Longboards has an eclectic selection of skateboards, and Duchesse is a vintage consignment store.
A growing trend seems to be multi-business stores such as the Shop, a quirky hybrid that dishes out coffee, clothing and all things vintage motorcycle. Space Lab is an antique store/café/retro barbershop.
Many of the colorful, early 20th century Asian shophouses are taking on new roles while retaining their historic faces. None has seen more internal change than the 1889 Victorian Italianate Wing Sang building, Chinatown's oldest structure.
Its interior now houses the real estate business and art gallery of local philanthropist Bob Rennie. The Rennie Collection, one of the biggest contemporary art collections in Canada, focuses on works related to identity, social injustice and appropriation through painting and photography. Exhibits are free, but by appointment only; the tours are guided.
"We prefer to give a meaningful experience with contemporary art to a few hundred people a year," said director Wendy Chang, "rather than having thousands walk through and not know what they are looking at."
Because the interiors of Chinatown buildings often are a mystery to those who gaze at the ornate shopfronts, I finished my visit with an unusual tour in the company of Judy Lam Maxwell.
She takes visitors inside century-old businesses to meet the founders' descendants and opens doors to the private clan buildings of the Lams and the Lees — community center-like enclaves with lavish private shrines and gathering spaces where Chinese opera is practiced and dragon costumes readied for upcoming New Year's celebrations.
The hip is fusing nicely with the heritage of Gastown, Railtown and Chinatown. Though change is coming to Vancouver's old quarters, it's also breathing new life into neighborhoods that have been out of the limelight for too long.
Trendy shops, gastropubs and high-tech firms have re-illuminated Gastown
In 1897 Vancouver was a cluster of loggers' tents, a sawmill and a tavern known as Gastown, named after saloonkeeper Capt. John "Gassy Jack" Deighton.
I was a teen growing up in Vancouver in the 1970s when Gastown was in its bohemian heyday, with hippies and draft dodgers grooving to live music in coffeehouses and bars.
The area declined in the '80s, and it always puzzled me that this exquisite quarter with its cobblestone streets and heritage buildings wasn't thriving. For decades it languished as a netherworld of old pubs and souvenir stores struggling alongside shuttered shops and sleazy hotels.
Tour buses drove tourists down Water Street for its architecture and a quick photo in front of the rare steam-powered clock, but locals avoided Gastown.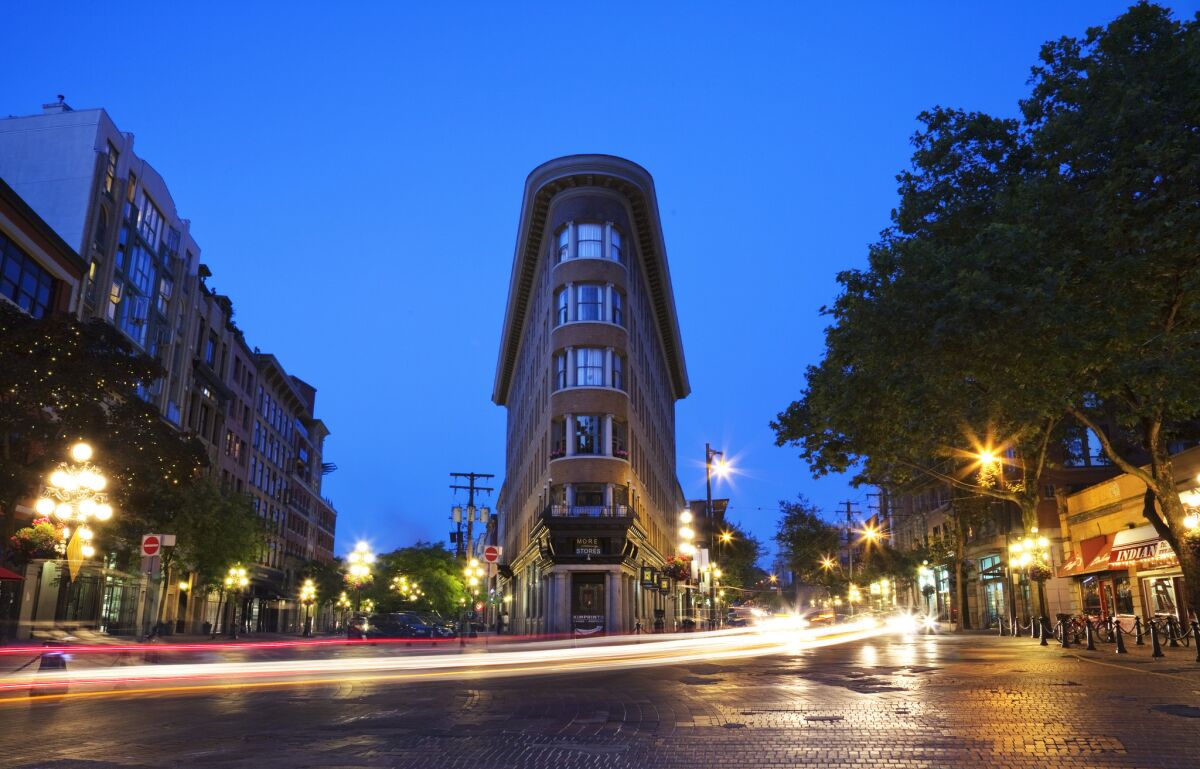 Then a decade ago, a friend suggested we visit the then-new Salt Tasting Room, which we found down dimly illuminated, dumpster-lined Blood Alley near Gaoler's Mews. Opening the door, we entered a stylish restaurant offering flights of wine and sherry with tasting plates of international cheeses and charcuterie.
In 2008, shoe designer John Fluevog, whose flamboyant creations have adorned the feet of celebrity Fluevogers such as Madonna, Alice Cooper and Robin Williams, had a homecoming by reopening a store in Gastown, where he'd had his flagship from 1970 to 1982.
Gastown was clearly finding its footing again.
Today, it is Vancouver's creative hub. The vast warehouse space has made the area popular among information technology and high-tech firms such as George Lucas' Industrial Light & Magic, which moved into a 30,000-square-foot Gastown studio in 2014.
These days, the streets are busy, lined with trendy shops, gastropubs and nightclubs. The aroma of good cooking wafts from the Sardine Can, known for its tapas, and L'Abattoir, known for its fine French cuisine.
On warm summer evenings, buskers provide the soundtrack for sidewalk dining as bicycles and scooters stutteri over the cobblestone square in the shadow of the iconic flatiron Hotel Europe.
Railtown on track to becoming a funky 'hood full of craft beers and stellar food
Walk east from Vancouver's Gastown neighborhood and you're in the unofficially named Railtown, only six blocks long and four wide alongside the port's rail lines. You can hear trains shunting behind the revamped warehouses where dozens of artists and designers have their studios. Many of them open their doors to visitors during the four-day Eastside Culture Crawl every fall (this year, Nov. 17-20).
Until recently, even longtime Vancouver residents didn't realize a neighborhood existed here. Now it's the go-to place for British Columbia's best selection of local craft beers at the Alibi Room, and it's the site of a perpetual line outside a minute but stellar casual Italian trattoria called Ask for Luigi, which was justifiably crowned the city's best new restaurant in 2015 by Vancouver Magazine.
Railtown is becoming a hip 'hood, and it's changing fast. On a decidedly ungentrified block of Powell Street, a young couple recently opened the funky, vintage Mackenzie Room restaurant, while just down the road is the new, industrial-chic, pan-Latin small-plate Cuchillo.
I met up with Bonnie Todd, who offers Off the Eaten Track foodie tours in Railtown. Our small group stepped from nondescript Dunlevy Avenue into a warehouse, where we were culture-shocked by the ultra-modern interior containing the Vancouver Urban Winery, Postmark Brewing and the Belgard Kitchen small-bite restaurant. I agonized over its selection of 38 British Columbia red and white wines on tap.
We noshed our way through Railtown, indulging in the Uncommon Café's legendary meatballs and sipping in-house roasted coffee and tucking into handmade Madagascan chocolate truffles at chic East Van Roasters. Its mandate is to train and employ marginalized women from the Rainier Hotel residence upstairs. As in Gastown and Chinatown, many locals struggle to get by, and social enterprise is a big theme in this neighborhood.
If you go
THE BEST WAY TO VANCOUVER, CANADA
From LAX, Air Canada, WestJet, United, Alaska, Delta and American offer nonstop service to Vancouver, and Alaska, United and Delta offer connecting service (change of planes). Restricted round-trip airfares from $236.
WHERE TO STAY
(All prices in U.S. dollars)
Skwachays Lodge, 31 W. Pender St. Vancouver; (888) 998-0797, www.skwachays.com. Aboriginal boutique hotel and gallery with 18 First Nations' art-themed rooms and a 40-foot totem pole on the roof. A portion of room rates benefit the nonprofit BC Native Housing Corp. Doubles from about $130.
Victorian Hotel, 514 Homer St., Vancouver; (604) 681-6369, www.victorianhotel.ca. Renovated 1898 boutique hotel in the Downtown Eastside. Doubles from $135, some with shared bath. Continental breakfast included.
WHERE TO EAT
Ask for Luigi, 305 Alexander St., Railtown; (604) 428-2544, www.askforluigi.com. Unpretentious Italian-inspired restaurant specializing in handmade pasta. Voted Vancouver's best new restaurant in 2015. No reservations. Open for weekend brunch. Dinner from $75 for two.
Settlement Building, 55 Dunlevy Ave., Railtown; (604) 566 9463, www.settlementbuilding.com. Houses a microbrewery, restaurant (Belgard Kitchen) and the Vancouver Urban winery and wine bar. Casual light meals and tapas from $8. Beer and wines on tap.
Salt Tasting Room, 45 Blood Alley Square, Gastown, (604) 633-1912, www.salttastingroom.com. Modern tasting restaurant specializing in cheeses, home-cured meats and condiments with eclectic wine or sherry flights and pairings. Pick-your-own tasting plates from $12.
Mamie Taylor's, 251 E. Georgia St., Chinatown, (604) 620-8818, www.mamietaylors.ca. Lively, hip cocktail bar and restaurant with casual American comfort cuisine — and taxidermy. Dinner for two from $50.
Bao Bei Chinese Brasserie, 163 Keefer St., Chinatown, (604) 688-0876, www.bao-bei.ca. Stylish eatery for modern Chinese sharing plates and cocktails. Small plates from $8.
WHAT TO DO
Forbidden Vancouver Walking Tour, (604) 839-3126, www.forbiddenvancouver.ca. Unusual 90-minute walking tours in Gastown focus on Wild West history and Prohibition. $22 per adult.
Historical Chinatown Tour, (604) 418-8560, judy@chinatowngirl.ca Insightful, off-the-beaten path Chinatown walking tours with local historian Judy Lam Maxwell. Rates depend on group size.
Off the Eaten Track, (778) 918-4584, www.offtheeatentracktours.ca. Two-hour Railtown culinary walking tour. $42 includes noshing en route.
Rennie Collection at Wing Sang, 51 E. Pender St., Chinatown, www.renniecollection.org/index.php. Vancouver developer and philanthropist Bob Rennie's extensive private art collection can be viewed free with an advance online booking.
TO LEARN MORE
Tourism Vancouver, www.tourismvancouver.com
Chinatown, www.vancouver-chinatown.com
Gastown, www.gastown.org
Get our L.A. Goes Out newsletter, with the week's best events, to help you explore and experience our city.
You may occasionally receive promotional content from the Los Angeles Times.