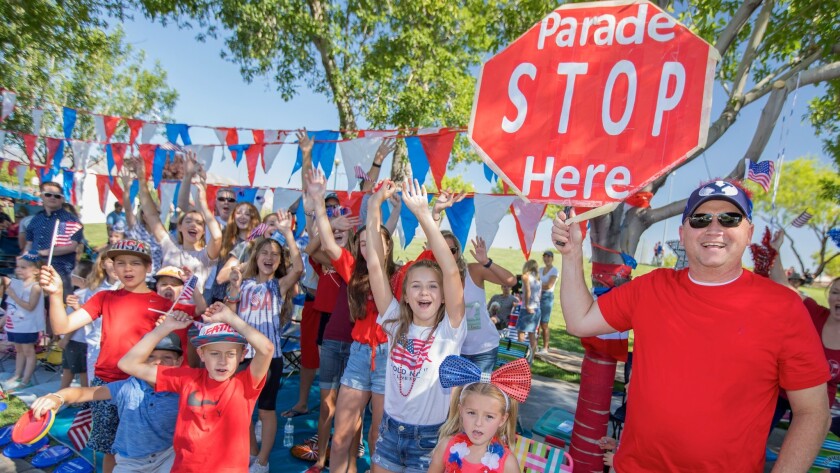 Dig out your red, white and blue summer shorts, T-shirts and caps if you're heading to Las Vegas for Fourth of July celebrations. Celebrations this year will include the weekends before and after the holiday.
The festivities begin Saturday when fireworks will illuminate the night sky over the Strip. In a nod to the huge crowds that visit Vegas on holiday weekends, Caesars Palace will launch its impressive pyrotechnics show starting at 9:20 p.m.
Info: Caesars Palace Fireworks
The fireworks will be visible from various spots on the Caesars property, as well as nearby attractions such as the Fountains of Bellagio, the Eiffel Tower and the Linq Promenade.
At the Promenade, with shopping, dining and entertainment options, Saturday's celebrations include a red, white and blue LED parade at 8:15 p.m.
Need a festive look? You can also get free "body marbling" — a sort of painted-on, temporary tattoo — from 8:15 to 11:15 p.m. Look for the artists outside near Chayo Mexican Kitchen and Tequila Bar inside the Linq.
Visitors who prefer downtown to the Strip needn't feel left out. The Plaza Hotel & Casino at 1 Main St. also has fireworks scheduled for Saturday, with a four-minute display set to begin at about 10 p.m.
A good viewing spot will be the resort's pool deck, which will be hosting a free pool party starting at 7 p.m.
The fun will include a hot dog eating contest, with a prize package worth $1,000 for the person with the biggest appetite. Other edibles and a colorful holiday cocktail will be available for purchase.
Info: Plaza Hotel & Casino
Sticking with tradition, the Stratosphere at the north end of the Strip will hold its fireworks show starting at 9:15 p.m. on July 4. A free viewing party at the resort's Elation pool will begin at 8 p.m.
Info: Stratosphere
Also that day, fun can be found at places throughout the Las Vegas Valley.
Roughly 40,000 people are expected to line the streets of suburban Summerlin, about 15 miles northwest of the Strip, for a 9 a.m. parade that grows in size each year.
The lineup includes 25 giant, helium-filled inflatables plus dozens of floats and marching bands.
New themes for 2018's Patriotic Parade include "Escape from Jurassic World," "(Alexander) Hamilton's America" and "Vegas Golden Knights," a tribute to the runners-up in June's Stanley Cup Final.
The parade's website provides a route map to help out-of-towners find their way.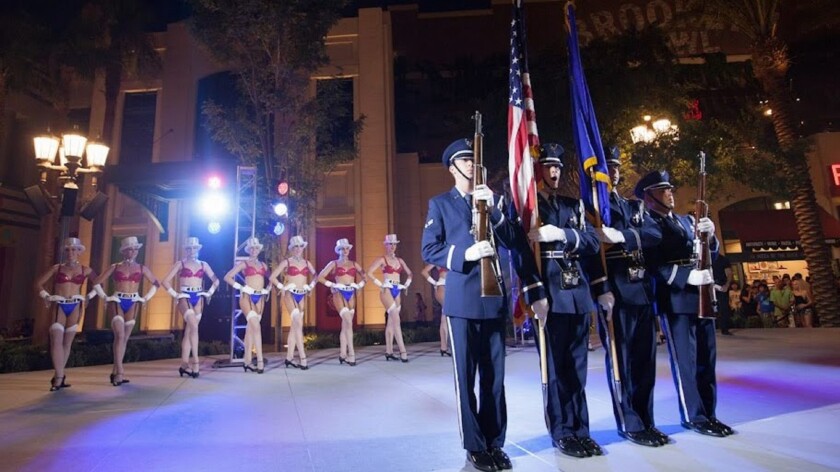 Throughout the afternoon and evening of the Fourth, the Linq Promenade will be hosting family-friendly entertainers including caricature artists, hula hoop performers and stilt walkers.
As the sun sets around 8 p.m., the High Roller observation wheel at the eastern edge of the mall will be illuminated with red, white and blue lights.
Info: High Roller
Those patriotic colors also will be featured in the Red, White and Boom cocktail available only on July 4 at Trevi, an Italian restaurant at the Forum Shops at Caesars Palace.
The drink, priced at $10, is a strawberry margarita with Blue Curacao and sweet-and-sour added to create the trio of colors.
If a holiday-themed cake is what you're looking for, Freed's Bakery in suburban Henderson can help. Its intricately decorated Firecracker Cake, available through July 4, is shaped like a big bottle rocket and available in a variety of flavors. The bakery also is offering a These Colors Don't Run cake featuring red, white and blue frosting.
For Fourth of July pickups, the bakery will be open 8 a.m. to 6 p.m.
Info: Freed's Bakery, 9815 S. Eastern Ave, Las Vegas
Folks looking for a holiday picnic can go to Hooters Casino Hotel at 115 E. Tropicana Ave. to find a holiday spread after the Fourth.
From noon to 5 p.m.on July 7 and 8, the hotel will be hosting a barbecue bash. For $19.99 per person, guests can feast on items such as barbecued brisket, corn on the cob, coleslaw and macaroni and cheese. The price also includes a bucket of beer.
The food and drink will be served at the Porch, the hotel's colorful gathering place.
Info: Hooters Casino Hotel
ALSO
A freewheeling guide to two-wheeling in San Diego, a city made for cycling
Las Vegas buffets are legendary — and now, reinvented. Here are four offering fresh takes
X Games champ Travis Pastrana is out to bust Evel Knievel's stunt records in Las Vegas. But can he master a jump over the fountains at Caesars?
---