Britain investigates possible allergic reactions to Pfizer's COVID-19 shot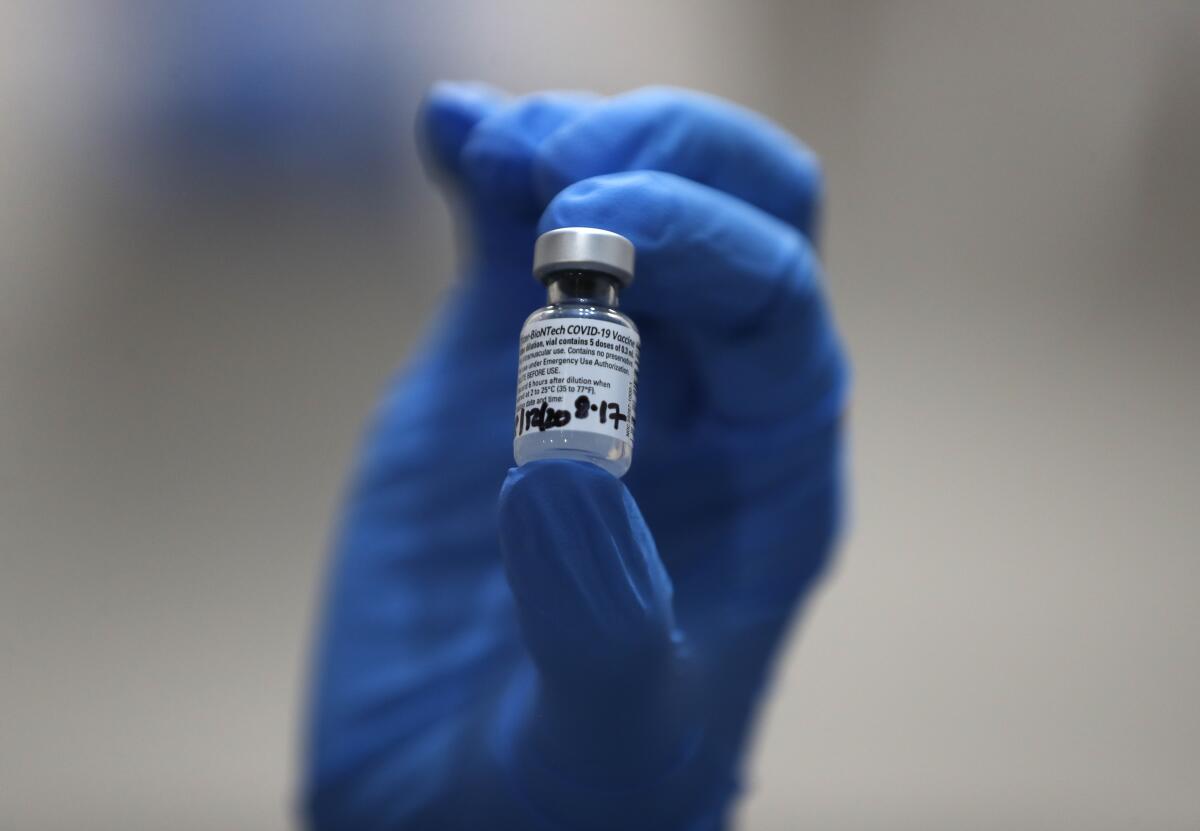 LONDON —
U.K. regulators Wednesday advised Britons with a "significant history" of allergic reactions to hold off on getting the new Pfizer-BioNTech COVID-19 vaccine while authorities investigate two adverse reactions that occurred on the first day of the country's mass-vaccination program.
The Medical and Healthcare products Regulatory Agency is looking into whether the reactions were linked to the vaccine. The two people affected were staff members with the National Health Service who had a history of allergies, and both are recovering.
In the meantime, the medicines regulator has issued a warning against receiving the Pfizer shot for anyone who has had a significant allergic reaction to a vaccine, medicine or food. That includes anyone who has been told to carry an adrenaline shot or others who have had potentially fatal allergic reactions.
Stephen Powis, the medical director for the National Health Service in England, said health officials were acting on a recommendation from the Medical and Healthcare products Regulatory Agency, Britain's medicines regulator.
"As is common with new vaccines, the MHRA has advised, on a precautionary basis, that people with a significant history of allergic reactions do not receive this vaccination after two people with a history of significant allergic reactions responded adversely yesterday," Powis said in a statement. "Both are recovering well."
The BBC reported that the two people had their adverse reactions shortly after receiving their vaccinations. The BBC said they appeared to be anaphylactoid reactions, which tend to involve a skin rash, breathlessness and sometimes a drop in blood pressure, rather than anaphylaxis, which can result in death.
With COVID-19 vaccines on the horizon, the details of how most Americans will get their shots are still being worked out. Here's what we know so far.
The MHRA said that vaccinations should not be carried out in facilities without resuscitation equipment.
Pfizer and BioNTech said they were working with investigators "to better understand each case and its causes."
Late-stage trials of the vaccine found "no serious safety concerns," the companies said. More than 42,000 people have received two doses of the shot during those trials.
"In the pivotal Phase 3 clinical trial, this vaccine was generally well-tolerated with no serious safety concerns reported by the independent Data Monitoring Committee," the companies said.
Documents published by the two companies showed that people with a history of severe allergic reactions were excluded from the trials, and doctors were advised to look out for such reactions in trial participants who were not previously known to have severe allergies.
U.S. health regulators say in their initial review that the vaccine from Pfizer is 95% protective against COVID-19.
Even in nonemergency situations, health authorities must closely monitor new vaccines and medications because studies in tens of thousands of people can't detect a rare risk that would affect one person in 1 million.
Peter Openshaw, a professor of experimental medicine at Imperial College London, said there was a "very small" chance of an allergic reaction to any vaccine.
The MHRA last week gave emergency authorization to the Pfizer-BioNTech vaccine, making Britain the first country to allow its widespread use.
The country began its mass-vaccination program Tuesday, offering the shot to people over 80, nursing home staff and some National Health Service workers. It is not clear how many people have received the shot so far.
Federal regulators will consider requests in December by Pfizer and Moderna for emergency use authorization for their coronavirus vaccines.
As part of its emergency authorization for the vaccine, the MHRA required healthcare workers to report any adverse reactions to help regulators gather more information about safety and effectiveness.
The agency is monitoring the vaccine rollout closely and "will now investigate these cases in more detail to understand if the allergic reactions were linked to the vaccine or were incidental," Openshaw said. "The fact that we know so soon about these two allergic reactions and that the regulator has acted on this to issue precautionary advice shows that this monitoring system is working well."
June Raine, head of the MHRA, informed a parliamentary committee Wednesday of the two adverse reactions during previously scheduled testimony on the COVID-19 pandemic.
"We know from the very extensive clinical trials that this wasn't a feature" of the vaccine, she said. "But if we need to strengthen our advice, now that we have had this experience in the vulnerable populations, the groups who have been selected as a priority, we get that advice to the field immediately."
Sign up for Essential California for news, features and recommendations from the L.A. Times and beyond in your inbox six days a week.
You may occasionally receive promotional content from the Los Angeles Times.