At least 24 killed, 42 wounded in car bombing in Kabul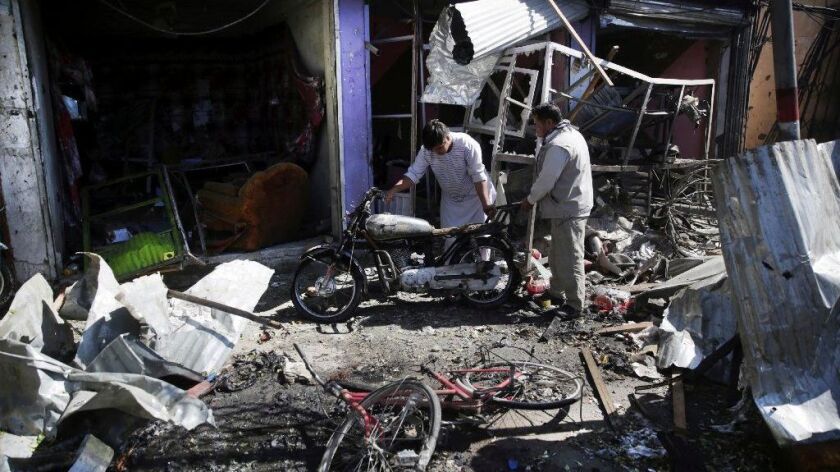 KABUL, Afghanistan —
A car bomb exploded in Kabul on Monday morning, striking a minibus carrying Afghan government employees and killing at least 24 people, officials said.
Afghanistan's Interior Ministry said 42 other people were wounded, all but one of them outside the bus.
The Toyota Corolla packed with explosives blew up in a neighborhood that is home to politicians including Mohammad Mohaqeq, a deputy to Afghanistan's chief executive, Abdullah Abdullah.
A spokesman for the Interior Ministry said the target of the blast was not immediately known, but several of the victims were Ministry of Mines employees who were riding in the minibus on their way to work.
Ambulances raced to the scene to evacuate victims, many of whom had suffered severe burns.
The Taliban claimed responsibility for the attack.
An official with the Ministry of Mines, who requested anonymity because she was not authorized to speak to the media, said that only one employee on the bus escaped, but was injured.
Saifullah, a 37-year-old who runs a bakery near the site of the blast, said it shattered the windows and the hood of the exploded car landed outside the shop.
"One of my friends was injured," said Saifullah, who, like many Afghans, has only one name. "I saw more than 10 others were burned [to death] and many were killed and wounded."
The explosion came on the first anniversary of a massive bombing that targeted ethnic Hazara demonstrators in Kabul, killing more than 80 people and wounding hundreds.
Members of the protest movement, known as Enlightenment, had planned a demonstration to mark the anniversary but called it off late Sunday after discussions with Afghan President Ashraf Ghani's office.
ALSO
Finally, visas in hand, Afghan girls depart for the U.S. and a global robotics competition
After a bloody month in Afghanistan, demonstrators demand security reforms
How an L.A. native learned to stop worrying and love — OK, tolerate — India's monsoon
Faizy is a special correspondent. Times staff writer Shashank Bengali in Mumbai, India, contributed to this report .
---
Must-read stories from the L.A. Times
Get all the day's most vital news with our Today's Headlines newsletter, sent every weekday morning.
You may occasionally receive promotional content from the Los Angeles Times.