Violence flares in Kashmir after a protester is run over and killed by Indian paramilitary vehicle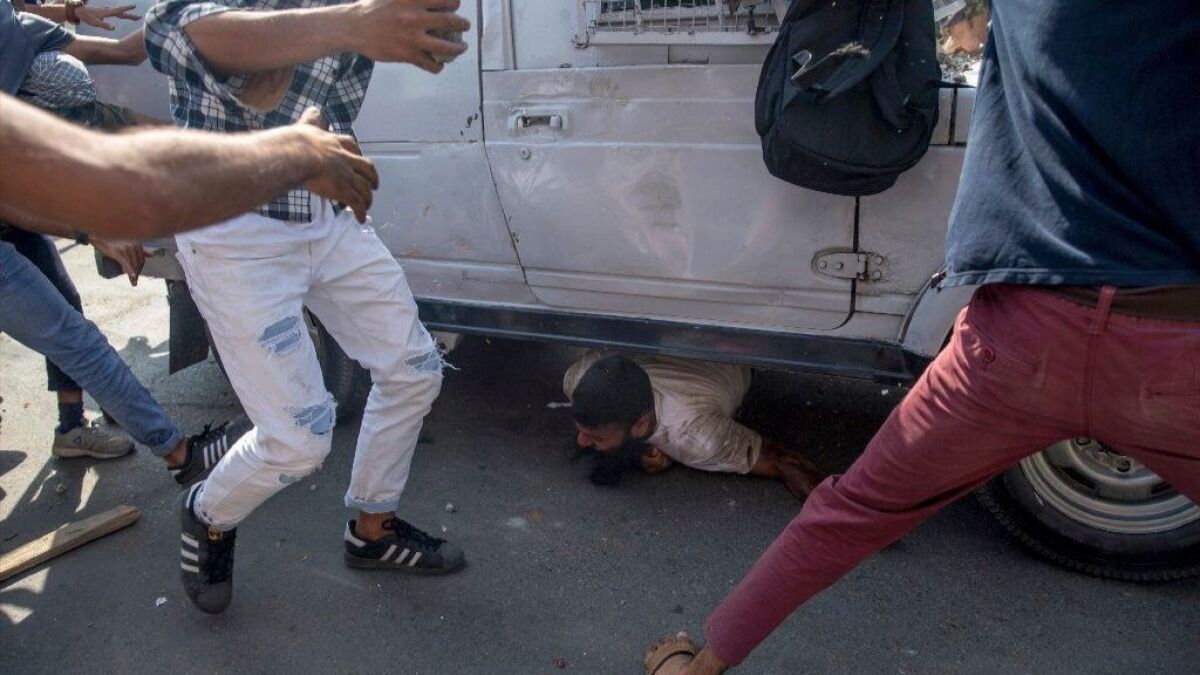 Reporting from Mumbai, India —
Indian forces fired tear gas on Saturday at a funeral march for a man who was killed after paramilitary forces ran over him with a truck during an anti-government protest in the disputed Kashmir territory.
The violence came after photos of the incident from Friday were widely circulated and sparked fresh condemnation of India's heavy military presence in Muslim-majority Kashmir, where government forces have long been accused of using excessive force.
In the Friday protest, demonstrators hurled stones, bricks and even a bicycle at the paramilitary vehicle as it drove through Srinagar, the summer capital of the Indian-controlled portion of Kashmir. The vehicle reportedly ran over and injured three protesters, one of whom died several hours later.
When mourners staged a funeral march on Saturday for the victim, identified in Indian news media as Qaiser Amin Bhat, Indian police fired at the crowds with tear gas and shotgun pellets, causing some injuries, witnesses said.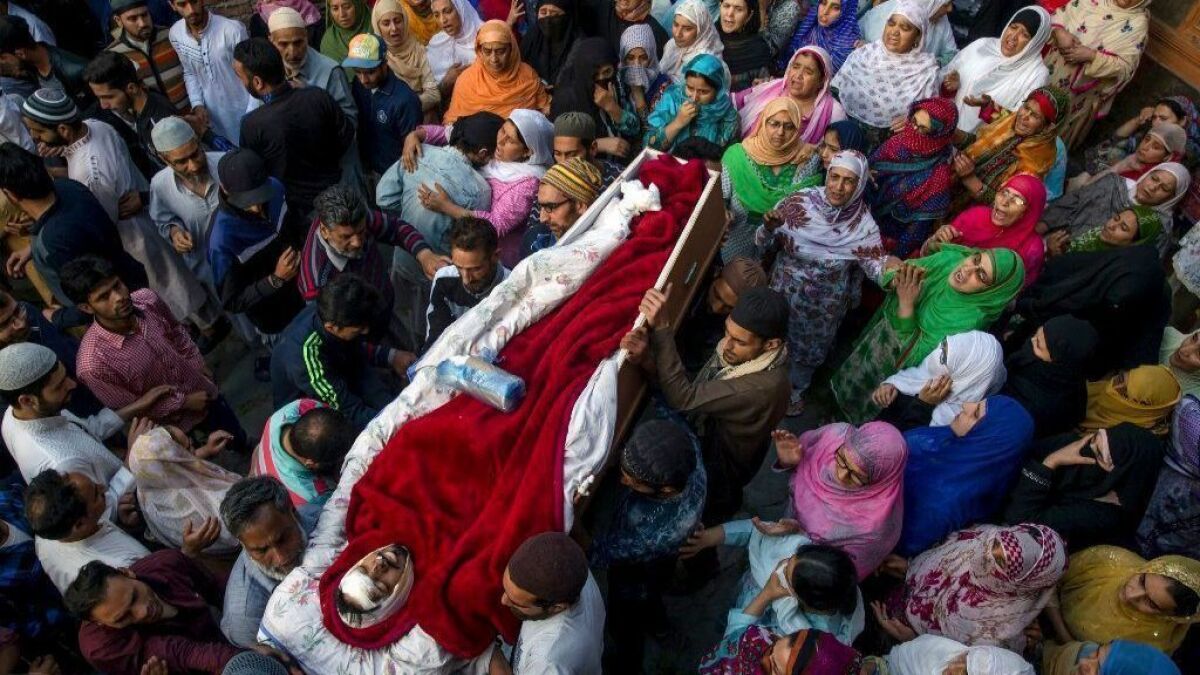 The violent scenes unfolded despite the Indian government's declaration two weeks ago that it would halt operations against separatist insurgents in Kashmir during the ongoing Islamic holy month of Ramadan.
The unusual cease-fire came after more than a year of intense Indian attacks that killed 218 alleged militants in 2017, the highest one-year total since 2010, according to the South Asia Terrorism Portal.
India's minister of home affairs, Rajnath Singh, was due to visit Kashmir next week and has expressed a willingness to meet with separatist leaders to discuss prospects for peace.
Pakistan, which has battled India for control over the Himalayan territory since both countries gained independence in 1947, responded to the Indian cease-fire by declaring a truce along their disputed border in Kashmir.
Critics said the actions by the Central Reserve Police Force, the paramilitary outfit deployed in Kashmir, that resulted in the protesters being run over violated the spirit of the cease-fire.
"Cease-fire means no guns so use jeeps?" tweeted Omar Abdullah, former chief minister of the Indian state of Jammu and Kashmir.
The paramilitary force defended the driver, saying he was trying to avoid being harmed after a mob of protesters encircled the vehicle and attacked it with stones and bricks.
A spokesman for the force, Sanjay Sharma, said protesters "were trying to lynch people inside the vehicle and the driver was trying to get out of the situation," the Hindustan Times reported.
Indian forces have long been accused of heavy-handed tactics to quell anti-government unrest in Kashmir. During major protests after the killing of a young militant leader in 2016, police fired live rounds and shotgun pellets into crowds, leaving hundreds with eye injuries.
Last year, Indian forces were criticized for lashing a Kashmiri man to the hood of a military vehicle as a warning to stone throwers.
Faisal Khan, a photographer who was at the protest Friday, said that the victim's parents were dead and that he has two younger sisters. He was buried in a graveyard in Srinagar that is dedicated to those who died fighting Indian forces, Khan said.
The senior superintendent of police in Srinagar, Imtiaz Ismail Parray, said police reports had been filed against the driver for reckless driving and against demonstrators for attacking the vehicle.
On its official Twitter account, Kashmir's police force posted photos of demonstrators attacking the vehicle and said those who only shared images of the man trapped underneath were practicing "selective journalism."
Parth M.N. is a special correspondent.
Shashank Bengali is The Times' South Asia correspondent. Follow him on Twitter at @SBengali
Must-read stories from the L.A. Times
Get the day's top news with our Today's Headlines newsletter, sent every weekday morning.
You may occasionally receive promotional content from the Los Angeles Times.