A Mexican reporter was in a program to protect journalists. He was still killed
A Mexican journalist who was enrolled in a government protection program after chronicling corruption has been gunned down, becoming at least the ninth journalist killed in Mexico this year. (August 24, 2017) (Sign up for our free video newsletter h
Reporting from MEXICO CITY —
His phone rang, but Mexican newspaper reporter Candido Rios Vazquez didn't answer.
On the other end was his boss, editor Cecilio Perez Cortes, who wanted to know whether his star crime writer could cover a deadly shooting in a small town near Mexico's Gulf Coast.
Rios, it turned out, wasn't answering because he was one of the victims.
The 57-year-old, who was enrolled in a government program to protect journalists after years chronicling corruption in one of the deadliest countries for reporters, was one of three people killed in Tuesday's shooting in Veracruz state.
Officials said Rios was shot to death at a corner store in Hueyapan de Ocampo. Also killed were a former police investigator with whom he was sharing a soda and a local rancher who may have been caught in the crossfire.
Rios was at least the ninth journalist killed in Mexico so far this year. The spate of killings, which have targeted some of the country's most prominent and respected reporters, has prompted international outcry, with human rights advocates and American officials pressing President Enrique Peña Nieto to do more to protect journalists and prosecute crimes against them.
Investigators have not said whether they think Rios was killed for his work, nor have they named any suspects in the killing.
But the reporter had long received threats from local officials related to his stories, according to Perez, an editor at Diario de Acayucan, the newspaper where Rios worked for the last decade.
"The threats were constant," Perez said in a phone interview Wednesday. He said one of the town's former mayors was among the people who had threatened Rios' life.
According to Perez and the State Commission for Attention and Protection of Journalists, Rios was enrolled in a federal government program designed to shield journalists and human rights workers who have received credible threats related to their work. The program, which was created in 2012, provides about 170 media and human rights workers with emergency evacuations, police protection and, in some cases, even a panic button that summons authorities.
Perez said Rios had an emergency button on his cellphone and security cameras installed in his house.
Rios knew his life was in danger.
In a video uploaded to his Facebook page Aug. 13, he denounced a suspected corruption network in Hueyapan de Ocampo, accusing several officials of illegally using government money and cheating in past elections.
In the video, which lasts almost 15 minutes, the journalist said he had been arrested in the past for having told the truth, and suggested that a journalist's pen is no match for the arms carried by those who hope to silence him.
"They riddle us with bullets, knowing that our weapons do not fire bullets, our weapons shoot truths," he said.
Still, Rios said he felt compelled to uncover the truth despite the risk.
"I speak to my people," said Rios, who had worked as a truck driver before he switched to journalism to help combat what he saw as injustices in his community.
"It is my duty," he said.
According to Article 19, a nonprofit that advocates for media protection in Mexico, there were 426 threats or attacks against the news media last year, including killings, beatings and torture. Journalists are more likely to face threats from government officials than from criminal groups, according to the National Human Rights Commission.
Human rights advocates complain that public officials don't want to strengthen protections for journalists because a free and transparent press often isn't in their best interest. This year, the officials who run the program in which Rios was enrolled warned that funding was set to run out.
Opposition leaders have seized on the issue in recent months.
This week, Margarita Zavala, a possible candidate for the right-leaning National Action Party in next year's presidential election, tweeted her outrage. "Another attempt on the freedom of the press," she wrote. "Enough!"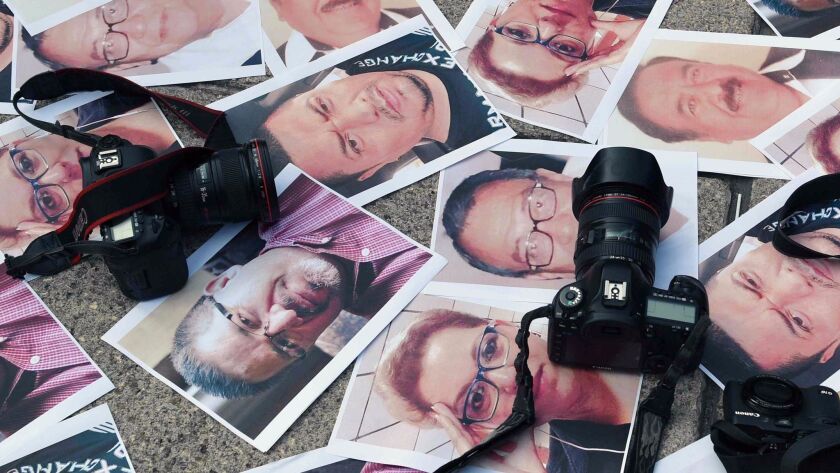 Rios' killing comes on the heels of a string of slayings of high-profile journalists.
They include Javier Valdez, an internationally recognized investigative reporter who was slain May 15 in Sinaloa state, and Miroslava Breach, a veteran investigative reporter who was shot to death while driving her child March 23 in Chihuahua. Breach's death prompted the publisher of El Norte, the Juarez newspaper where she worked, to shut down the publication. In a letter to readers, the publisher said he could no longer guarantee the safety of his staff.
In May, several prominent Mexican news outlets went dark for a day to protest the slayings of journalists across the country.
The killings have prompted a large group of foreign journalists to pen a letter to President Enrique Peña Nieto pleading for more protections for reporters. The Committee to Protect Journalists, a worldwide group, held talks with Peña Nieto this year. U.S. Ambassador to Mexico Roberta Jacobson has made press freedom one of her top issues, bringing in U.S. journalists with experience in war zones to coach local reporters on self-protection and security protocols. A few months ago, Jacobson traveled to Veracruz, a particularly dangerous state for journalists, to talk with local reporters about how the United States could support them.
Despite the anger, not a single suspect has been tried in any of this year's killings.
Killings in Mexico expand well beyond journalists, as authorities struggle to contain violence between warring criminal groups. The country is on track to record more homicides in 2017 than in any year in the last two decades.
There were 931 homicides reported between January and July of this year in Veracruz, up from 537 during the same period last year.
Rios had covered some of those deaths.
Before he was killed Tuesday afternoon, he sent a voice message to his editor. Someone had been wounded in a neighborhood in his town, Rios said, but it was "a minor story."
"May God take care of me," he said as he signed off.
Cecilia Sanchez in The Times' Mexico City bureau contributed to this report.
Twitter: @katelinthicum
ALSO:
U.S. warns citizens about traveling to Mexico's Cancun and Los Cabos as violence surges
As Mexico debates giving the military more power, a judge asks why soldiers gunned down 22 people
In January, President Trump vowed to hire 5,000 new Border Patrol agents. It never happened
---
UPDATES:
2:55 p.m.: This article has been updated with details from editor about call, voice message; description of other victims.
12:15 p.m.: This article has been updated with background on Rios' accusations against local officials.
This article was originally posted at 11:05 a.m.
---
Must-read stories from the L.A. Times
Get the day's top news with our Today's Headlines newsletter, sent every weekday morning.
You may occasionally receive promotional content from the Los Angeles Times.