Diya Chacko and Adrienne Shih Join Audience Engagement Team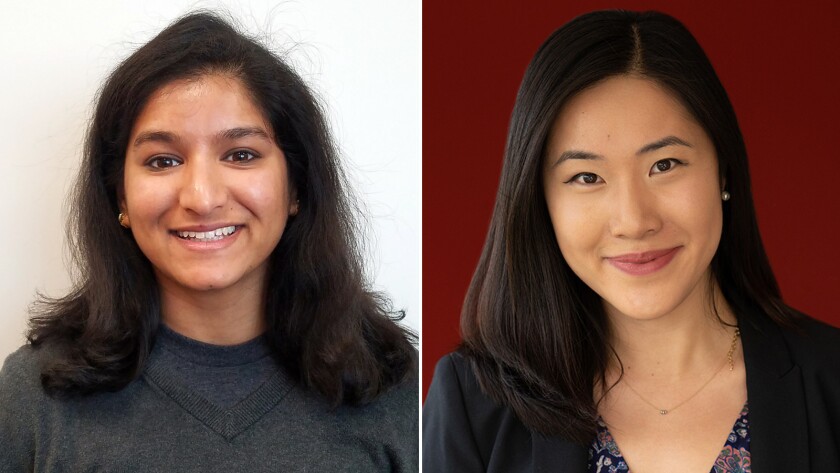 As part of the rebuilding of the Los Angeles Times, Executive Editor Norman Pearlstine and Deputy Managing Editor Sewell Chan made the following announcement.
We are happy to announce that two journalists are joining our Audience Engagement team.
Diya Chacko, the public health and environment editor at the Southern California News Group, will be embedded in our Metro desk. She will make sure that planning is in place for the enterprise stories, profiles and investigations produced by our largest news department. She will also help identify, initiate and promote coverage that resonates with digital subscribers. At the Orange County Register, where she has worked since 2017, Diya helped to manage the launch of a widely used state marijuana policy database and to create an award-winning healthcare series titled "Rehab Riviera." From 2010 to 2016, Diya was a producer at the Times-Picayune in her native New Orleans, working on SEO and managing editorial product launches for newsletters, branded video, podcasts and data sets.
After graduating in 2008 from USC, Diya earned two master's degrees — one in journalism and one in earth and environmental science — at Columbia. She then worked as a reporter and web producer at the USC Center for Health Reporting. "I've moved away from SoCal twice, but returned because I love it here so much," Diya tells us. She starts Feb. 25.
Adrienne Shih, the social media and engagement editor at Foreign Policy magazine, will join us in Washington on March 18, working on our core social accounts while also helping our government and politics reporters to increase their exposure and prominence.
At Foreign Policy since August, Adrienne has used reader analytics, social media platforms and SEO tools to promote the magazine's content. She previously worked as an intern in the audience development teams at the Washington Post and at CNN.
Adrienne was born in Taipei, Taiwan, and grew up in Arcadia. She is a 2017 alumna of UC Berkeley, where she was a major in political economy and legal studies. At the Daily Californian, she served as executive city news editor and online managing editor. An avid traveler, Adrienne completed a three-week, 11-city cross-country Amtrak trip while in college.
Our audience team — which Samantha Melbourneweaver has worked assiduously to rebuild since joining us in July — is at the crux of our efforts to build a large base of loyal, habitual digital subscribers, who in turn will support the journalistic investments that are being made here.
---