Times Announces Moves on Copy, Data and News Desks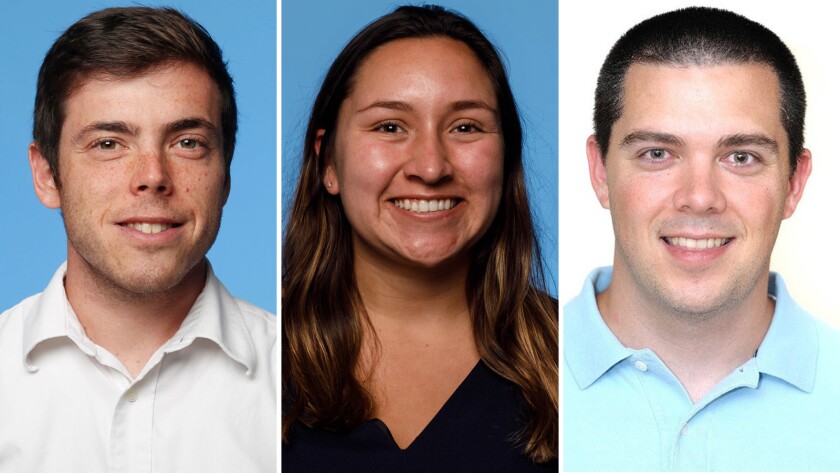 As part of the rebuilding of the Los Angeles Times, Executive Editor Norman Pearlstine and Deputy Managing Editor Sewell Chan made the following announcement.
We're happy to announce several moves affecting our copy, data and news desks.
Sean Greene will transfer from the News Desk to the Data Desk. Sean has produced some of our most impactful projects, including "Life on the Line," about the border town of Roma, Texas; a novice's guide to last year's World Cup teams; a video tour of Raqqa, Syria; and a gallery of interviews with black women in comedy. Sean has also written front-page stories about rockfalls in Yosemite National Park and a Delaware-sized chunk of ice that broke off from Antarctica. He has used multimedia to tell stories about noise pollution, bat sounds, microscopic videos and underwater exploration. A Los Angeles native, Sean is an alumnus of UCLA and the UC Berkeley Graduate School of Journalism. He started working for The Times in 2014.
Jessica Martinez, a digital editor at Times Community News North, will join the News Desk. A native of Torrance, Jessica received her associate's degree in 2015 from El Camino College, where she was in editor in chief of the student newspaper and magazine. She received bachelor's degrees in journalism and social and cultural analysis from New York University in 2017. After graduation, she was an intern on the culture copy desk at the New York Times. She joined TCN in October 2017, programming the home pages for Burbank, Glendale and La Cañada Flintridge, working on photo galleries and handling social media.
Matt Tustison will move from the evening news copy desk to the sports copy desk. Matt joined us in December from the Washington Post, where he worked on the sports and news copy desks as a copy editor and slot. Before that, he worked at the St. Paul Pioneer Press, the Baltimore Sun and the Palm Beach (Fla.) Post. He was also a freelance sportswriter for the Associated Press in Minneapolis and has written more than 10 sports history books for young audiences. He is a native of St. Paul, Minn., and graduated from the University of St. Thomas in his hometown with a degree in print journalism.
---