Aiming for a bestseller as California Bookstore Day gets set to launch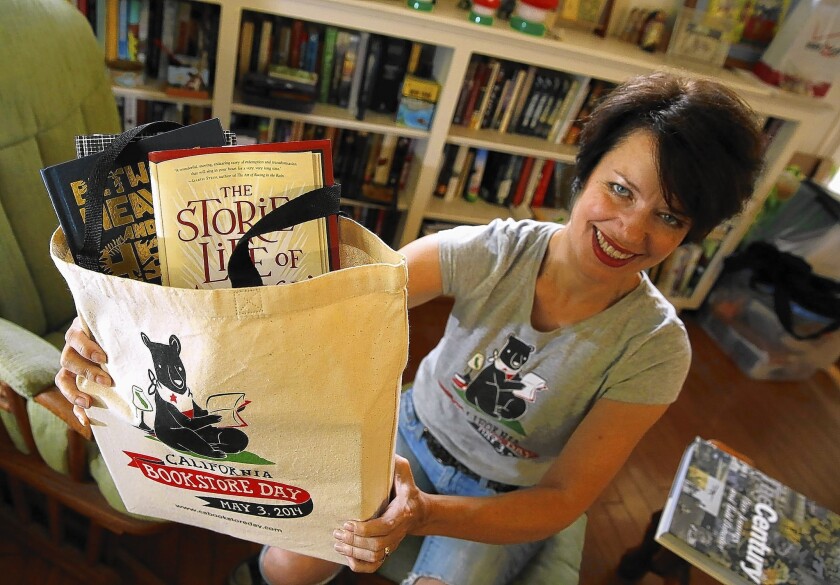 If you see a quote from Don DeLillo's "White Noise" spray-painted around the city next week, blame California Bookstore Day.
A wooden stencil reading "California Deserves What it Gets" — suitable for graffiti or, less criminally, hanging on a wall — is one of the limited-edition items that will be for sale on Saturday, the first-ever California Bookstore Day.
"A lot of booksellers across the country had thought what a great idea Record Store Day was," says Andrea Vuleta, head of the Southern California Independent Booksellers Assn. Launched in 2008, Record Store Day has led to record-breaking sales for independent record stores in the U.S. and abroad.
"When I saw lines of hundreds of people lined up at record stores, I just thought bookstores needed something similar," Pete Mulvihill of San Francisco's Green Apple Books told The Times via email. "We also sell LPs, and we were seeing spillover sales on Record Store Day."
Bookstores don't have the same rock star cachet — there won't be anything like the live in-store performance by Metallica that kicked off the first Record Store Day — but they do have creative limited-edition items designed to appeal to book lovers. Statewide, 93 stores are official participants in California Bookstore Day; some are holding events, while all will stock at least a few of the special bookish items.
In addition to the stencil, the Bookstore Day group created a California Literary Map; there is a California Classic box set containing books by Charles Bukowski, John Fante, Elmore Leonard and Armistead Maupin; a Lemony Snicket poster; and a tote bag that fits the entire text of "A Heartbreaking Work of Staggering Genius" into a single illustration of a car crossing the Golden Gate Bridge.
"This is very California in flavor, very localized," Vuleta says. "Ideally we would love to see it be so successful in California that the rest of the country would want to jump on the bandwagon."
It's hard to pass up. This year independent record stores garnered the highest percentage of physical album sales they ever have for the week including Record Store Day, according to Nielsen, which has tracked sales for 23 years. The special day helped record stores report sales 91% higher than the week before.
"I know from my conversations with people who own record stores in the area, Record Store Day is so important to them now. It's better than Christmas," Vuleta says. Although it probably won't happen the first year out, she says, "I'd love to see that be the case for Bookstore Day."
Vuleta is not just an idealistic bookworm who hung around her local bookstore until she wound up behind the counter. She used to work for Target and before that Limited Brands, helping to launch its chain Bath & Bodyworks. "I took a huge pay cut to work at a bookstore," she says. "I took that job because I wanted to sell books."
Now as head of SCIBA, Vuleta has been California Bookstore Day cheerleader and organizer. When it turned out that the distributor, Ingram, wouldn't be able to process some of the specialty items through its warehouses, Vuleta's Claremont home filled up with themed items that had to be sent to various bookstores. "I am not the best person for having my living room all torn up with boxes and boxes and boxes of stuff," she says. "It was a little scrambly there for a while."
All that stuff represents both the possibility and the dilemma of California Bookstore Day. The day celebrates the physicality of brick and mortar stores. But that physicality also presents problems, for the bookstores and the publishers who create specialty merchandise for the day. The items have to be made in specific quantities, shipped and then loaded onto shelves. Not every store will stock every item, so shoppers may get frustrated.
Vuleta knows these are concerns that need to be addressed. "Ideally, what I'd like to see happen in the long run: The bigger publishers offer two or three [items] and the smaller publishers maybe offer one. We have a lot of small independent publishers here — I would love to see Prospect Park or Angel City Press do something that was very Southern California, and they would only have to produce enough for 50 stores."
What's more important for Mulvihill than the things for sale is the kinds of unique engagement bookstores offer for book lovers. On Saturday, his San Francisco store will have Dave Eggers providing relationship advice, a panel of McSweeney's authors, a scavenger hunt, kids' projects and a taco truck.
The implementation of California Bookstore Day heralds a change in their retail environment. "With e-book growth flattening, our growth resuming, other indie [bookstores] filling Borders-shaped holes around the country, Amazon finally collecting sales tax in California and elsewhere ... and customers consistently buying real books in real bookstores, the time seemed ripe for a party," Mulvihill says.
California Bookstore Day organizers are also hoping to piggyback on the success of Free Comic Book Day, which falls on the same Saturday. "We had a short window to figure out a date," says California Bookstore Day producer Samantha Schoech, "and in the end we thought we could all benefit from the book-buying frenzy that will be May 3."
Most Southern California bookstores are taking a lower-key approach, planning some book signings, literary trivia, giveaways and discounts. The place to find the biggest party here is in Montrose. Its children's bookstore, Once Upon a Time, has built an entire day's events around a single California Bookstore Day product: "Do You Smell Carrots," a joke book for kids. Expect free carrots, places for kids to create carrot-populated stories and as many carrot books as one children's bookstore can hold.
---
Get the latest news, events and more from the Los Angeles Times Book Club, and help us get L.A. reading and talking.
You may occasionally receive promotional content from the Los Angeles Times.