Cheesecake Factory grapples with the cost of workers' rising wages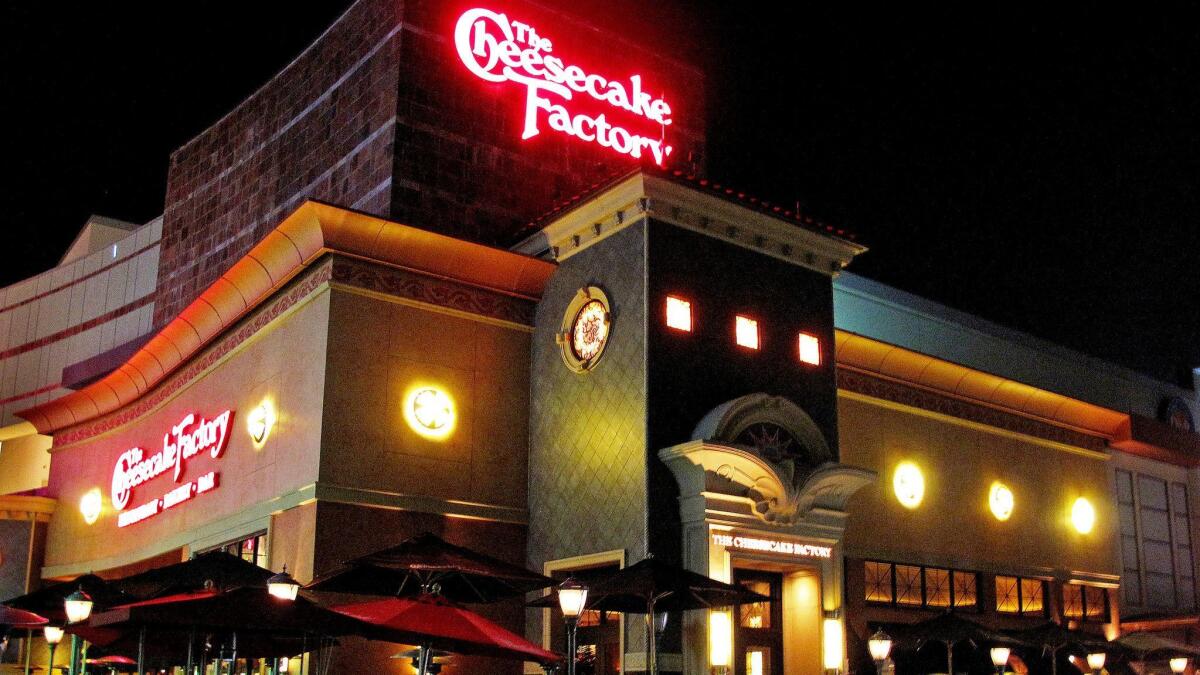 The rising minimum wage is a welcome development for hourly workers, but it carries a price for employers and consumers. Case in point: Cheesecake Factory Inc.
The casual-dining chain saw its stock plunge 12% on Aug. 1 — its worst daily drop in a decade — after Cheesecake Factory posted disappointing second-quarter results and lowered its earnings forecast for the full year.
One culprit was climbing labor costs, specifically "hourly wage-rate inflation," Matthew Clark, Cheesecake Factory's chief financial officer, told industry analysts.
And that upward pressure will continue in California — Cheesecake Factory's largest market, with 38 locations — because the minimum wage statewide will keep rising in steps until it reaches $15 an hour in 2022.
The wage will hit that level even sooner, in 2020, for large firms such as Cheesecake Factory in certain cities such as Los Angeles, Santa Monica and Pasadena, and unincorporated areas of L.A. County, that have their own wage ordinances. It reached $13.25 an hour for large firms in those areas July 1.
Some other casual-dining chains, already suffering from consumer indifference toward that type of eatery, also are feeling the pinch of the rising minimum wage. Darden Restaurants Inc., whose chains include Olive Garden and Yard House, also has faced "continued wage pressures," Darden Chief Financial Officer Rick Cardenas told analysts in June.
"They're all having to deal with it, and not just in California but nationwide," said Janet Lowder, president of the consulting firm Restaurant Management Services in Rancho Palos Verdes.
The increases followed years of wage stagnation for low-income workers, whose advocates point out that people with more dollars in their pockets are less likely to require public assistance and will have more buying power.
Cheesecake Factory and other chains are expected to pass some of those costs to their customers to keep profits rising, Lowder said.
"With the minimum-wage increases you need to increase menu prices accordingly," Lowder said. "The consumer understands that. It needs to be done strategically — every couple of months you add a quarter to this item, 50 cents to that one — so it doesn't look like a huge increase across the board."
Indeed, Cheesecake Factory has tried to keep pace; its average check was $21.85 in 2017 compared with $19.70 in 2013, an 11% increase over that span.
The quarterly earnings report was the latest hiccup after years-long steady growth for Cheesecake Factory, a Calabasas Hills chain with 198 restaurants under that name that provide a vast array of entrees, side dishes and desserts (more than 250 menu items) at moderate prices.
The company also owns 14 Grand Lux Café restaurants and two restaurants called RockSugar Southeast Asian Kitchen, along with bakeries in Calabasas Hills and Rocky Mount, N.C. There also are 21 Cheesecake Factory locations internationally operating under licensing agreements.
The company has about 39,100 employees and posted revenue of $2.3 billion last year.
Cheesecake Factory had stunned Wall Street in mid-2017 when it said its same-store or "comp" sales — that is, comparable sales of restaurants open at least a year and a key gauge of growth — would decline in the second quarter last year.
They ended up falling 0.5% for their first quarterly drop in eight years, and the company's shares tumbled 10% that day.
The setback was part of an overall bearish trend for casual-dining chains, which have been struggling to sustain substantial growth amid shifts in consumers' dining habits.
Much of the growth has been outside that sector in areas such as inexpensive fast-food chains, "fast-casual" outlets such as Chipotle Mexican Grill Inc., and independent restaurants that consumers perceive provide a higher value.
Cheesecake Factory and its stock rebounded after the mid-2017 reversal and were again showing gains until this year's second-quarter results were announced July 31. Its same-store sales in this year's second quarter rose 1.4%, but earnings fell partly because of the higher wage costs.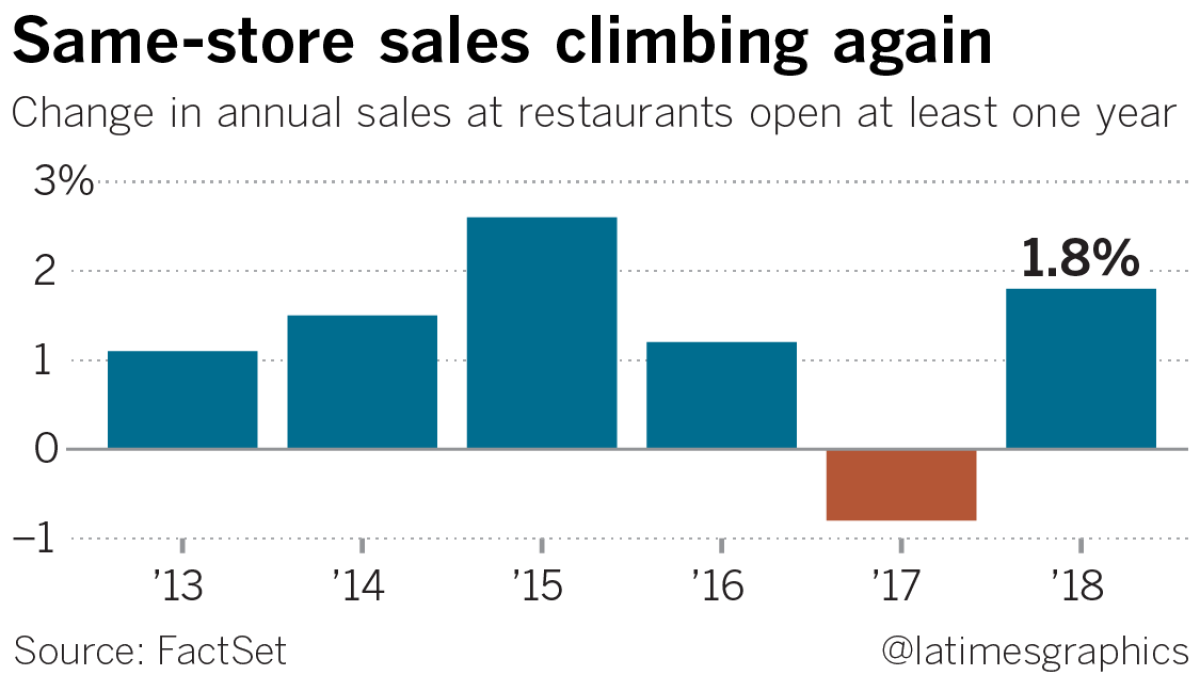 Cheesecake Factory's "sales remain on a better track," but the "rising labor costs continue to force earnings adjustments" downward for the company, analyst Brian Bittner of Oppenheimer & Co. said in a note to clients.
Its shares have recovered slightly since the big plunge, including a gain of 37 cents, or 0.7%, to $52.51 on Tuesday.
David Overton, Cheesecake Factory's chief executive, and other company officials declined to be interviewed. But Clark, in the calls with analysts, noted that wages and salaries as tracked by the U.S. Labor Department rose 2.8% in the year that ended in June, the biggest gain in nearly a decade.
Wages have been climbing as the U.S. unemployment rate has dropped, most recently to 3.9% in July.
And the minimum wage has been rising in several states and cities, sparked by more than five years of protests by restaurant and other low-wage workers. California and 28 other states, as well as the District of Columbia, have a higher hourly minimum wage than the U.S. benchmark, which has stood at $7.25 since 2009.
Economists have long debated the benefits and costs of increasing the minimum wage. A University of Washington study released last year suggests that after Seattle boosted its minimum wage to $13 an hour in 2016, businesses reduced hours for the lowest-paid employees and cut back on such jobs, but increased higher-paying employment.
In contrast, previous studies on minimum wage increases in other cities found little effect on hiring.
Cheesecake Factory's results show the chain has had to grapple with rising employment expenses for some time. Labor costs amounted to 34.4% of Cheesecake Factory's revenue last year, up from 32.1% in 2013.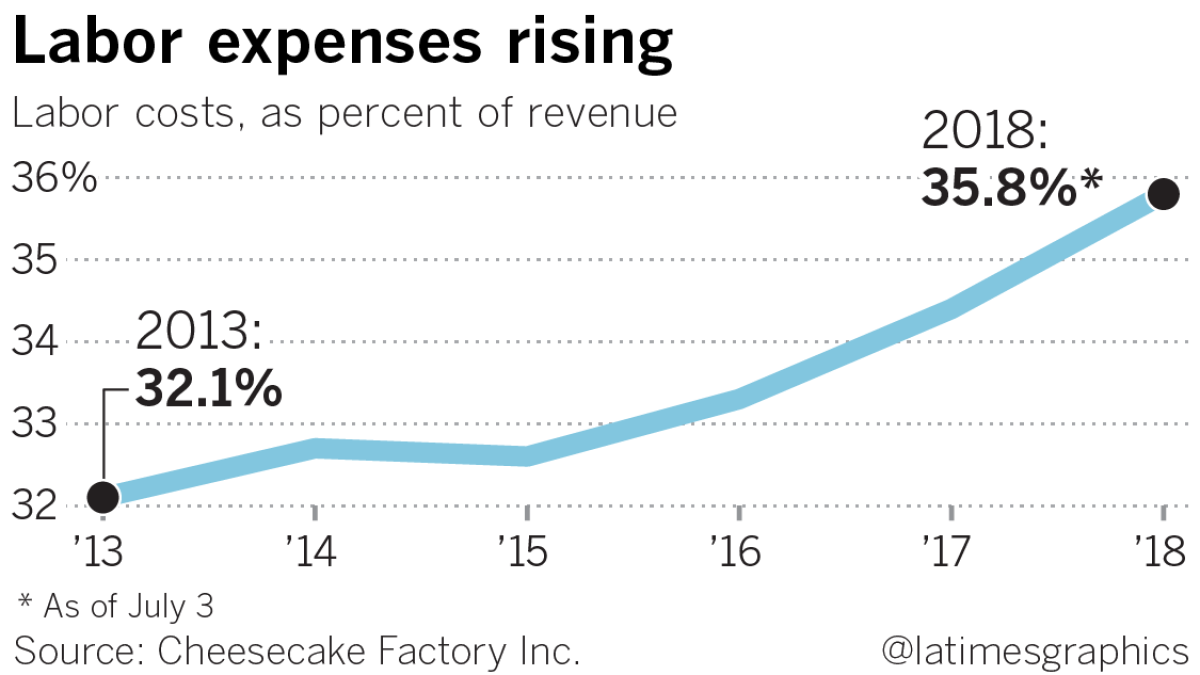 That figure climbed even higher, to 35.8% of revenue, in this year's second quarter, and a "majority of the year-over-year increase is attributable to hourly labor, including higher wages and overtime," along with higher group medical-insurance costs, Clark told the analysts.
Cheesecake Factory traces its roots to the early 1970s when Overton's parents opened a bakery in Los Angeles to sell his mother's cheesecakes to local restaurants. David Overton opened the first Cheesecake Factory restaurant in Beverly Hills in 1978, and the company kept expanding.
It's been listed among Fortune magazine's "100 Best Companies to Work For" for the last five years, in part because Cheesecake Factory aggressively promotes from within its own ranks.
Some analysts expect Cheesecake Factory to rebound again from its current problems.
Sharon Zackfia of William Blair & Co. said that although the company lifted its forecast for wage inflation in the second half of this year, she expects Cheesecake Factory "to better manage labor and overtime" expenses.
"While labor is likely to remain a head wind," she wrote in a note to clients, "we would expect stronger sales as the economy strengthens" that will help "mitigate the pressure over time."
Twitter: @PeltzLATimes