Newsletter: California Inc.: The paradox of workplace robots needing a human touch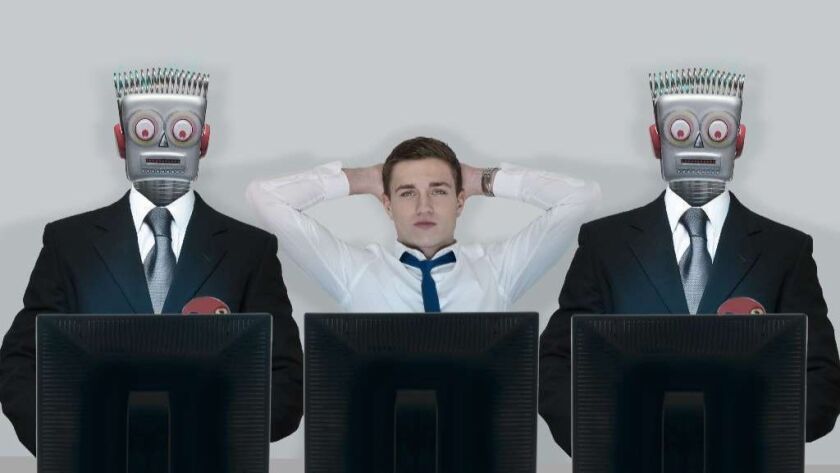 Welcome to California Inc., the weekly newsletter of the L.A. Times Business section.
I'm Business columnist David Lazarus, and here's a rundown of upcoming stories this week and the highlights of last week.
The final jobs report before Tuesday's election featured a stronger-than-expected 250,000 net jobs created in October. The unemployment rate held steady at 3.7%, the lowest since 1969. The more significant news in the report was that wages hit a post-recession milestone with average hourly earnings up 3.1% for the 12-month period ended Oct. 31. That was the best since April 2009, though rising inflation cut into the gains.
LOOKING AHEAD
Civic duty: Tuesday is election day. Please vote.
Job openings: We'll see Tuesday how robust the labor market is as the latest stats on job openings are released. In August, there were a record 7.14 million vacancies. The total number of hires hit a record of 5.78 million.
Fed watch: Federal Reserve officials on Thursday are expected to hold their key short-term interest rate steady after a two-day meeting. Analysts expect the Fed will nudge the rate higher in December, the fourth small hike this year.
Thrills, chills: A couple of thrillers of note opening Friday. "Overlord," from producer J.J. Abrams, is set during World War II and features Nazis and zombies, so that's all you need to know about that. Then there's "The Girl in the Spider's Web," which continues the "Dragon Tattoo" series but isn't based on a Stieg Larsson book, which to my mind is a plus.
THE AGENDA
Monday's Business section examines the automation paradox: How the infusion of artificial intelligence, robotics and big data into the workplace is elevating demand for people's ingenuity, to reinvent a process or rapidly solve problems in an emergency. "Work in a certain sense, and globally in manufacturing, is becoming more human and less robotic," says one expert. Few narratives in economics and social policy are as alarmist as the penetration of automation and artificial intelligence into the workplace, especially in manufacturing.
STORY LINES
Here are some of the other stories that ran in the Times Business section in recent days that we're continuing to follow:
Hitting the streets: Thousands of Google employees walked off the job worldwide to call for changes at the company following a New York Times report that senior executives accused of sexual harassment were allowed to exit with handsome severance packages. The walkout, including at Google's Venice offices, were given the blessing of CEO Sundar Pichai, who apologized for the company's actions.
Heavy debt: Despite a booming economy, the government's debt sales will surpass levels last seen when the U.S. was digging out of the financial crisis. Blame it on tax cuts, spending hikes and an aging population. The U.S. Treasury said it will raise its long-term debt issuance at its quarterly refunding auctions to $83 billion, beating the previous record of $81 billion set in 2009.
Accelerating growth: Tesla met profit and cash-flow promises and exceeded analyst expectations in a third-quarter earnings report that gave the electric-car maker breathing room. The positive report reflects booming Model 3 sales and should tone down short sellers, though a closer look shows more than half of net income came from zero-emission, cap-and-trade and other credits.
Sour Apple: Even though its quarterly earnings beat Wall Street expectations, Apple experienced its largest fall in share price in nearly five years. Investors were spooked by the tech giant's report of weak iPhone sales growth and its decision to no longer disclose the number of iPhones, iPads and computers it has sold each quarter — taken as a sign the boom days of sales are over.
Pricey makeover: The Beverly Center — the height of urban chic when it opened in 1982, but no longer in the era of outdoor "lifestyle" malls — completed a sorely needed $500 million facelift. The eight-story building got a new facade, skylights to brighten the interior and radically upgraded food offerings, de rigueur for brick-and-mortar retailers trying to compete with online rivals.
WHAT WE'RE READING
And some recent stories from other publications that caught our eye:
Top marks: Why does one customer spend years on hold while another gets through quickly? The Wall Street Journal says it's because of a sneaky rating system called customer lifetime value. "Credit-card companies use the scoring systems to decide what to offer customers who want to cancel their cards. Wireless carriers route high-value callers immediately to their most skilled agents. At some airlines, a high score increases the odds of a seat upgrade."
Three's company: The Orange County Register checks out the growing practice among SoCal residents of relying on roommates to bring down housing costs. "High rents create headaches for all residents. 'Roomies' can mean unplanned population surges in neighborhoods. This can create a host of societal costs from jammed roads to crowded schools to strained utilities to stretched public safety resources."
Dirty work: The New Yorker visits with the consulting firm McKinsey, which worked with the Saudis on dealing with the kingdom's critics. "The firm said that it was 'horrified' by the possibility that its work could have been misused, and that it was investigating how the report could have got into the hands of people who were not supposed to have it."
Somebody's watching me: As people's DNA becomes more widely available, Bloomberg Businessweek says, it increasingly will be put to use by law enforcement. "More than 15 million people have now taken consumer DNA tests from companies including Ancestry.com Inc. and 23andMe Inc. ... And even if you aren't among them, if a cousin of yours is, you can be found."
Parking space: The typical driver will spend nearly 38,000 hours behind the wheel in a lifetime, covering some 800,000 miles, the New York Times reveals. "A good seat helps improve safety, makes us better drivers and can even increase a car's fuel efficiency. And while the car's exterior can get a shopper to open the door, an eye-catching and comfortable chair can close the sale."
SPARE CHANGE
A wonderful video from the Atlantic about Tom and Barbara Holmes, who moved into a Sacramento house where seven people were murdered. "This is a film about a location where horrific things took place," says filmmaker Nick Coles said. "It is a real house of horrors ... But while this is dark and serious subject matter, Tom and Barbara have managed to deal with it in a sensitive way through humor."
For the latest money news, go to www.latimes.com/business. Mad props to Laurence Darmiento for helping put this thing together.
Until next time, I'll see you in the Business section.
---
Your guide to our clean energy future
Get our Boiling Point newsletter for the latest on the power sector, water wars and more — and what they mean for California.
You may occasionally receive promotional content from the Los Angeles Times.