Newsletter: California Inc.: Wells Fargo's CEO to be grilled by Congress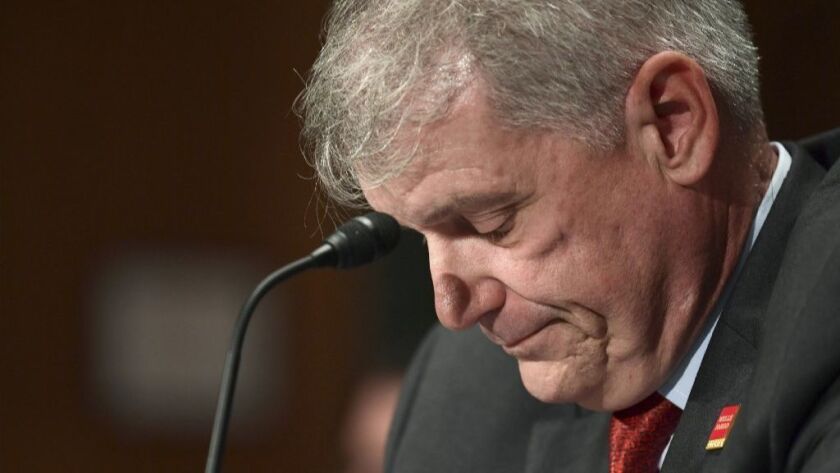 Welcome to California Inc., the weekly newsletter of the L.A. Times Business section.
I'm Business columnist David Lazarus, and here's a rundown of upcoming stories this week and the highlights of last week.
Stocks took a tumble on Friday after the Labor Department reported just 20,000 net jobs were added in February, significantly below expectations of a 180,000 gain. The tax cuts and stimulus of additional government spending seem to be wearing off, economic growth abroad has weakened, and the partial government shutdown and ongoing trade tensions appear to be weighing on consumer and business spending.
LOOKING AHEAD
Retail sales: The latest stats on retail sales, after a shutdown-related delay, arrive Monday. In December, retail sales posted the biggest drop since September 2009, falling 1.2% from November. Total retail sales for 2018 rose 5% from the previous year.
Spotlight on Sloan: Wells Fargo CEO Timothy Sloan is scheduled to testify Tuesday before the House Financial Services Committee. The panel's new chairwoman, Rep. Maxine Waters (D-Los Angeles), has been critical of the bank's consumer abuses and called Sloan as the first big bank CEO to appear before her committee.
Consumer prices: The Consumer Price Index comes out Tuesday. Consumer prices were largely unchanged for a third straight month in January, leading to the smallest annual increase in inflation in more than a year. Cheaper gas offset increases in food and rents.
How we're feeling: The most recent pulse reading of consumer sentiment will be released Friday. Consumer sentiment in late February fell from an earlier high, suggesting that many Americans are still shaken by the recent government shutdown and trade war with China.
New movies: A bunch of movies open Friday. I'm intrigued by the sci-fi thriller "Captive State," mostly because it features John Goodman, who is, well, John Goodman. And I'm keeping fingers crossed for "The Highwaymen," which stars Kevin Costner and Woody Harrelson as the detectives who brought down Bonnie and Clyde.
THE AGENDA
Monday's Business section takes a close look at changes under the Republican tax overhaul. Not surprisingly, it provides plenty of perks for the rich. But not all well-off folks are treated alike under the law. A controversial provision that helps pay for huge corporate tax cuts punishes residents of states with higher income taxes — most of which, but not all, lean Democratic.
STORY LINES
Here are some of the other stories that ran in the Times Business section in recent days that we're continuing to follow:
C-suite shakeup: Eight months after buying Time Warner Inc. for $85 billion, AT&T Inc. is restructuring the New York media company, which has been renamed WarnerMedia. Bob Greenblatt, a former NBC Entertainment chief, was tapped to run HBO as well as TNT and TBS, giving HBO a leader who comes from outside the company for the first time in four decades.
AT&T scandal: Just days after announcing the restructuring, AT&T was hit by a Hollywood sex scandal. The company is investigating allegations that Kevin Tsujihara, the head of its Warner Bros. movie and TV studio, engaged in an extramarital affair with a young actress who demanded that she be cast in the company's movies. Tsujihara, who has not been accused of harassment, apologized for his behavior.
Record shortfall: The nation's trade deficit in goods soared to an all-time high last year of $891 billion, adding pressure on President Trump to close a trade deal with China to boost U.S. exports and remove punishing tariffs against American farmers and other businesses. The overall trade deficit with the rest of the world surged 12.5% last year to $621 billion, a 10-year high.
No joke toke: SpaceX Chief Executive Elon Musk's Pentagon security clearance is under review after he infamously smoked marijuana live on YouTube in September. Musk has refiled his SF-86 security form, which requires a federal contractor seeking a clearance to acknowledge any illegal drug use over the previous seven years. SpaceX has contracts to launch satellites for the U.S. military.
Gig economy: Scooter rental company Bird Rides Inc. has gone in house and begun abandoning its practice of employing independent contractors via an app to fix its scooters in Los Angeles and several other cities. The move drives home the uncertain economic prospects for people relying on gig economy platforms for income.
WHAT WE'RE READING
And some recent stories from other publications that caught our eye:
Seeing red: Wendy's, and its tomatoes, are coming under fire, says the New York Times. "A program created by a group that organizes farmworkers has persuaded companies like Walmart and McDonald's to buy their tomatoes from growers who follow strict labor standards. But high-profile holdouts have threatened to halt the effort's progress."
Unfriendly skies: Get out your violin. Bloomberg reports that the super-rich are being ripped off when they fly in private jets. "One jet owner found himself charged $5,300 for 240 sushi boxes apparently served on board his jet while it was empty ... Another was charged $6,800 for plastic cups after the provider mistakenly added two zeros to the invoice. Still another customer's refueling bill ended up exceeding the capacity of the plane's fuel tanks by more than two tons."
Bosom buddies: If you missed it, the New Yorker went deep with a remarkable expose of the cozy ties between the Trump administration and Fox News. "The White House and Fox interact so seamlessly that it can be hard to determine, during a particular news cycle, which one is following the other's lead."
Pricey Prince Charming: A Disney heiress makes the case on CNBC that the wealthy aren't paying their fair share of taxes. "If your CEO salary is at the 700, 600, 500 times your median workers' pay, there is nobody on Earth — Jesus Christ himself isn't worth 500 times his median workers' pay," says Abigail Disney, granddaughter of Roy Disney, Walt's brother. "CEOs in general are paid far too much."
Stepping out: Who ya gonna call when you get your super-pricey kicks dirty? Sneaker cleaners, says the Wall Street Journal. "The desire to keep these harder-to-clean shoes looking 'fresh out the box,' has created an emerging industry of self-proclaimed sneaker-cleaning specialists. Companies generally charge about $35 for a 'basic cleaning' and more for advanced services; Other Peoples Kicks, a Moreno Valley, Calif.-based cleaner, charges $150 for sneakers 'in critical condition.'"
SPARE CHANGE
Hardly a day goes by without news that newfangled 5G wireless technology will change life as we know it. This video from the Journal aims to debunk some of the myths surrounding the looming arrival of higher speeds. Yes, you'll be able to stream and download faster, and automation will improve. But it could take decades for 5G to replace existing 4G. If you're not in a large city, don't hold your breath.
For the latest money news, go to www.latimes.com/business. Mad props to Laurence Darmiento for helping put this thing together.
Until next time, I'll see you in the Business section.
---
Your guide to our clean energy future
Get our Boiling Point newsletter for the latest on the power sector, water wars and more — and what they mean for California.
You may occasionally receive promotional content from the Los Angeles Times.