Hot Property Newsletter: Homes away from home
Although we often stick close to home — which for the Los Angeles Times is now officially El Segundo, but that's another story — this week we'll also take you to two of L.A.'s favorite playgrounds: Palm Springs, to a house Elvis once graced, and Lake Arrowhead, where a plastic surgeon seen on TV is ready to cut a deal.
Our Home of the Week is a walled and gated Spanish-style estate in Beverly Hills that is updated yet retains many original 1920s details. Colorful tile risers? Check. Arched doorways? Check. A meditation room, which sits among gardens across from the main house, offers space for reflecting on a bygone age as well as on the current listing price of $13.498 million.
Once you're done reading about these deals, visit and like our Facebook page, where you can find Hot Property stories and updates throughout the week.
– Neal J. Leitereg and Lauren Beale
90210 power house
The Beverly Hills residence of Dan Fegan, the late basketball power agent and attorney who represented some of the sport's biggest stars, has come on the market at $14.5 million.
Built in 1968, the updated single-story contemporary sits on about a third of an acre. A marble-lined foyer, a living room with a fireplace, a wood-paneled den, a center-island kitchen with poured concrete countertops, four bedrooms and 3.5 bathrooms make up the roughly 4,600-square-foot floor plan.
The hillside property has covered and uncovered patio space, a swimming pool and a motor court.
Fegan, who died this year in an automobile accident at 56, handled more than $2 billion in player contracts. Dwight Howard, John Wall, DeAndre Jordan and Amar'e Stoudemire were among his superstar clients.
Ready to cut a deal
Plastic surgeon Andrew Ordon, who appears on the syndicated talk show "The Doctors," is looking for a buyer for his home in Lake Arrowhead.
Listed for just a nip and a tuck off $3 million, the European-inspired spread takes full advantage of its lakefront location with expansive terraces on each level. Dock space for a single boat and a lake-facing hot tub are among outdoor amenities.
Inside, the 5,000 square feet of interior space includes a beamed-ceiling living room, a wet bar, a dining area, five bedrooms and five bathrooms. Three stone fireplaces keep the place cozy in the wintertime.
The 67-year-old physician was a regular guest on the "Dr. Phil" talk show before joining "The Doctors" in 2008.
Elvis has left the building
A honeymoon hideaway steeped in rock 'n' roll history is back up for sale in Palm Springs.
The futuristic-vibe residence to which Elvis and Priscilla Presley decamped following their secretive wedding in 1967 has returned to the market at $2.695 million. A $9.5-million price tag once graced the Modernist home.
Known as the "House of Tomorrow," the home's distinctive appearance is created by four circular wings that incorporate stone walls and floor-to-ceiling windows within 5,000 square feet of living space. The living room fireplace is suspended from the ceiling.
Presley, who died in 1977 at age 42, helped shape the music of a generation with his provocative style and genre-bending discography. His hits include "Jailhouse Rock," "Suspicious Minds" and "Burning Love."
It's super, naturally
Producer-director-actor Chris W. King is ready to call it a wrap, listing his Hollywood home for $1.549 million.
Tucked behind walls and hedges, the Spanish-style bungalow dates to 1924 and has been updated. Quartz countertops and subway tile highlight the modernized kitchen. The sunlit dining room retains its original built-in cabinetry.
There are two bedrooms and 1.75 bathrooms plus a bonus room.
King was a supervising producer and executive producer on the supernatural series "Penny Dreadful" (2014-16). He directed the "Foo Fighters: Back and Forth" video, which in 2011 won a Grammy award for best long-form video.
An off-court move
Indiana Pacers point guard Darren Collison has made an off-the-court pass of sorts, selling his home in a suburb of Sacramento for $1.26 million.
The two-story house sits on about an acre in Granite Bay and has a swimming pool.
Built in 2003, the home has about 5,200 square feet of living space that includes formal living and dining rooms, four bedrooms and four bathrooms. A media/game room on the second story features a wet bar.
Collison, 31, played for the Sacramento Kings from 2014 to 2017. Last year, he signed a two-year deal to return to the Pacers. The UCLA alum has also played for the Hornets, the Mavericks and the Clippers in 10 professional seasons.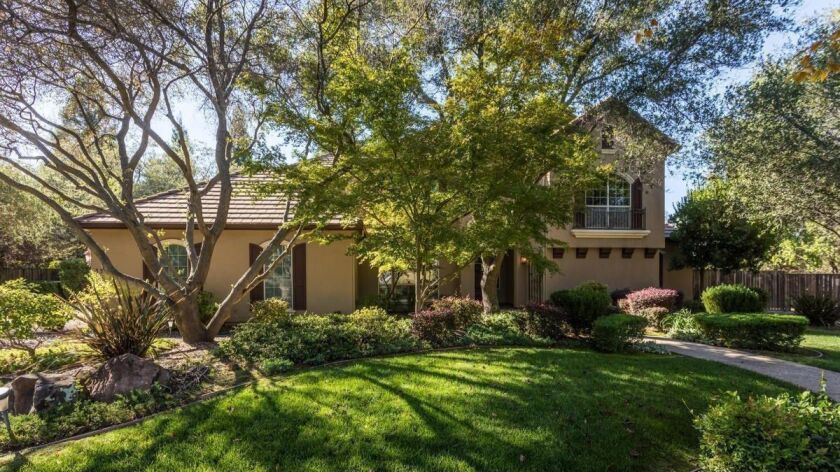 His favorite room
Actor Chris Coy, known for his roles on "Treme," "The Deuce" and "The Walking Dead," went for nontraditional at his 3,300-square-foot Thousand Oaks house. He transformed his sunny dining alcove and adjacent living room into a play space with an arts-and-crafts table, benches and a wall brimming with colored pencils, paint brushes and bins of supplies.
From the archives
Ten years ago, actor Leonardo DiCaprio listed one of his Malibu properties for sale at $8.999 million. The contemporary home, set on the bluffs above the Pacific, had two bedrooms and two bathrooms within its 2,374 square feet of living space. Steps led to the beach cove below.
Twenty years ago, "Xena: Warrior Princess" star Lucy Lawless purchased a Studio City home for $1.5 million. Built in 1951, the house had two master suites, maid's quarters, a gym and an office.
Thirty years ago, actor Lon Chaney Jr.'s former home in the flats of Beverly Hills, with a bar hidden behind a floor-to-ceiling bookcase, was for sale at $3.25 million. The Mediterranean-style estate — complete with billiard, formal dining and breakfast rooms as well as a guest house and pool — had been built in 1930 during Prohibition.
What we're reading
The Aretha Franklin estate has sold the last property owned by the legendary singer in Detroit for $300,000, reports the Detroit News. The 5,600-square-foot brick mansion sits next to the Detroit Golf Club. The sales price included a half-acre lot adjacent to the home.
ICYMI: California's housing shortage has landlords carving up apartments to lower the rent. Some companies are using dividing walls or curtains to create new bedrooms, reports the Los Angeles Times. Others are filling rooms with bunk beds.
---
Inside the homes of the rich and famous.
Glimpse their lives and latest real estate deals in our weekly Hot Property newsletter.
You may occasionally receive promotional content from the Los Angeles Times.