Full coverage: California power outages
Tom Hyde buys a can of fuel for his Coleman camp stove from Kim Scheffer at a Village True Value Hardware store in Santa Rosa.
(John Burgess / Press Democrat)
Shift supervisor James Quinn walks through a darkened CVS Pharmacy as downtown Sonoma remains without power.
(Noah Berger / Associated Press)
Carlos Lama of Bayside Cafe, which was among businesses to lose power due to PG&E's public safety power shutoff, uses an LED lamp and light from his phone at the counter of the restaurant in Sausalito.
(Alan Dep / Marin Independent Journal)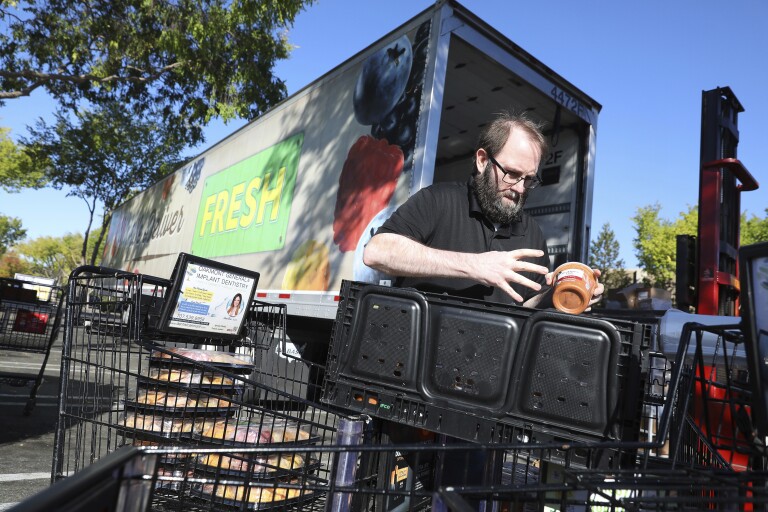 Jamie Olivas transfers items from a Safeway store in Santa Rosa into a refrigerated trailer to keep them cold.
(Christopher Chung / The Press Democrat)
A sign at Mary's Pizza Shack informs customers of their closure due to a PG&E power shutdown in Sonoma.
(Christopher Chung / The Press Democrat)
A gas station marquee and traffic lights remain dark as children cross Highway 12 during a power outage in Boyes Hot Springs.
(Noah Berger / Associated Press)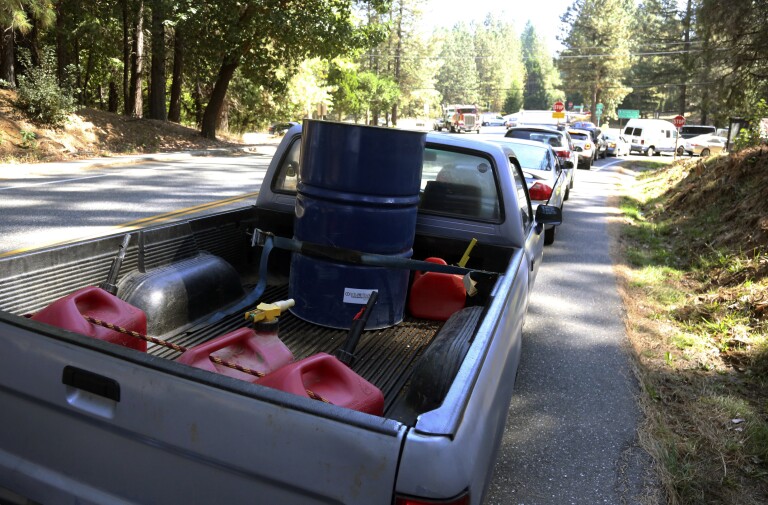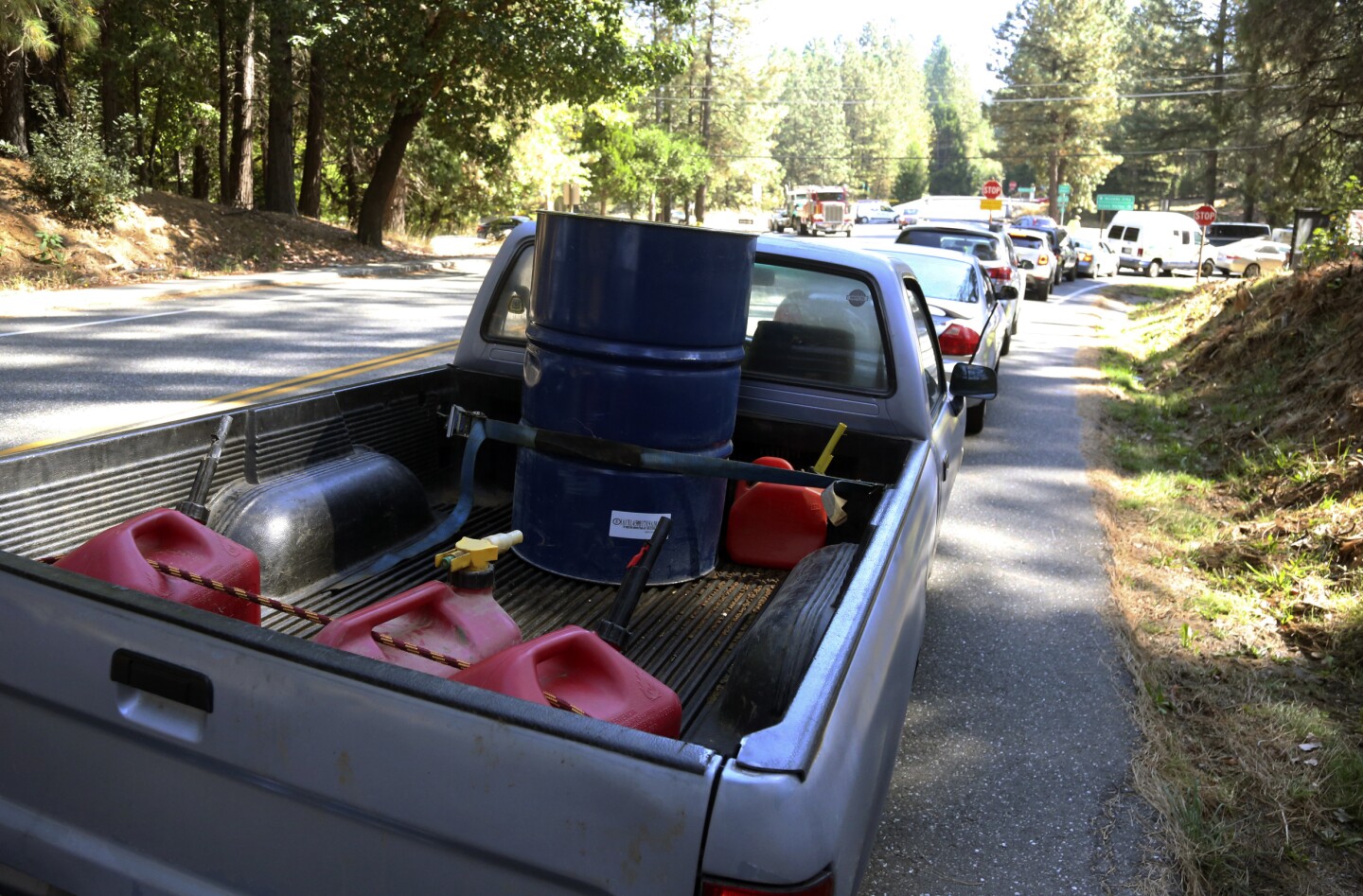 People wait in line for gas at Robinson Enterprises in Nevada City.
(Elias Funez / Associated Press)
Residents pick up meals from El Coyote food truck, one of the few food trucks open in Sonoma.
(Brittany Hosea-Small / AFP/Getty Images)
Restaurant owner Emily Schiffman checks her phone behind a candle-lit bar at Reel and Brand in Sonoma.
(Brittany Hosea-Small / AFP/Getty Images)
Judy Aquiline, a Sonoma local, sits in the candlelit restaurant Reel and Brand in Sonoma.
(Brittany Hosea-Small / AFP/Getty Images)
Armando Espinoza delivers paper products to a cafe in downtown Sonoma during the power outage.
(Noah Berger / Associated Press)
Read our full coverage of the power outages affecting residents across the state.
A 67-year-old man with health issues died minutes after PG&E cut power to his neighborhood. His daughter believes the outage contributed to his death.

Saddleridge fire approaches Aliso Canyon gas facility, site of massive 2015 blowout

The fast-moving Saddleridge fire in the San Fernando Valley has charred dozens of homes, closed freeways and forced thousands to flee.

Saddleridge fire: Residents flee flames, firefighters fight to save homes

Some California utilities have developed systems to shut off power in targeted locations facing the worst wildfire risk. Pacific Gas & Electric is far behind, resulting in expansive outages.

The non-injury Wolf Fire was reported at 5:08 p.m. Thursday in the area of Wolfskill Truck Road and Silver Creek Drive, just west of Poppet Flats.

The first round of Southern California Edison outages began Thursday morning. By noon, almost 13,000 customers were without electricity.

SoCal Edison power cuts could affect the Desert Daze festival, whose site lies within a nine-county area facing severe Santa Ana winds.

Moraga-Orinda firefighters said a blaze broke out in the predawn hours near St. Mary's College and quickly grew but was 80% contained by daybreak.

More than a million Californians remained without power Thursday after PG&E shut off electricity in an attempt to prevent devastating wildfires.

Leaving grapes on the vine may have been bad if conditions were rainy and frosty, but the current pause coincides with cool and sunny weather.

California utilities are woefully behind on maintenance and new power systems to prevent long-term blackouts.

The preventive power outages in Northern California could leave more than 2 million people without lights, air conditioning, computers and refrigerators this week. Gusty conditions are expected through Thursday morning.

An LAPD spokesman said the removals will take place Wednesday night and Thursday.

Gov. Gavin Newsom acknowledged the widespread dissatisfaction with the massive power outage launched by Pacific Gas & Electric in Northern California.

Geography and weather systems contribute to the strong offshore Santa Anas

Millions of customers were without power as the utility worked preemptively to avoid potential wildfires sparked by high winds damaging equipment.

PG&E power outage: Lines for gas, demand for portable generators and refrigeration.

Living without power for hours and even days will be hard. But this is the way Californians have to live now, thanks to bad land use choices and climate change.

Here's what experts say are the best ways to communicate during and after an emergency.

While Northern California grapples with unprecedented blackouts, Southern California Edison says power could be cut to more than 173,000 customers in nine counties.

Here are some steps you can take before, during and after a power outage.

The Pleasanton Police Department shared a tongue-in-cheek message about the massive blackouts affecting California, and the post has gone viral.

Here are the areas where PG&E says the power may potentially go out. Search an address to see if it may be affected.

California power outage: Anger at PG&E over massive blackout

Lilli Heart lost everything when her home burned in Paradise. Now she's in the midst of a massive blackout designed, ironically, to prevent another killer blaze like the Camp fire.

California power outage: CHP investigating possible shooting at PG&E truck

In an unprecedented move, Pacific Gas & Electric early Wednesday began a sweeping shut off power to about 800,000 customers across Northern California in a desperate attempt to avoid wildfires caused by winds damaging power equipment.