Felicity Huffman is released after serving 11 days of her 14-day sentence in admissions scandal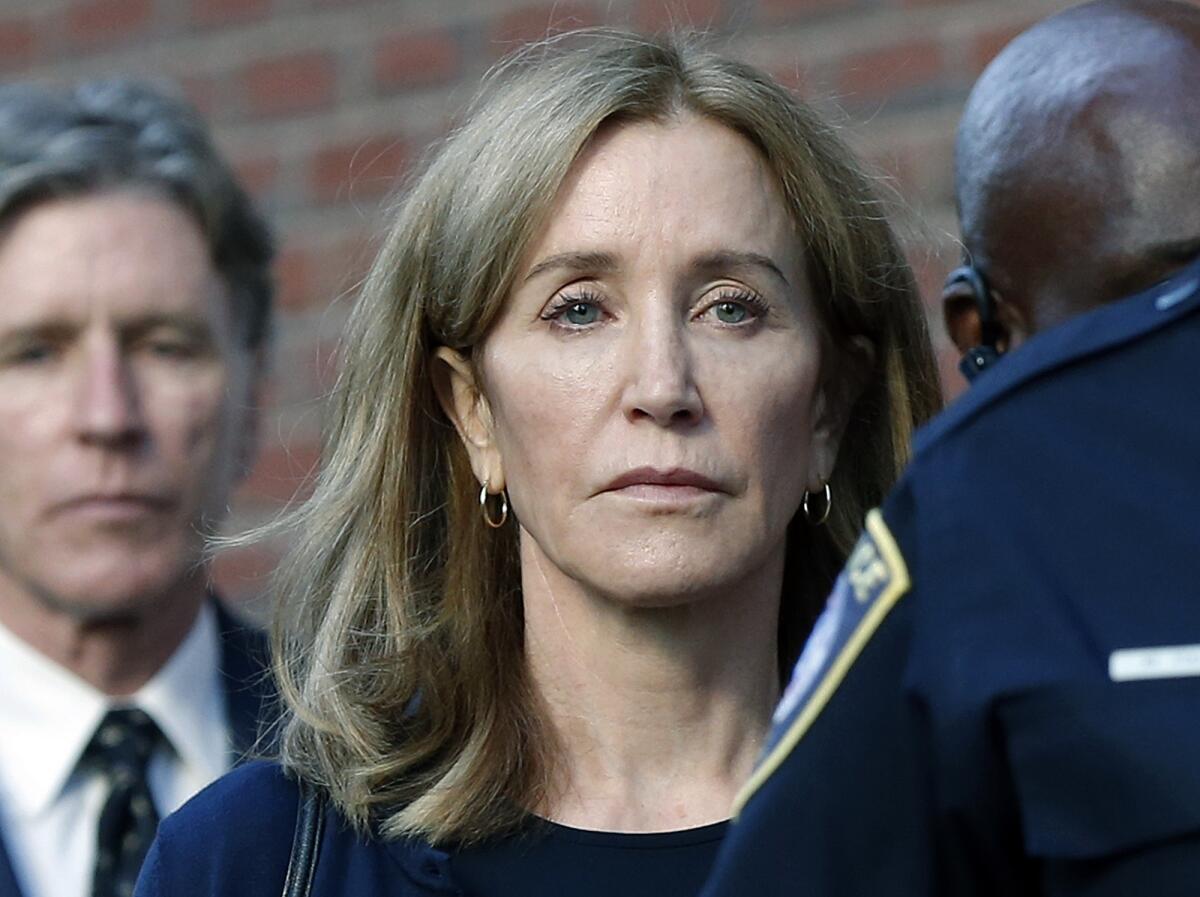 Actress Felicity Huffman was released Friday from federal prison after serving most of a two-week sentence for paying to rig her daughter's university entrance exam as part of the wide-ranging college admissions scandal.
Huffman, 56, was released from the Federal Correctional Institution in Dublin, Calif., a low-security facility in Alameda County, said Sally Swartz, a spokeswoman for the prison.
Huffman reported to the prison Oct. 15. Her sentence was to run only 13 days because of time she spent in federal custody after her arrest in March, meaning that she was slated to be released Sunday. It's typical for inmates who are scheduled to be released on a weekend or a holiday to instead be released on the preceding weekday, Swartz said.
The "Desperate Housewives" and "American Crime" actress pleaded guilty earlier this year to paying $15,000 to scam mastermind William "Rick" Singer, a college admissions consultant who preyed on his wealthy clients' anxieties about getting their kids into top schools and their willingness to pay huge sums to access his illicit operation.
In return, prosecutors said, Singer inflated Huffman's oldest daughter's SAT score by bribing a proctor at the private school in West Hollywood where she took the test, then having an accomplice correct her answers. The girl knew nothing of the scam, according to both Huffman and prosecutors.
Huffman pleaded guilty in May to a fraud conspiracy charge. As part of her sentence, she was also ordered to pay a $30,000 fine and serve 250 hours of community service. She must now spend a year under the supervision of probation officials.
The actress was one of 33 parents charged in March in a sweeping investigation into Singer's scheme.
Along with the parents, including a 34th who pleaded guilty in July, federal prosecutors in Boston charged about a dozen college coaches, test proctors and administrators with conspiring with Singer in what the U.S attorney's office in Massachusetts called the country's largest-ever investigation into corruption in college admissions. Singer pleaded guilty and helped prosecutors build their cases against Huffman and other parents.
As of this week, 19 parents have pleaded guilty; 15 have contested the government's case, and prosecutors are attempting to extradite from Spain a 35th parent accused of conspiring with Singer.
Sign up for Essential California for news, features and recommendations from the L.A. Times and beyond in your inbox six days a week.
You may occasionally receive promotional content from the Los Angeles Times.