Coronavirus closures at L.A. Unified extend to May 1; district deal with Verizon will offer free internet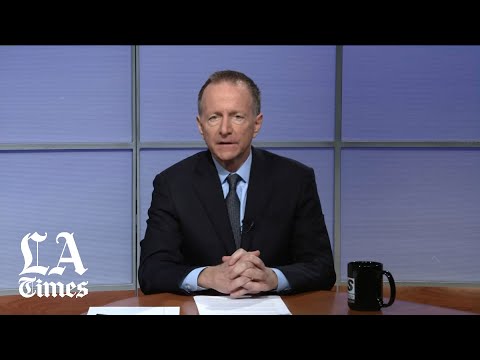 Los Angeles public school campuses will be closed until at least May 1 in response to the widening COVID-19 pandemic, officials announced Monday, energizing a costly scramble to move instruction online for an extended period, provide computers and free internet to the needy and ramp up meal distribution.
By staying closed until May, the nation's second-largest school system is aligned closely with a recommendation from Debra Duardo, head of the L.A. County Education Office, which provides oversight for local school systems. There appears to be broad compliance with Duardo's timetable among the county's 80 districts. About 1.5 million students are enrolled in Los Angeles Unified and county public school districts.
"I wish I could start by telling you it will all be back to normal sometime soon," said L.A. Unified schools Supt. Austin Beutner in a video statement Monday morning. "But that is not the case."
The centerpiece of the massive L.A. Unified effort is $100 million in new spending that Beutner has authorized, using emergency powers, to provide a district computer to every child in need and technology training for teachers and students — expenses that could threaten the district's solvency.
Part of the money also will go toward providing high-speed wireless internet through Verizon to all students who need it. The service will be free to families, paid for by L.A. Unified at a discounted rate. About 80% of the district's half-a-million students are members of low-income families.
"In ordinary times, our focus is on three things — to help students learn, provide support to students and families most in need and take care of all teachers and staff in schools who make possible the learning and support," Beutner said. "Even in these extraordinary times, these are still our goals."
This spending and other costs have thrown the district's three-year budget — which the state requires to be balanced — into an apparent deficit, compelling Beutner to appeal to state lawmakers for emergency state funding.
"Said simply, our budgets will not balance for the current fiscal year because of the extraordinary costs associated with responding to the global pandemic," wrote Beutner in a joint letter Monday with San Diego Unified Supt. Cindy Marten. "We request an additional emergency appropriation to address these unforeseen costs."
The two district leaders are seeking "$500 per student ... irrespective of family circumstances." The money, they said, should especially be targeted to students who qualify for free- and reduced-priced meals at schools, students with disabilities, foster youth, homeless students and students who are learning English.
The extended-closure announcement came as L.A. schools were beginning the second week of what was originally scheduled as a two-week shutdown.
Gov. Gavin Newsom said last week that he thinks it's likely that campuses would remain closed for the remainder of the traditional school year.
Schools and school districts have turned to online learning to keep academic activities going, with mixed results. Beutner acknowledged Monday that distance learning needs to improve.
"We know we can do better," said Beutner, who estimated that about half of students continue to learn at the pace they had been at school. "Standing in the way is a great big digital divide."
District officials estimated they were short about 150,000 devices. In an interview with The Times Monday, Beutner said that computer purchases were likely to include tablets and Chromebook-style laptops.
The deal with Verizon for wireless service is crucial, Beutner said, even though cable providers have offered free internet for new customers during this crisis. The problem, he said, is that many families are not in homes that could be quickly and easily hardwired — especially given the directives about social distancing.
Details about the Verizon plan were not available Monday afternoon; nor was the cost. The contract is being prepared, Beutner said.
Another component of the district plan will be training teachers and students about how to work and interact online. Before the shutdown began, teachers were told to prepare two weeks of work for students — which takes students to the end of this week. It may be necessary to open up schools long enough for students to turn in or pick up assignments — and even to pick up computers, Beutner said.
Also on Monday, L.A. Unified began bringing meals to eight temporary homeless shelters newly opened by the city of Los Angeles. City officials said the district would supply three free meals per person daily Monday through Friday, with other providers stepping in over the weekend.
L.A. Unified already is providing food at 60 "grab-and-go" distribution centers, which are open on weekdays between 7 and 11 a.m. People can walk up or drive through to receive cold, shelf-stable meals. On Monday, the district handed out about 260,000 meals, the largest number since the effort began last Wednesday. On a typical school day, L.A. Unified serves about a million meals.
The cost of meals for students from low-income families is likely to be reimbursed by the federal government, but L.A. Unified has provided food to all who ask — a generous and widely applauded measure but a potential financial risk.
L.A. Unified also is paying staff volunteers a stipend of $100 per day to help at these distribution centers, another new cost associated with the emergency.
"We're spending resources to try to be a lifeline to the community because we think it's the right thing to do," Beutner said. "We're assuming we'll sort out the money later."
In their letter to state leaders, the two superintendents also called on additional funding to support services to disabled students and to English learners.
Times staff writer Sonali Kohli contributed to this report.
Sign up for Essential California for news, features and recommendations from the L.A. Times and beyond in your inbox six days a week.
You may occasionally receive promotional content from the Los Angeles Times.