Brush fire in San Diego suburb destroys one home, damages six others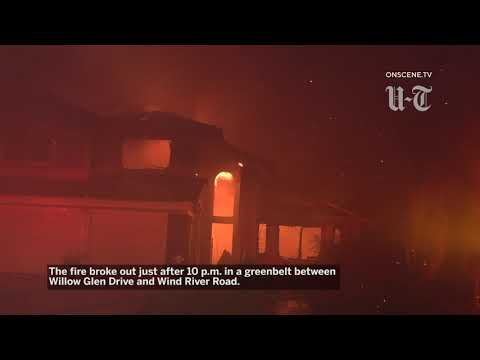 A brush fire erupted Wednesday night in Rancho San Diego, with flames quickly spreading to several homes as dry Santa Ana winds pushed the blaze.
SAN DIEGO —
A brush fire erupted Wednesday night in a San Diego suburb destroying one home and threatening about 200 others as dry Santa Ana winds fanned the flames, authorities said.
The fire broke out around 10 p.m. in a belt of undeveloped land in Rancho San Diego, southeast of El Cajon, according to San Diego County sheriff's Lt. Mark Moreno.
One structure was destroyed and six others were damaged, said Capt. Thomas Shoots, a spokesman for the California Department of Forestry and Fire Protection.
As of 7 a.m. Thursday, fire officials reported the fire had charred 30 acres and was 50% contained, Shoots said.
Sheriff's deputies began evacuating the area immediately as the fire spread Wednesday night, going door-to-door to about 200 homes to tell residents to leave, authorities said.
Around 3:45 a.m., county officials lifted the evacuation orders, but road closures remained in effect for some communities.
Shoots said firefighters were able to gain the upper hand on the fire because of its location and because of the direction the winds were pushing it.
"A lot of it had to do with where it started, and because this particular area is basically a little belt of vegetation surrounded by homes and roads, it kind of ran out of fuel," Shoots said. "If this fire had gone east, it would have been off to the races."
There were no immediate reports of injuries.
Resident Aidan Farida posted several videos of the blaze on Twitter. In a brief phone interview, he said he looked out a window Wednesday night to see "this huge fire." He described heavy smoke and ash in the air, and said a home at the top of a nearby hill was "fully on fire."
Other homes nearby also appeared to be on fire, Farida said.
A temporary evacuation point was set up at the McGrath Family YMCA on Campo Road.
According to Cal Fire, the blaze grew to 15 acres within about 45 minutes.
The California Highway Patrol shut down several roads in the area as crews on the ground and water-dropping helicopters battled the flames.
Crews from Cal Fire San Diego, San Miguel Fire Protection District and Heartland Fire & Rescue were involved, as was at least one helicopter from the San Diego Fire-Rescue Department.
Kathleen Hedberg watched from her Mount Helix home as low-flying helicopters fought the fire overnight.
"Thank goodness we have those helicopters and water drops," Hedberg said just after midnight. "Those were so essential and key."
Hedberg is a member of the Helix Water District's board of directors and is also president of the new Rancho Helix de Oro Fire Safe Council. Though Wednesday's fire was not in Hedberg's district, she said the timing was ironic because her district had just last week mailed out fire emergency plans, complete with evacuation routes, to residents.
"People need to be prepared," Hedberg said. "Set up alerts on your phone — especially for something like this that happens [late at night]."
Even before the fire erupted late Wednesday, San Diego Gas & Electric had shut down power to tens of thousands of customers across the county because of the risk of wildfires due to strong, dry Santa Ana winds that prompted a red-flag fire weather warning.
According to an SDG&E webpage, the area where Wednesday night's fire broke out was near the an area that had been under threat of a shutoff, but the utility had not shut down electricity there when the blaze erupted.
By 2 a.m. Thursday, SDG&E had preemptively cut power to more than 61,600 customers as fierce Santa Ana winds battered the county, including 90 mph gusts recorded in the Cuyamaca Mountains
"The winds are going to last until Thursday afternoon; they're not going to change much until then," Miguel Miller, a forecaster at the National Weather Service, told the San Diego Union-Tribune early Thursday.
The red flag warning will remain in effect until 6 p.m. Saturday for the eastern half of the county.
Riggins writes for the San Diego Union-Tribune. Union-Tribune staff writers Karen Pearlman and Gary Robbins contributed to this report.
Sign up for Essential California for news, features and recommendations from the L.A. Times and beyond in your inbox six days a week.
You may occasionally receive promotional content from the Los Angeles Times.