The killing of Jacqueline Avant: What we know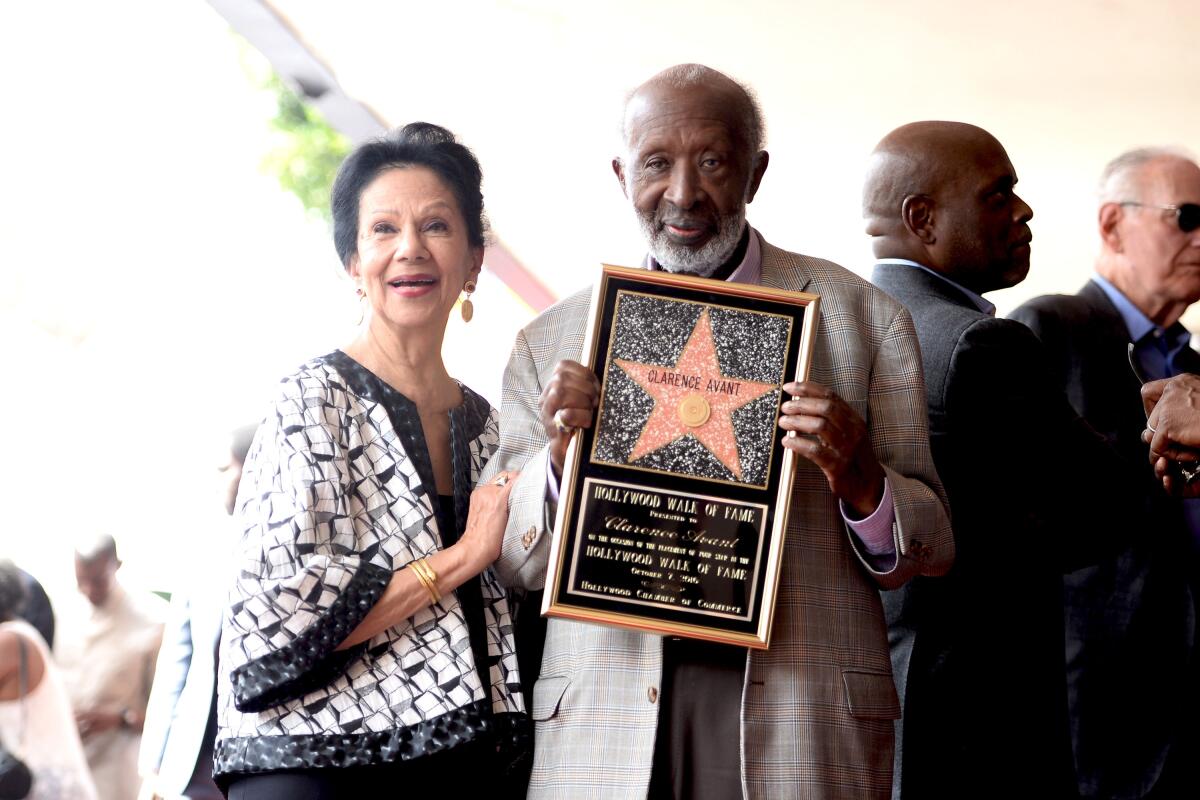 Beverly Hills police worked quickly to piece together the shocking killing of Jacqueline Avant, a prominent Los Angeles philanthropist and political insider and the wife of music legend Clarence Avant, who was shot early Wednesday in her Trousdale Estates home.
A suspect was in custody within hours, and his arrest was announced Thursday.
Here is a breakdown of what we know:
Overview
Officers responded to a call of a shooting in the 1100 block of Maytor Place shortly before 2:30 a.m. Wednesday. The couple lived in an upscale hillside neighborhood.
Police found Jacqueline Avant, 81, wounded. She was taken to Cedars-Sinai Hospital, where she later died. Clarence Avant and a security guard were also at the home during the shooting, Beverly Hills Police Chief Mark Stainbrook said.
The crime
Stainbrook said the motive behind the shooting remains unclear, but all evidence points to only one suspect.
Police arrested Aariel Maynor, 29, of Los Angeles in connection with the slaying, Beverly Hills authorities said during a news briefing Thursday.
Maynor used an AR-15 rifle during the incident and then shot himself in the foot at another home during an alleged burglary attempt in Hollywood, police said.
Multiple surveillance cameras showed Maynor's vehicle heading east out of Beverly Hills after the shooting in which Avant was killed, authorities said.
Shortly after Avant was shot, officers from the Los Angeles Police Department's Hollywood division arrived to a home in the 6000 block of Graciosa Drive. They found a man in the backyard who had a gunshot wound to his foot. Police determined that he had accidentally shot himself during an alleged burglary attempt at the home and was arrested and taken to a hospital.
An "astute watch commander" in Hollywood connected the dots to the Avant case and alerted Beverly Hills, LAPD Deputy Chief Blake Chow said. Maynor has been in police custody since.
What's next
The Beverly Hills Police Department has taken charge of the investigation into the Beverly Hills and Hollywood incidents. Police say surveillance and other evidence, including the AR-15 rifle, linked Maynor to both cases.
"To the Beverly Hills community, let me reassure you, this is one of the most protected and patrolled cities in the world," Stainbrook said Thursday. "Crime of any kind will not be tolerated here. Let this be a message to anyone thinking of committing a crime in Beverly Hills: You will be caught and brought to justice.
More coverage
Police say the man was found in the backyard of a home in Hollywood he was allegedly trying to burglarize and shot himself in the foot.
The shooting death of Jacqueline Avant at home brought grief, shock and remembrances from the worlds of politics, entertainment and L.A. philanthropy.
Jacqueline Avant, philanthropist and friend to presidents and entertainment stars, was shot to death in her Beverly Hills home
Jacqueline Avant helped unite the worlds of Black entertainment, sports and politics. One friend called her "the queen of the people."
Beloved as the "Black Godfather," Clarence Avant, 90, has been influential in music, sports, film and politics. Here's what you should know about him.
Sign up for Essential California for news, features and recommendations from the L.A. Times and beyond in your inbox six days a week.
You may occasionally receive promotional content from the Los Angeles Times.