A lull in the chaos after Northern California suffers damage from floods, winds, huge waves
SACRAMENTO —
A powerful winter storm that blasted Northern California with strong winds and heavy rain, knocking out power, toppling trees — including one that killed a toddler — and flooding homes and businesses along the coast in Santa Cruz continued its march through the region Thursday.
Although the brunt of the storm has passed, scattered showers and possible thunderstorms will linger through the northern swath of the state as the atmospheric river — fed by a plume of subtropical water vapor at the lower and middle levels of the atmosphere — moves east.
Forecasters are keeping watch over flooding triggered by massive waves along the coast and in inland areas where water continues to rise along creeks, streams and rivers. Another series of storms is expected to hit the region over the weekend and into next week, bringing the potential for more strong winds and heavy rain.
The powerful storm that knocked out power, toppled trees — including one that killed a toddler — and flooded homes along the coast in Santa Cruz continued its march through the region.
The strong weather system triggered high tides and giant waves along the coast of Santa Cruz County early Thursday and destroyed sections of the pier in the seaside town of Capitola and another in Seacliff. The Santa Cruz Wharf was evacuated Thursday morning as waves reaching up to 20 feet pummeled the structure and officials warned spectators to seek shelter.
When Emma Simpkins, 23, an employee at the Picnic Basket near the Santa Cruz Wharf, arrived at the restaurant with her co-worker around 6:30 a.m., waves were breaking all the way up to the sidewalk.
In her five years in Santa Cruz, Simpkins said she'd never seen waves as large as the ones that battered the shore Thursday.
"I was here for the tsunami a few months ago," she said, "and even then it wasn't this bad."
By noon, the tide was receding along Santa Cruz's coastline. The waves were still large, however — pounding into the cliffs along West Cliff Drive, which was closed because of high surf and erosion concerns.
Onlookers stood along the fence and in the park surrounding the city's iconic surfer statue. Down at the Boardwalk, logs and debris were pushed up to the fence line, just below the amusement park platform — making the beach seem more Olympic Peninsula in Washington state than California surf haven.
At the base of the San Lorenzo River, huge swells carried surfers upriver, below the railroad trestle and toward downtown.
"I've never seen anything like this," said Andrea Prost, who lives in Scotts Valley but had driven to the coast with her dog, Shelby, to check out the scene. A transplant from Southern California, she's lived in the area for 16 years.
"The tide has gone down a bit," she said, "but the waves are still pretty incredible."
In Capitola, high tides and massive waves inundated businesses with water and prompted officials to evacuate thousands of residents. Police Chief Andy Dally said during a news conference that the flooding was triggered by a 5.6-foot high tide combined with a swell and rain runoff from the storm.
"Businesses sustained significant damage down in the village," he said.
Videos of the scene showed torrents of water surging into seaside homes and businesses that had been boarded up in advance of the storm.
Onlookers along Cliff Drive gasped and pointed at the wreckage below. The pier, broken in two, and the small, now damaged restaurants along the beach — including Zelda's — with windows boarded with wood.
Kevin Bonn, 21, and Austen Solve, 19, know the area well. They live in the mountains nearby — and visit the town frequently.
"None of this looked like this" two days ago, Bonn said.
"That?" said Solve, pointing to the broken pier. "Yeah, that's new."
The National Weather Service issued a high surf advisory for the section of coast north of Monterey Bay through early Friday, warning of waves up to 22 feet and hazardous ocean conditions.
Intense downpours that lashed Northern California on Wednesday, coming after an earlier deluge days ago, pushed some rivers toward flood stage and prompted a string of evacuations — from towns along the Russian River to communities in Santa Cruz County and beyond.
The storm has already dumped 2 to 3 inches of rain across the San Francisco Bay Area, and isolated showers were expected to add to that total through Thursday evening. Downtown San Francisco had the wettest 10-day period since 1871. Between Dec. 26 and Wednesday, three storms dumped 10.33 inches of rain in the downtown area, according to the weather service.
Roughly an inch of rain fell over a 24-hour period across much of the Sacramento area as of early Thursday, less than forecasters initially expected. The rainfall mostly led to flooding in urban areas, though forecasters will continue to monitor river levels, said Scott Rowe, a lead meteorologist with the National Weather Service in Sacramento.
"It's going to remain wet and unsettled for the coming days," he said. "Through the weekend and next week we're expecting at least two, three, possibly even more storms to be impacting Northern California, so it's something we're keeping a close eye on."
As of Thursday evening, about 10 of 30 beds were occupied at an evacuation shelter set up at the Barbara Morse Wackford Community Center in Elk Grove.
Terry Sanford, the shelter's acting manager, said the clients were split between unsheltered people and those who had their homes flooded.
"A lot of them are just worried about finding a safe spot, because when there's flooding, even if you're homeless, you lose your home," she said. "We had one couple who lost their tent, their bikes, everything. They have nothing."
Sanford said that the electricity at the shelter went out briefly Wednesday night and that she's concerned about the coming storms over the weekend and next week.
"We can't take any more water," she said. "Everything's saturated. It has to run somewhere."
Trent, 53, who is unsheltered, arrived at the Elk Grove evacuation center Wednesday. He said the power went out overnight but came back on after a few minutes.
"It was very windy and howling," said Trent, who declined to give his last name. "You could hear some stuff blowing against the building."
Trent said that his car made it out of the storm unscathed, but that it was harrowing driving around the city.
"It feels like you're in an earthquake, like you're gonna flip over," he added.
When an evacuation order reaches you, you need to leave. Now. Here's how to prepare and what to have ready to go if you may need to evacuate during the rainstorms hitting California.
Communities along the coast and adjacent to swelling rivers continue to face the highest risk.
Sonoma County issued an evacuation warning for residents living near the Russian River, including those in Guerneville, Monte Rio, Rio Nido and downstream of Healdsburg.
As the rain stopped Thursday evening, nearly a dozen people came to the bridge over the river in Monte Rio to marvel at the rushing water — which whisked large trees and an overturned boat past onlookers.
Forecasters no longer expect the river in Guerneville to flood Friday. It's expected to peak in the morning at 26.2 feet, below the flood stage level of 32 feet. But the danger hasn't passed, as water levels could rise further with the arrival of weekend rains and as runoff continues to pour into rivers, creeks and streams.
Some areas of the region saw evacuation warnings lifted by Thursday evening.
Just before 6 p.m., Santa Clara County officials said the warnings had ended for people living in the watershed areas of Uvas Reservoir and Pacheco Pass River Basin.
"We were anticipating a peak this morning, but the fact of the matter is we got a little less rainfall than we thought we were going to get out of this storm," said Cindy Palmer, a meteorologist with the National Weather Service in the Bay Area.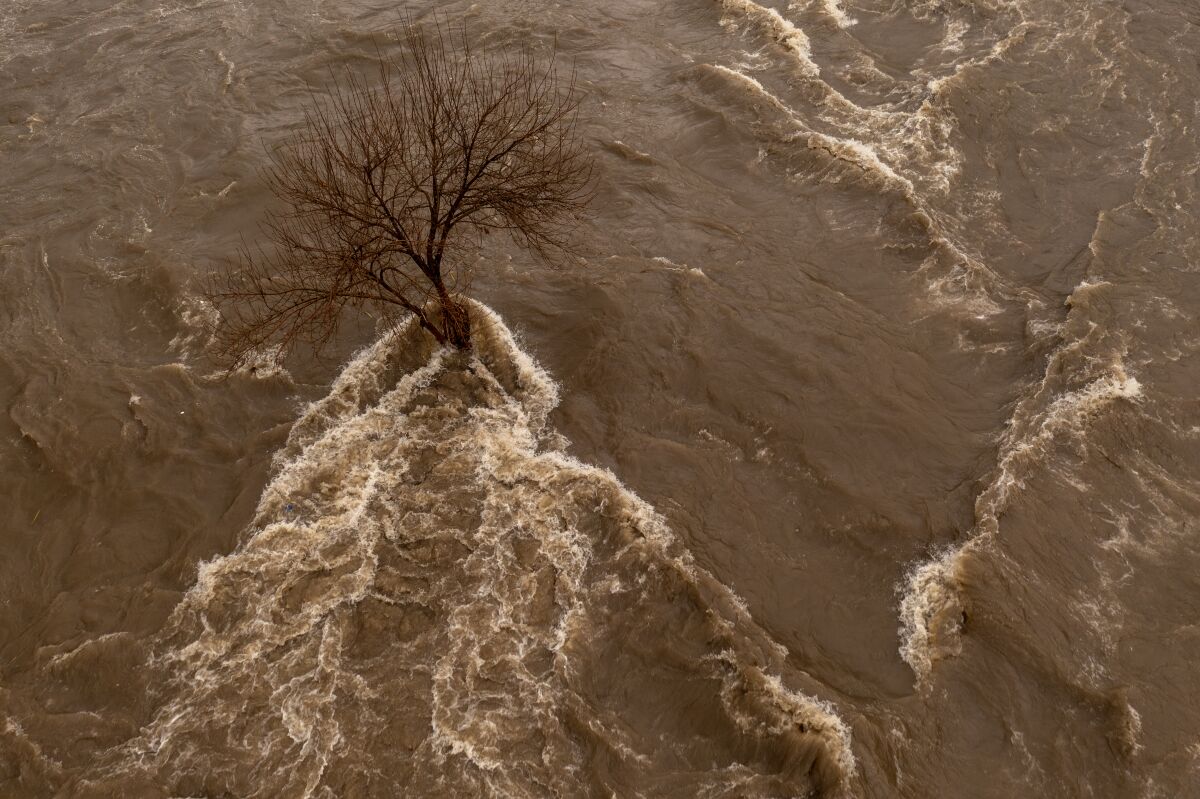 The Hopland area of the Russian River had exceeded flood stage as of Thursday morning, said Brett Whitin, a hydrologist at the California Nevada River Forecast Center.
"It's not as high as it was in the New Year's Eve flood," Whitin said. "It's a lower-level type of flooding going on there."
He said the forecast center was anticipating more severe flooding during the upcoming storms through the weekend and next week.
"The Sacramento River will definitely see some flood stages exceeded," he said. "The Cosumnes River that had the levee breaks, that could see flood stage again next week. There's that threat of exceeding flood stages at quite a few locations across the northern coast and the Sacramento valley system."
In San Jose, authorities are closely watching possible flooding that could affect populated areas, including along Ross Creek at Cherry Avenue, Upper Penitencia Creek at Mabury and King roads, and Guadalupe River at West Alma Avenue.
The most recent storm pounded the Southland, closing piers and eroding beaches, and spurring water rescues and some evacuation orders.
Strong winds were responsible for much of the damage reported overnight. A 101-mph gust was reported along Pablo Point in the Marin County mountains, and winds in other areas reached 90 mph, meteorologists said.
The conditions also knocked down trees in the area, one of which injured a CHP officer while responding to a crash on Thursday morning on Highway 17 in San Jose.
The force of the wind left tens of thousands without power and knocked over a gas station canopy in South San Francisco. Pacific Gas & Electric CEO Patti Poppe said in a statement that more than 170,000 lost power across Northern and Central California in what she called "one of the most powerful storms in recent memory."
Roughly 1,800 PG&E workers were working to restore power Thursday, but repairs could take more than 24 hours.
All around Sonoma County, roads were blocked by downed trees, and de-energized power lines knocked loose by tumbling branches swung above darkened homes and businesses.
"Jiminy Christmas, I've never seen the winds so strong," said Richard Cappell, 68, who lives on a ridge above the town of Occidental. He stood on his front porch Thursday, the hum of a generator almost drowning out the sound of the rain.
Down the hill in Occidental, the Altamont General Store was filled with people who had come in to get warm and use the available electricity to charge their phones and other electronics.
Resident Susan Gray said she'd heard some people were expected to be without power for up to two weeks.
"I expect to lose power every year," she said. "It's been a while since we've [lost it] for this long."
At least two people, including a toddler, have been killed in the storm, according to law enforcement.
In Solano County, a 19-year-old woman died when she lost control of her car and hit a utility pole in heavy rain Wednesday morning. That evening, a 2-year-old boy was killed when a tree fell on his home in Occidental.
President Biden will be visiting California this week following the winter storm that left the state with closed roads, freezing temperatures and a Venture County city evacuated.
The brunt of the storm moved through Southern California early Thursday, but showers continued through the day.
The cold front and heaviest rainfall moved through the Los Angeles area around midnight, dropping about 1 to 2 inches of rain at lower elevations and 2 to 5 inches of rain at higher elevations, meteorologists with the National Weather Service in Oxnard said.
In the Bay Area, after a short reprieve Friday, a moderate storm will blow back in over the weekend, renewing the risk of flooding. The Russian River in Guerneville could swell past flood stage starting Saturday night, forecasters said.
"While these winds won't be on the order of the previous, stronger system, it really won't take much to bring trees down, given saturated conditions and weakened trees from the last event," the weather service said.
Forecasters are more worried about a "much stronger" storm that will hit Monday and Tuesday. During that event, "widespread and potentially significant flooding" is expected, as are gusty winds, according to the weather service.
And more storms are still possible, with additional chances of rain late next week.
Summer Lin is reporting from Sacramento, Rust from Santa Cruz, Garrison from Sonoma County, Rong-Gong Lin II from San Francisco and Fry from Los Angeles. Staff writers Terry Castleman, Grace Toohey and Alexandra E. Petri contributed to this report.
---
The stories shaping California
Get up to speed with our Essential California newsletter, sent six days a week.
You may occasionally receive promotional content from the Los Angeles Times.