Monterey Park tranquility 'shattered' as families await news on shooting victims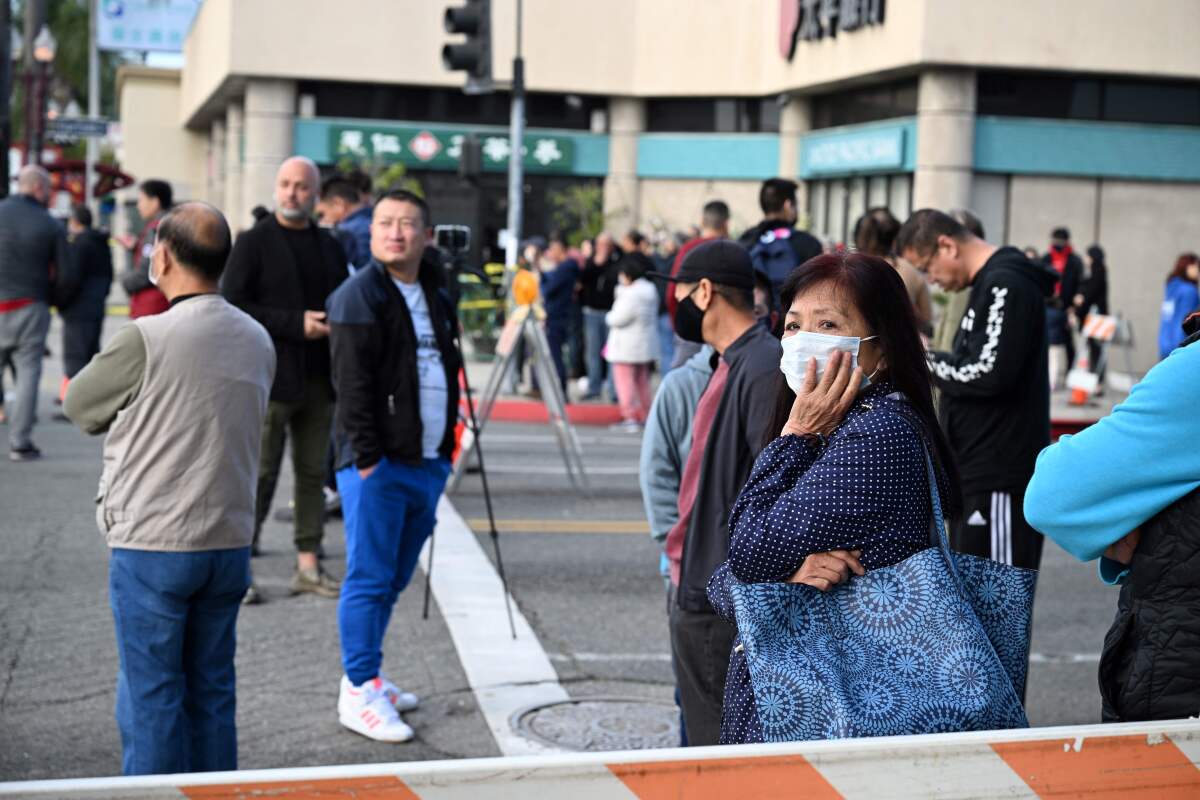 Eric Ching didn't know anyone who had been hurt in Saturday night's mass shooting at a Monterey Park dance studio, but he made his way to a local senior center Sunday morning to see if there was anything he could do to help.
Monterey Park, which for decades has been a gateway for Chinese immigration, has always been a quiet community, he said, where he "could go out at 12 a.m. and literally feel safe."
"But now," Ching said, "that's just kind of been shattered."
His voice cracked as he described the shooting, which left 10 dead and 10 others injured.
"I've never seen a freaking gun in Monterey Park," Ching said. "But it was here, and it took the lives of 10 people, and another 10 are in the hospital right now fighting for their lives."
A deadly mass shooting inside a Monterey Park dance studio led authorities to Torrance on Sunday, where the suspected gunman died of a self-inflicted gunshot wound in a strip mall parking lot.
Residents of the community rushed to the Langley Senior Center, seeking information about loved ones who may have been the victims of one of California's worst shootings in recent memory.
One woman, who did not identify herself, said her fiancé was among those injured.
"We know someone, but we lost contact," she said as she crossed the yellow police tape around the entrance to the senior center, converted to an assistance facility in the wake of the shooting.
After she walked out, she stammered that officials inside didn't know which hospital her fiancé had been taken to.
After the Monterey Park dance studio shooting, the gunman went to another dance facility, where he faced resistance, law enforcement said.
Los Angeles County Sheriff Robert Luna encouraged anyone who believes a relative may have been a victim of the shooting to contact representatives at the senior center, at 400 W. Emerson Ave. in Monterey Park. Joe Avalos, director of the Los Angeles crisis response team, said relatives can also call the Monterey Park Police Department at (831) 646-3914 or the Sheriff's Department at (213) 229-1700.
"We will not forget the victims and survivors," Luna said at an afternoon news conference. "And it's important, because you can just imagine the trauma that they've experienced, and it's our responsibility to wrap our arms around them."
The American Red Cross, Los Angeles County Department of Mental Health and crisis response teams from the FBI and the city of Los Angeles are at the senior center providing assistance to families, Sheriff's Department spokesman Deputy Miguel Meza said.
"Our priority is to make sure that those victims, their family members, are given the assistance they need to heal and to get over this trauma," Monterey Park Mayor Henry Lo said.
A memorial has also been set up at Monterey Park City Hall "for anyone wanting to mourn," according to the Police Department.
"I have confidence that we will get over this crisis, because we must," Lo said Sunday evening.
A gunman opened fire at a dance studio in Monterey Park, killing 11 people and wounding 9 more. Tens of thousands had gathered earlier nearby for a Lunar New Year festival.
The gunman opened fire Saturday night at 10:22 at Star Dance Studio, sending people scrambling. Authorities identified the suspected shooter Sunday evening as Huu Can Tran, 72, and said he died of a self-inflicted gunshot wound in the parking lot of a Torrance shopping center.
A 20-year-old man who wished to be identified only as Bill said he was at a Bank of America ATM when six or seven people — all of them Asian — jumped into the bed of his Toyota truck. They sounded panicked, he said. "One of them kept saying, 'Drive.'"
As he was transporting the group, who ranged in age from 20s to 60s, he said, he heard gunshots. He dropped off the group, none of whom had been injured, at a CVS.
Bill, who lives in Arizona and was visiting his girlfriend, said he started carrying a gun after last year's mass shooting in Uvalde, Texas — but he didn't use it Saturday night.
"It's better protecting yourself than having police protect you," he said. "It's better to be proactive than reactive."
Two Monterey Park residents, Justin and Wing, who declined to give their last names, went to a news conference Sunday afternoon with their infant son to learn more about the shooting. The fact that the shooting occurred on Lunar New Year's Eve weighed heavily on their minds.
"This is a time where you spend with your family and friends and have good hopes for the next year," Justin, 37, said. "This is the last thing I expected."
Justin said the dance hall is an attraction for seniors.
"People were always so happy whenever we saw them," Wing, 37, added. "It's really sad to learn this happened."
After the Monterey Park shooting that killed 10 the night before Lunar New Year, the AAPI community faces renewed fears about anti-Asian hate crimes.
Authorities have not publicly named any of those killed, describing them only as five men and five women. Luna said officials are in the process of identifying the deceased.
The wounded were taken to hospitals, including L.A. County-USC Medical Center in Boyle Heights, some in critical condition. Seven people remained hospitalized as of Sunday evening, according to Luna.
"We want to assure the families of those at our LAC+USC Medical Center that our medical teams are doing everything [medically] and humanly possible to care for their loved ones," hospital Chief Executive Jorge Orozco said in a statement.
Times staff writer Ruben Vives contributed to this report.
---
The stories shaping California
Get up to speed with our Essential California newsletter, sent six days a week.
You may occasionally receive promotional content from the Los Angeles Times.