Roads wash out, rivers flood as deadly storm pelts California and forces evacuations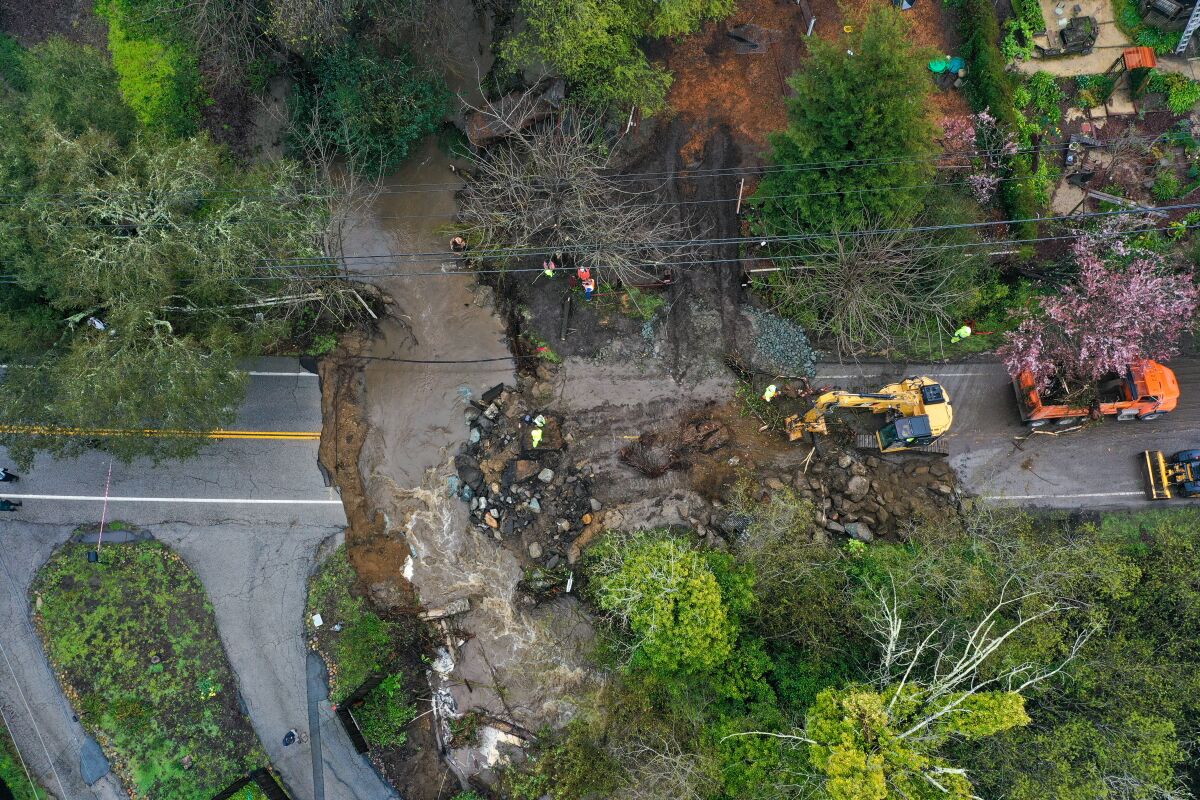 FRESNO —
California's deadly storm season turned even deadlier Friday as the first of two atmospheric river storms descended on the state, prompting widespread evacuation orders as it flooded creeks and rivers and dropped warm, heavy rain atop the state's near-record snowpack.
One person, who has not been identified, was killed when a portion of a roof collapsed at a coffee distribution warehouse in Oakland, authorities said. He was a worker at the facility, where at least one other employee was injured in the collapse.
The fatality comes after a series of nine back-to-back atmospheric river storms in January contributed to nearly two dozen deaths, including people killed by falling trees and surging stormwater. Heavy snowpack in recent weeks contributed to at least 13 deaths in the San Bernardino Mountains, where many residents were trapped for days behind walls of snow.
California's deadly storm season continued Friday as the first of two atmospheric river storms descended on the state, prompting evacuation orders.
At least two recent deaths have been confirmed as storm-related, according to Nancy Ward, director of the California Governor's Office of Emergency Services.
The extreme weather has resulted in "15 shelters open in nine counties, more than 9,400 people under evacuation orders, approximately 54,000-plus people without power, and unfortunately two deaths that have so far been confirmed by the coroner's office to be storm-related thus far," Ward said Friday.
The Office of Emergency Services has readied high-water vehicles, search-and-rescue teams, fire resources and other emergency operations to respond to areas most vulnerable to flooding and overtopped rivers, Ward said.
President Biden approved an emergency declaration request from Gov. Gavin Newsom, authorizing the Department of Homeland Security and the Federal Emergency Management Agency to support state and local responses to the storm.
Newsom proclaimed a state of emergency in 34 counties, activating the California National Guard and other state agencies to respond to storm-related emergencies.
"California is deploying every tool we have to protect communities from the relentless and deadly storms battering our state," Newsom said. "In these dangerous and challenging conditions, it is crucial that Californians remain vigilant and follow all guidance from local emergency responders."
Residents and Fresno County officials worried about flooding along the Kings River and Wild Wood Creek.
As Friday wore on, the "Pineapple Express" storm — which is gathering warm, subtropical moisture from Hawaii — made landfall in several communities from the Central Coast to the southern Sierra.
"This is an unrivaled, unparalleled weather event not experienced in several decades," Kris Mattarochia, science and operations officer with the National Weather Service in Hanford, said during a briefing in Fresno. "There will be high water in areas that are usually not impacted. So everyone needs to be ready. … Combined with snow melt, the Kings River, along with smaller streams like Mill Creek, will be pushed to limits which are unimaginable."
More than a dozen locations along the state's river systems were surging above flood stage, including portions of the Eel, Russian, Salinas, Carmel, Sacramento, Merced and Cosumnes rivers and Bear Creek, according to the National Weather Service.
Nearly 30 more were above "monitor stage," indicating the potential for overtopping and flooding in low-lying areas. Major flash flooding was reported in the Tulare County area of Springville — where officials conducted dozens of water rescues Friday morning — and in Kernville, where the roaring Kern River surrounded some houses and mobile homes, spurring an evacuation order.
Similar scenes played out across the state as the powerful storm delivered heavy precipitation at a steady clip.
In San Luis Obispo County, emergency crews rescued two people and a dog who were stranded on an island in Paso Robles, officials said. Elsewhere in the county, people sandbagged the doors of low-lying businesses along San Luis Obispo Creek, where the churning brown water continued to rise.
"Hopefully, we're as prepared as we can be," said Gina Wigney, 27, an employee at a property management company where the doors were blocked with sandbags, tarps and wood barriers.
In January, the creek flooded and covered the road, inundating the business. Wigney said the water was about 5 inches deep and damaged furniture and drywall. After that, she helped pull out the soaked carpet, which was replaced with new tile.
The California Department of Transportation has asked the public to limit nonessential travel during the peak of the storm in affected areas and to be extremely cautious if travel is necessary. As little as a foot of water can sweep a car off the road, the agency warned.
Nearly 90 flood watches and advisories were in effect, including urgent flash flood warnings in portions of Tulare, Fresno and San Luis Obispo counties. Evacuation warnings were in effect for dozens of communities as reports of rapidly rising rivers, streams and creeks rang out.
When an evacuation order reaches you, you need to leave. Now. Here's how to prepare and what to have ready to go if you may need to evacuate during the rainstorms hitting California.
In Santa Cruz County, the San Lorenzo River crested Friday morning, prompting evacuation orders for Felton Grove, Paradise Park and Soquel Village due to flooding.
"After a while, you've just got to laugh, otherwise you're just gonna have horrible mental health," said Cindi Busenhart, a resident of Soquel who was nearly stranded after a portion of the road near Bates Creek collapsed.
Save for a small wooden footbridge, Busenhart and all of her neighbors are for the most part stuck — unable to drive in or out, depending on friends and relatives on the other side to help with transporting people, food and goods.
"I don't know how long it's gonna take before they can actually, like, fix it. … I mean, the creek is just raging," she said. "It didn't take a little bit of a road out. It took a massive amount of the road out. ... There's no way out."
California will be hit by another atmospheric river this week, but this one will be warm instead of cold, raising concerns about potential flooding.
Santa Cruz County communications manager Jason Hoppin said emergency operators and county crews were watching the levee system along the rising Pajaro River, which is likely to crest at 9 p.m. Friday.
"It's an old levee," he said. "And once it gets over 28 feet, we start to get a little nervous about it. So we have eyes on it looking for any signs of trouble."
He said the latest forecast called for the river to crest at 30 feet. If the levee fails, the town of Pajaro — which is in Monterey County — would be most at risk, which is why Monterey has issued evacuation orders for the area, he said.
On the Santa Cruz County side of the river, flooding would likely inundate agricultural fields north of Watsonville.
"So if something were to happen, there's a couple of levees that it has to go through ... so we're not super worried about the town," he said. "But we are worried about the levee, and we are worried about Pajaro."
Meanwhile, floodwaters surged through the town of Three Rivers outside Sequoia National Park, according to video shared by the National Park Service, which showed partially submerged trees amid white-capped waters.
And in Fresno, officials responded to at least 25 weather-related incidents, including a few rescues, California Department of Forestry and Fire Protection unit Chief Dustin Hail said during a Friday afternoon briefing.
Among them were three women in Olympic Valley who were rescued after a culvert washed out and sent waters swirling around their home. The county has filled more than 25,000 sandbags for residents, Hail said, and they're going as quickly as they are filled.
The storm is falling atop soaked soils and some of the deepest snowpack California has recorded, including historic snow in the San Bernardino Mountains. On Friday, residents and officials were bracing for the arrival of rain.
"It's just going to make the snow heavier," said Rich Eagan, a spokesman for the county's incident command team. "It's also adding weight to the roofs."
There have been multiple collapses in the area, and with about an inch of rain forecast for some parts, Eagan said it would be "a miracle" if there weren't more.
The state has already seen a spate of roof collapses from heavy snow, including a grocery store providing crucial supplies in Crestline. The roof of a Dollar General store in Amador County reportedly collapsed Thursday night.
As the warm rain fell lightly but steadily in Valley of Enchantment, helping melt the record snow, Kim Kuhm said residents were pulling up at a volunteer food pantry with empty sandbags, looking to get them filled. But instead of sand, there was just snow and ice, she said.
Jacob Barrett worried that water might build up and pour into his home if the rains picked up.
"I grabbed the snow blower, and I made trenches," he said.
As yet another series of storms were forecast to hit California, state and federal officials outlined their preparations for flood control Thursday.
Several of the state's rivers flooded when January's back-to-back atmospheric rivers sent water rushing over levees and onto properties and roadways.
Officials were hoping to prevent a repeat of that deadly scenario and were making strategic releases from the state's swelling reservoirs to make room for incoming flows. At Lake Oroville, California's second-largest reservoir, officials opened the main spillway Friday afternoon for the first time since April 2019.
The threat won't ease when this storm moves out this weekend. Another atmospheric river is expected to follow early next week, and there is a potential for a third around March 19, according to State Climatologist Mike Anderson.
Clovis resident Sheri Sinclair said rain had already started flooding her yard Friday morning. She was picking up sandbags from the city, which she planned to place around her house.
"This is unprecedented — a once-in-a-lifetime thing — and we need to heed the warnings," said Sinclair, 62.
Sinclair said she has plenty of food and a pump to help empty her yard. But she feared the storm could be even worse than the ones in January.
"This is gonna be bad," she said.
Times staff writer Grace Toohey contributed to this report from Lake Arrowhead and San Bernardino. Gomez reported from Fresno, Garrison from Sacramento, James from San Luis Obispo, Rust from Palo Alto and Smith from Los Angeles.
The stories shaping California
Get up to speed with our Essential California newsletter, sent six days a week.
You may occasionally receive promotional content from the Los Angeles Times.