Guests on Sunday Talk Shows: John Kirby on 'Fox News Sunday' and 'The Sunday Show'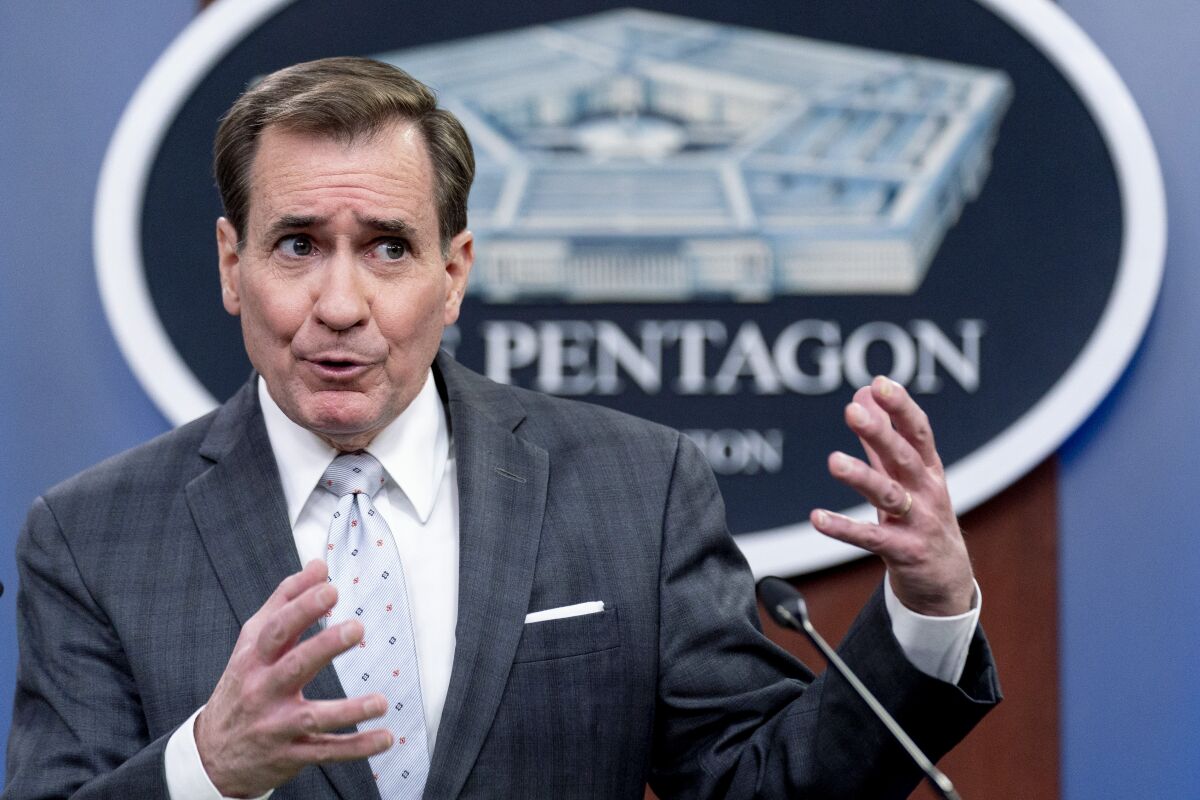 The prime-time TV grid is on hiatus in print. You can find more TV coverage at: latimes.com/whats-on-tv.
CBS News Sunday Morning (N) 6 a.m. KCBS; 10 a.m. KCAL
Good Morning America (N) 6 a.m. KABC
State of the Union National Security Advisor Jake Sullivan; Gov. Larry Hogan (R-Md.). Panel: Bakari Sellers; Alyssa Farah Griffin; Scott Jennings; Hilary Rosen. (N) 6 and 9 a.m. CNN
Fox News Sunday Gov. Jared Polis (D-Colo.); Sen. Bill Cassidy (R-La.); Sportscaster Jim Gray. Panel: Jason Riley; Gerald Seib, Wall Street Journal; Johanna Maska, Global Situation Room; Pentagon Press Secretary John Kirby. Moderator Sandra Smith. (N) 7 a.m. KTTV; 11 a.m. and 11 p.m. Fox News
Fareed Zakaria GPS Impending humanitarian disaster in Afghanistan; drone attacks by the U.S.; the treatment of Uyghurs in China; tensions in Kashmir: Prime minister of Pakistan Imran Khan. Shuttle diplomacy led by French President Emmanuel Macron to stop a Russian invasion of Ukraine: Author Sophie Pedder ("Revolution Française: Emmanuel Macron and the Quest to Reinvent a Nation"). Lessons from Lincoln for today's Republican Party: Author John Avlon ("Lincoln and the Fight for Peace"). (N) 7 and 10 a.m. CNN
Sunday Morning Futures With Maria Bartiromo Rep. Mike Turner (R-Ohio); Lt. Gov Winsome Sears (R-Va.); Sen. Roger Marshall (R-Ka.); David Perdue. (N) 7 a.m. and noon Fox News
The Sunday Show With Jonathan Capehart Rep. Joe Neguse (D-Colo.); DNC Chair Jaime Harrison; Rep. Elaine Luria (D-Va.); Michael Li, Democracy Program; Ari Berman, Mother Jones; Rob Doar; Melanie Willingham-Jaggers, GLSEN; Marc Morial, National Urban League; Pentagon Press Secretary John Kirby. (N) 7 a.m. MSNBC
Face the Nation National Security Advisor Jake Sullivan; Gov. Phil Murphy (D-N.J.); Rep. Adam Kinzinger (R-Ill.); former FDA commissioner Dr. Scott Gottlieb; Mary Daly, Federal Reserve Bank of San Francisco; James Brown, "The NFL Today." (N) 7:30 a.m. and 3 a.m. KCBS
This Week With George Stephanopoulos House Speaker Nancy Pelosi (D-San Francisco); Sen. Lindsey Graham (R-S.C.). Panel: Chris Christie; Donna Brazile; Sarah Isgur; Patrick Gaspard, Center for American Progress; author Dwight Chapin ("The President's Man: The Memoirs of Nixon's Trusted Aide") joins This Week Sunday. (N) 8 a.m. and 2 a.m. KABC
Reliable Sources With Brian Stelter Topic: The first major legislation of the #MeToo era: Gretchen Carlson. Behind the scenes of Palin v. NYT: Sonia Moghe. The evolution of right-wing media; Jeremy Peters, the New York Times; Donie O'Sullivan. How social media is rewiring brains: Tristan Harris. (N) 8 a.m. CNN
MediaBuzz Mollie Hemingway; Harold Ford Jr.; Steve Krakauer; Julie Banderas; Mark Lye; Mike Emanuel. (N) 8 a.m. Fox News
Frank Buckley Interviews Eric Dickerson. 4:30 p.m. KTLA
60 Minutes The impact of climate change on the great wine regions of the world. (N) 7 p.m. KCBS
TV highlights for Feb. 13-19 include Super Bowl LVI on NBC, 'Puppy Bowl XVIII' on Animal Planet and Discovery+ and a salute to Sidney Poitier on TCM
Movies on TV this week: 'The Last Duel' on HBO; 'Casablanca' on KCET; 'Saving Private Ryan' on Paramount; 'Pulp Fiction' on Showtime; 'Glory' on Epix
TV Grids for the entire week of Feb. 13 - 19 as PDF files you can download and print
Movies on TV for the entire week, Feb. 13 - 19 in interactive PDF format for easy downloading and printing
Looking for what to watch on TV? Here are television highlights from the Los Angeles Times.
Get our L.A. Goes Out newsletter, with the week's best events, to help you explore and experience our city.
You may occasionally receive promotional content from the Los Angeles Times.