Review: Messiaen's ode to Utah's national parks is a multimedia wonder at Disney Hall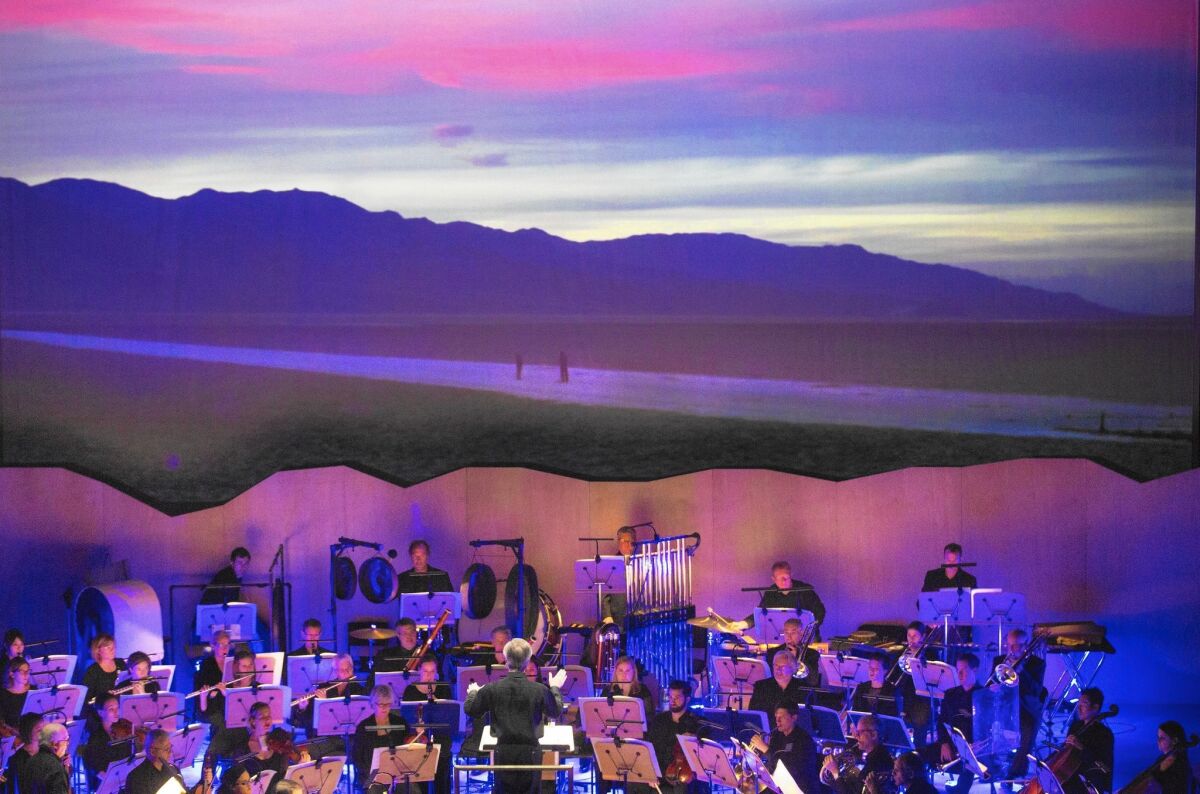 Los Angeles Times Music Critic
The dot dot dot that Olivier Messiaen placed at the end of the title for his monument to Utah's national parks, "Des Canyons aux Étoiles …" (From the Canyons to the Stars …), clearly implies something beyond. Knowing the French composer's consummate devoutness, that should be way beyond.
His 95-minute, 12-section chamber music masterpiece from 1974 begins in the desert, dwells on Bryce Canyon and ends in Zion National Park, a stand-in for "the celestial city." For Messiaen, music vibrantly, even gaudily and erotically, embraced the physical, only then to transcend it.
The ellipsis in the title can also insinuate the possibilities of different environments for the music. Thirty years ago, with the composer present, Kent Nagano conducted members of the Los Angeles Chamber Orchestra in a performance at the Ojai Music Festival in which music and nature fused. The bird calls in Messiaen's score miraculously summoned so many of the real things that Libbey Bowl felt like a scene out of Alfred Hitchcock's "The Birds." In 2008, Esa-Pekka Salonen led members of the Los Angeles Philharmonic in a Walt Disney Concert Hall performance in which the immediacy of Messiaen's sound was so vivid that it became downright hallucinatory.
A compelling, beautifully phrased and elegantly proportioned multimedia performance in Disney Hall on Tuesday night by members of the St. Louis Symphony conducted by its music director, David Robertson, was more specific. The performers were guests for the Los Angeles Philharmonic's Green Umbrella contemporary music series. The additional media were Deborah O'Grady's scenes from Utah's parks, projected on a large screen behind the players.
Before the performance, Robertson spoke of this as a kind of pilgrim's progress, something the Santa Monica native experienced in visits to Utah with his grandfather, a mineral geologist. Messiaen's music, he said, is so uncannily descriptive that after about an hour, it can become over-satiating. A sense of place, some grounding, can help.
O'Grady's qualifications are unique. She is a nature photographer who happens to be a trained composer, the wife of a composer (John Adams) and the mother of a composer (Samuel Adams). She knows how to merge music with moving image and how to stay out of the way of music.
It may not be possible for any photographer to avoid romanticizing Bryce Canyon, and she presents it as the place of astonishing beauty that it surely is. But she is also careful to remind us that our national parks are not as they were in 1972, when Messiaen made his mystically tinged trip. The composer described a setting of blissful peace and solitude. Today, he would be surrounded by tourists and warned about threats to our natural environment.
But there is also the environment of Messiaen's music. Adding visuals is a complicated psychoacoustic business. The temptation is hardly new. But as media become more advanced, they can have an increasingly large, and still little understood, effect on shaping how we hear.
In this case, the grand shots of famous Bryce sites, the starry sky (too washed out by the lights on the stage to be effective), the street scenes cleverly and carefully intercut with the music were not what worked best. Messiaen, with his gloriously wild orchestration — wind machines, all kinds of percussion, starry-eyed solo horn — was a master of stimulating the imagination. He had the gift of awe and the gift of the specific, as best demonstrated by his ability to brilliantly use a solo piano as a stand-in for wood thrush, babbler, monarch flycatcher, robin and other birds. When he described red-orange rocks in sound, I envisioned my red-orange rocks. Seeing the real thing can confuse the issue.
O'Grady's successes were elsewhere. The ninth movement is a piano solo devoted to the mockingbird. No birds were seen. The first half was simply a lushly green tree seemingly still but with barely perceptible changes in color. (O'Grady worked with a video crew.) For the second part, the camera swirled around the tree.
The excellent pianist Peter Henderson did the rest. We knew the birds were there. We heard them. We sensed them. We might even have felt we understood their language as their music was made into something intelligible to humans. They were our birds, not those in pictures.
Robertson's performance was so impressive that there were other times when I might have been tempted to close my eyes. He found God in the complexity of Messiaen's details, and he found natural wonder in Messiaen's divinity. The members of the St. Louis Symphony could have been mistaken for a world-class new music ensemble.
Now these "Canyons" will move on in peculiar fashion. Gustavo Dudamel will conduct members of the Los Angeles Philharmonic in the score, with O'Grady's visuals, at the Barbican Centre in London next month on the orchestra's European tour. Apparently, that project came about after St. Louis had already been booked for Disney.
Get our L.A. Goes Out newsletter, with the week's best events, to help you explore and experience our city.
You may occasionally receive promotional content from the Los Angeles Times.