Newsletter: Essential Arts: Bryan Cranston on Broadway, LAUSD puts brakes on mural removal, a violinist's new gig
Welcome to the holiday weekend! I'm Carolina A. Miranda, staff writer at the Los Angeles Times, with your weekly dose of what is making us mad as hell … in the best way possible.
A POTENT 'NETWORK'
For the record:
7:25 a.m. Dec. 22, 2018An earlier version of this story identified the director of the 1976 film "Network" as Sydney Lumet. His first name is Sidney.
Bryan Cranston is tearing things up in Ivo van Hove's Broadway production of "Network," inspired by the 1976 Sidney Lumet film, and Times theater critic Charles McNulty says it's "unmissable." Cranston plays Howard Beale, the fading newscaster who finds a renewed audience by ranting against hypocrisy. "Tottering in a raincoat as his mind unspools and his ratings explode, Cranston's Howard has the look of tortured bafflement of a New York King Lear," writes McNulty. Los Angeles Times
Back in Los Angeles, McNulty had a gander at Taylor Mac's "Holiday Sauce," which brought "drag dazzle, queer straight talk and cabaret radicalism" to UCLA's Royce Hall. It was, he writes, "a cathartic spell to make things a little lighter for all those who find caroling, eggnog and enforced family visits destabilizing." Los Angeles Times
LAUSD PAUSES MURAL REMOVAL
The Los Angeles Unified School District put a hold on its plan to paint over a mural by Beau Stanton at Koreatown's Robert F. Kennedy Community Schools after an activist had claimed that a starburst pattern portrayed a Japanese flag from World War II. However, street artist Shepard Fairey called the decision censorship and told The Times' Howard Blume that he would insist on the removal of his own mural of Robert F. Kennedy if the plan proceeded. Los Angeles Times
Members of the Kennedy family also weighed in. Robert F. Kennedy Jr. wrote to school board president Monica Garcia: "As fiercely as they supported tolerance, and diversity, my father and my uncle loathed censorship. My father and uncles considered people who destroyed art in the service of political agendas as the worst sort of scoundrels." Los Angeles Times
Plus, Times art critic Christopher Knight notes that the federal Visual Artists Rights Act and the California Art Preservation Act put limits on the destruction of art. Other artists who painted murals on the site — James Bullough; Allison Torneros, known as Hueman; and Cyrcle, the L.A.-based artist-duo of David Leavitt and David Torres — announced they would join Fairey in seeking their works' removal if LAUSD's plan went through. Los Angeles Times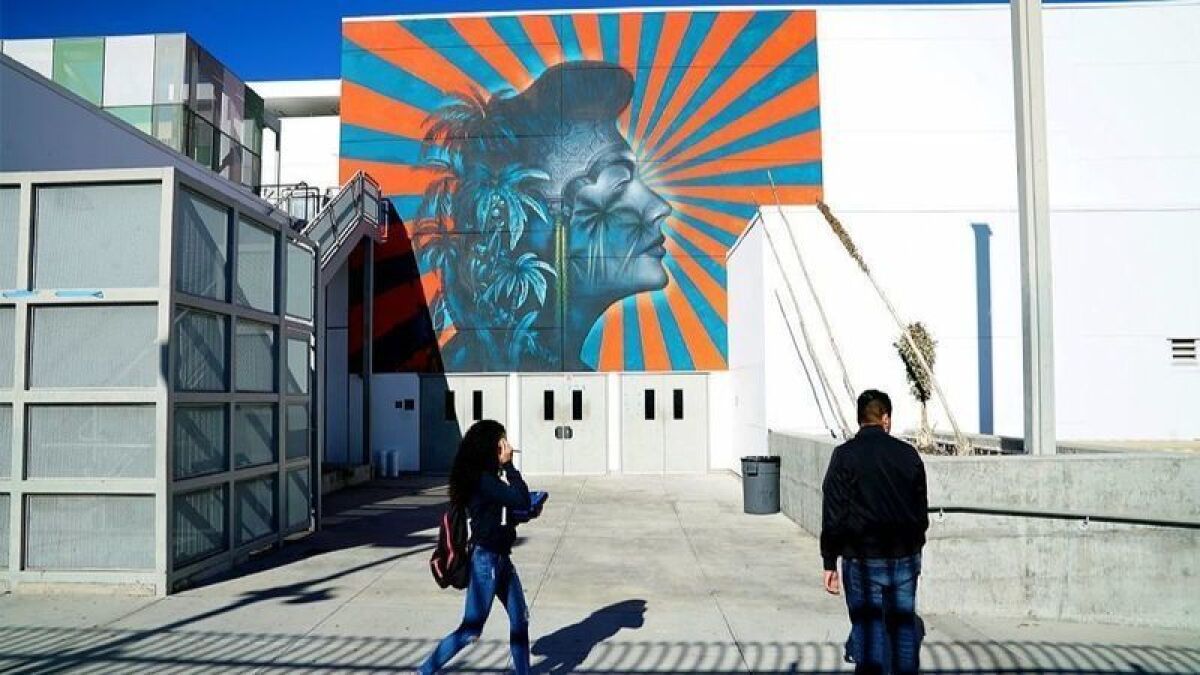 CHALLENGES FOR LACMA RE-BUILD
The Los Angeles County Museum of Art set a goal to hit $600 million in fundraising for its planned Peter Zumthor-designed building by the end of this year. But the campaign is still only at $560 million. "People don't know if there'll be a downturn or anything like that — but we're not worried," director Michael Govan tells The Times' Deborah Vankin. "We have lots of contingencies in the budget." Los Angeles Times
TINY HOUSES
Pasadena's ArtCenter College of Design has three full-scale prototypes of tiny houses and numerous models from a project seeking solutions for the homeless on view at the Main Museum. "You can't remove politics from design on this level at all," ArtCenter professor James Meraz told The Times' Jessica Gelt. "We immediately got thrust into the NIMBY idea that people don't want this." Los Angeles Times
VIOLINIST TO ACTIVIST
After winning the MacArthur fellowship this year for his social justice work, violinist Vijay Gupta is giving up his seat at the Los Angeles Philharmonic and will turn full time to activism and his nonprofit Street Symphony. "I feel like the L.A. Phil saved my life when I was a 19-year-old kid," he tells Deborah Vankin. "And I'm really excited to take that artistry beyond Los Angeles and beyond the work of being in an orchestra." Los Angeles Times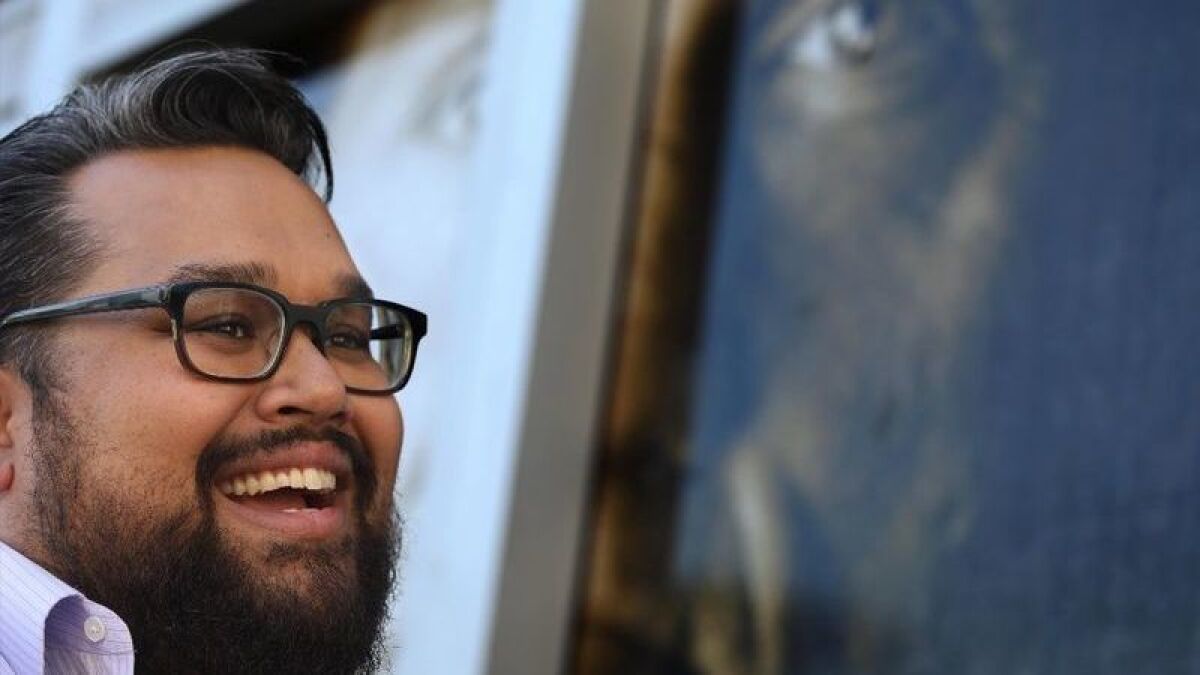 YEAR IN REVIEW
Because no end-of-year is complete without a look back…
— Christopher Knight reports on how female artists finally outnumbered men in solo museum shows in Los Angeles in 2018: 11 to six — in a year in which women's issues in art and politics were top of mind. Los Angeles Times
— Jeffrey Fleishman looks at how the confirmation hearings for Supreme Court justice Brett Kavanaugh provided "messy entertainment" and bared deep divisions. Los Angeles Times
— I look at the ways in which the tension between art and money played out in 2018: including a Banksy auction, anti-gentrification protests and the complicated questions of patronage when museums and the moneyed are connected to ugly political news. Los Angeles Times
SANDOVAL ON THE SCREEN
Jazz trumpeter Arturo Sandoval has plenty of accomplishments to his name. The latest: The Cuban-born musician recently scored his first film, Clint Eastwood's "The Mule," about a nonagenarian who becomes a drug runner. It's a subtle work, he tells contributor Tim Greiving, Eastwood didn't want to "give away, in the very beginning, all the drama and all the problem that come afterward." Los Angeles Times
ART AND ABOUT
L.A. artist Mark Bradford has a new sculpture in San Diego that can be seen for miles: a blinking light atop a 196-foot pole that telegraphs the phrase "What Hath God Wrought" in Morse code. The phrase is derived from the first words ever sent via telegraph, but in our current political context, writes Times contributor Leah Ollman, "the inference is typically bleak." Los Angeles Times
Ollman also reviews two Los Angeles shows: Leidy Churchman's "tender and inquisitive" paintings at Reena Spaulings Fine Art, and Max Hooper Schneider's bizarre aquariums and bleak dollhouses at Jenny's, which "twists our culture of abundance into a freakish dystopia."
ON STAGE
Contributor F. Kathleen Foley reports on the Troubador Theater Company's rollicking Christmas spoof "The Year Without a Santana Claus" at the El Portal Theatre in North Hollywood through Dec. 30. Los Angeles Times
Gary Goldstein checks out "Love Actually Live," inspired by the 2003 holiday rom-com: "Simply let this superbly mounted, quasi-jukebox musical wash over you with the warmth and joy of its myriad components." Los Angeles Times
READY FOR THE WEEKEND
Matt Cooper has the week ahead in museums, dance, theater and classical music — as well his weekend picks, including a re-imagined "Nutcracker Suite" and a free holiday celebration at the Music Center. Los Angeles Times
IN OTHER NEWS…
— Donald Trump's border wall will no longer be "big and beautiful," it will be "artistically designed steel slats." Intelligencer, Huffington Post
— Alissa Walker pens an epic poem to scooters. Twitter
— Walker also has a great critique of Tesla's Boring Company tunnel: "a private piece of infrastructure built for the convenience of some car users ... instead of improving the entire transportation experience for everyone's benefit." Curbed
— Nearly half of architecture students are women, but few stick with the profession. Allison Arieff asks why. New York Times
— From the Department of Andean postmodern: Peruvian electronica producer QOQEQA makes hallucinatory use of the buildings of Bolivian architect Freddy Mamani in the video for his new self-titled single. Remezcla
— It's not the first time Mamani's designs have popped up in music videos. Los Angeles Times
— The Soviet avant-garde apartment you can rent on Airbnb. The Art Newspaper
— A podcast that deconstructs opera arias. New Yorker
— Jennifer Swann on how arts institutions are expanding in South L.A. ARTnews
— An art show in Detroit pays tribute to the women of Lowrider magazine. Hyperallergic
— An exhibition at the Museum of Arts and Design shows how L.A. artist Peter Voulkos "reinvented ceramic art." New York Times
— A lawsuit against a video game maker raises questions about the copyright of dance. The Verge Los Angeles Times
— Journalist Lori Tharps makes the case for writing Black with a Capital B, in reference to people and culture. New York Times
AND LAST BUT NOT LEAST…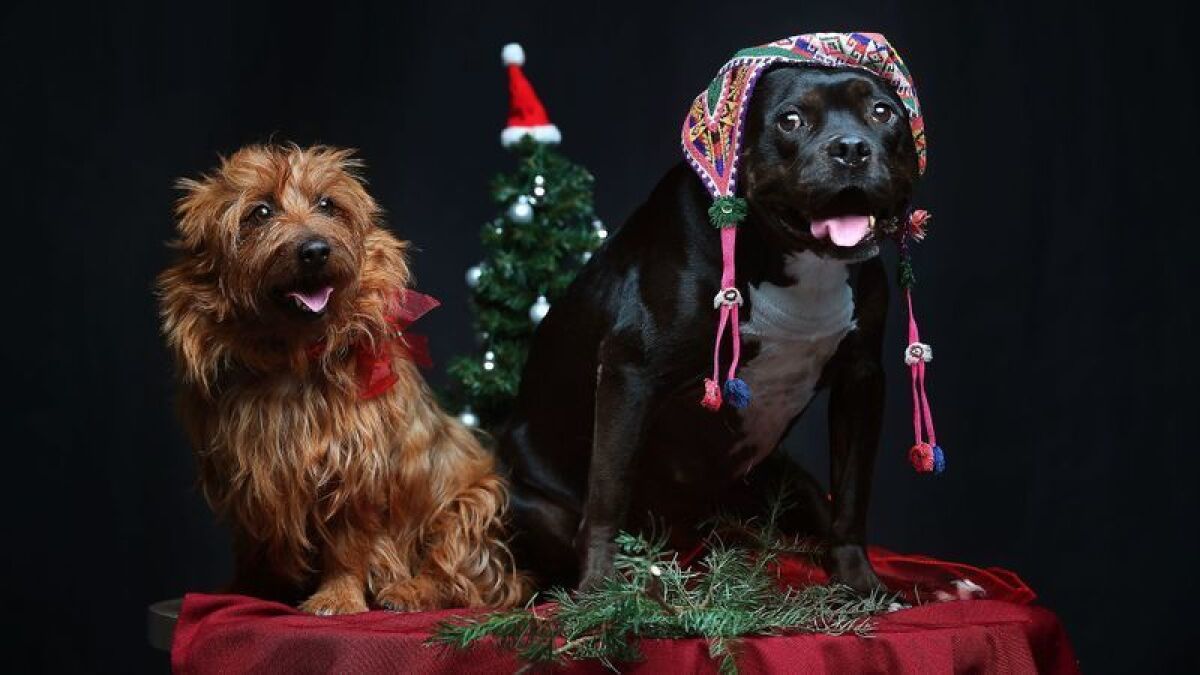 Sign up for our weekly Essential Arts & Culture newsletter »
carolina.miranda@latimes.com | Twitter: @cmonstah
---
Get our L.A. Goes Out newsletter, with the week's best events, to help you explore and experience our city.
You may occasionally receive promotional content from the Los Angeles Times.