Essential Arts & Culture: Special Thanksgiving edition, starring Donna Summer, William Kentridge and tattoos
The season of mashed potatoes and gluten-free vegan nut loaf is upon us! I'm Carolina A. Miranda, staff writer for the Los Angeles Times, with a special advance edition of everything that's hot and juicy in arts and culture:
NOT SO HOT STUFF?
Theater critic Charles McNulty, a devoted fan of disco siren Donna Summer, was looking forward to "Summer: The Donna Summer Musical," now playing at the La Jolla Playhouse. Unfortunately, he says the musical's narrative is thin. "Summer had a hand in writing her biggest hits and was always looking to challenge herself creatively as both a singer and a painter of some ambition," he writes. "But 'Summer' has less depth than a profile in People magazine." Los Angeles Times
ABOUT TIME
South African artist William Kentridge's "Refuse the Hour" began life as a work of performance at Documenta — a work that explored Western notions of time in a German railway station — before becoming a full-fledged chamber opera. Its final performances were held at UCLA's Royce Hall over the weekend. It was a work, writes Times classical music critic Mark Swed, that transforms time into "more of an idea than the heartbeat of the physical world." Los Angeles Times
Speaking of time, Swed checked out "Noon to Midnight," the Los Angeles Philharmonic's 12-hour new music extravaganza — which included pop-up shows and a beer garden. Los Angeles Times
SEASON OF THE BAROQUE
French harpsichordist and early-music specialist Emmauel Haïm conducted the L.A. Phil in a program that featured Purcell, Bach and Pergolesi — and reports Swed, she made the centuries-old music "sound newly born." He writes: "Haïm's great contribution to Baroque music is to go beyond the scholarly (boys) school and conduct her way." Los Angeles Times
A PLACE FOR CALIFORNIA ART
Times art critic Christopher Knight recently brought news of the planned Museum and Institute of California Art at UC Irvine, which will be established with the collection of the late O.C. developer Gerald E. Buck. Now Knight offers some advice to the keepers of this new institution. One, remove the gaudy frames favored by Buck from the works. ("It smacks of nouveau riche insecurity.") Two, scrap the search for an international architect and turn to the bounty of thoughtful SoCal designers. Los Angeles Times
TATTOO HISTORY
L.A.'s Natural History Museum looks at the 5,000-year history of tattooing in an exhibition that includes photography, artifacts and multimedia installations. It also features actual tattooing. Times culture reporter Deborah Vankin sat down for a chat with Freddy Negrete, a pioneer in black-and-gray tattoo styles, and the man who popularized the phrase "Smile Now, Cry Later." Negrete is operating a full-blown tattoo parlor at the museum. He tells her: "Tattooing, it identified you with a certain group, it said something about who you were." Los Angeles Times
AROUND THE GALLERIES
Times contributing reviewers Leah Ollman and Sharon Mizota have been hitting the galleries hard. A sampling of shows to check out in the coming weeks:
Guadalajara artist Eduardo Sarabia's "Drifting on a Dream" at the Mistake Room, reports Mizota, is "a cheeky paean to desire and its discontents," riffing on popular saints, lost gold and traditional Mexican pottery. Los Angeles Times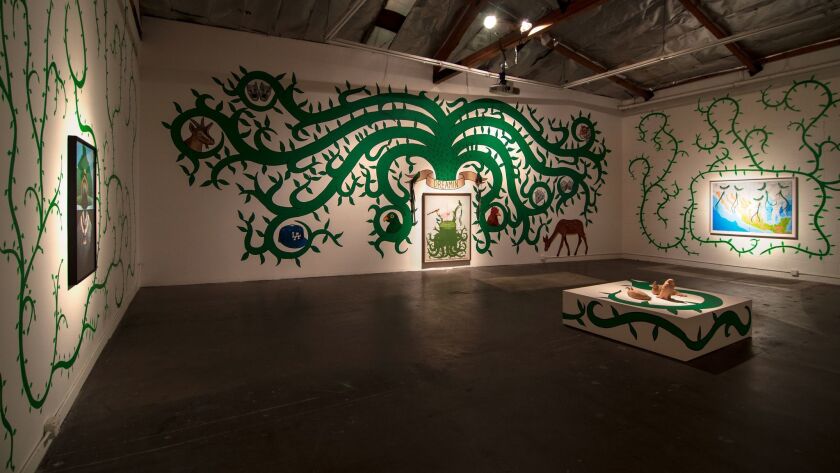 Ollman points us to a show at the Craft in America Center that takes hard ceramic and imbues it with movement. Gerardo Monterrubio's visceral forms are covered in vignettes of "violence, sex, death, faith, ritual" that jumble "the mythic and the every day." Los Angeles Times
In the meantime, a show by Merwin Belin at the gallery As Is L.A. looks at "journalism's power to shape discourse," reports Mizota. That has meant collaging newspaper front pages in poignant and personal ways. Los Angeles Times
At Walter Maciel Gallery in Culver City, Timothy Paul Myers and Andrew Barnes have created a copy of a suburban American basement covered entirely in felt. Ollman says it's a "brilliant installation" that has a "weird radiance." Los Angeles Times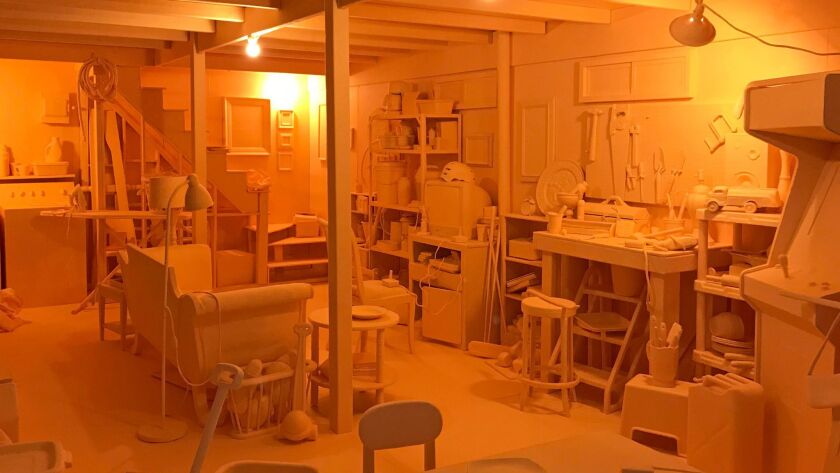 Plus, Ollman also has a look at the "quietly provocative" sculptural outfits created by Phyllis Green at Chimento Contemporary — all inspired by Vedic parables. Los Angeles Times
HAPPY THANKSGIVING!
As you dive into the mashed potatoes and the dark recesses of American history, I present to you these 18th century tin-glazed earthenware turkey tureens from Hungary that reside in the permanent collection at the Los Angeles County Museum of Art. My taters would be a class act in these birds. LACMA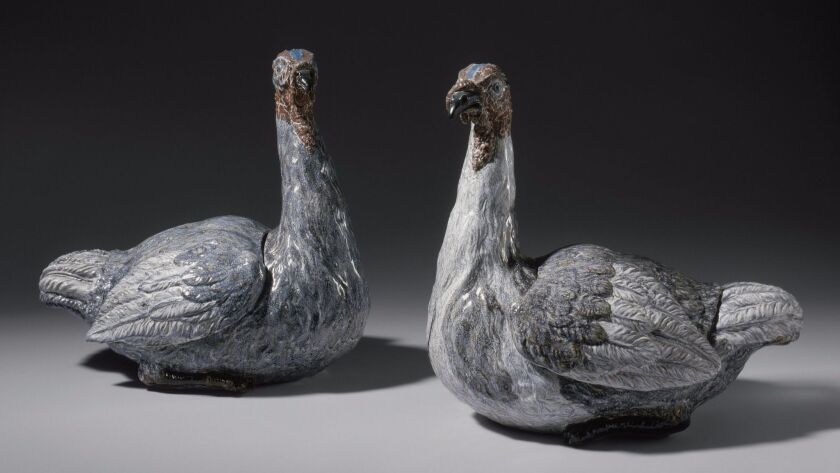 However, if you are finding that a big family dinner is fraught during these divisive times, art duo Jeff&Gordon have just the thing for you: a phone line you can call to leave an anonymous voicemail for that person in your life whose opinions you can't stand. Now pass the yams. Jeff&Gordon
Plus, Thelonious Monk's "Stuffy Turkey." WBGO
Plus, plus, plus: a gallery of amazing pies. KUOW
IN OTHER NEWS…
— Thomas Morris, the director of the adventurous Ojai Music Festival, will retire in 2019. Los Angeles Times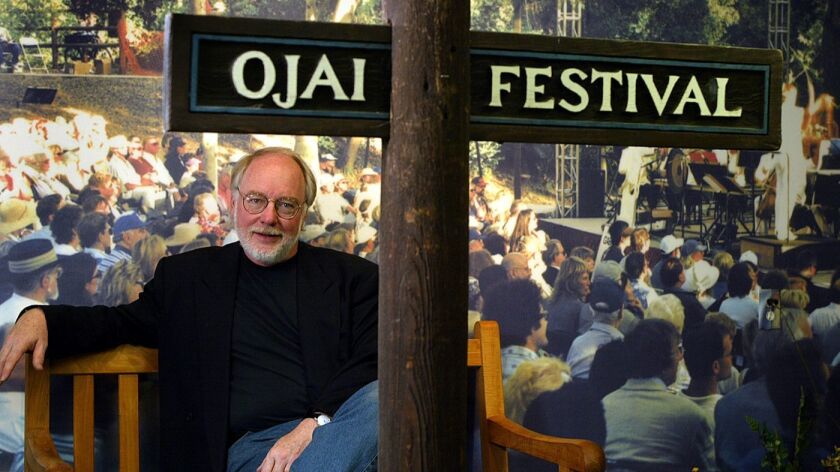 — Is ballet's rogue superstar, Sergei Polunin, ready to get back to some serious dancing? W Magazine
— Andrew Russeth takes a long, hard look at the history of the Berkshire Museum and why it wants to sell off the art it was charged with protecting. ARTnews
— Thomas Campbell, the former director of the Metropolitan Museum of Art, published a photo of the $450-million Leonardo da Vinci painting prior to conservation on his Instagram. And it has sparked plenty of highbrow online bickering. Los Angeles Times
— Plus, the roiling debate over whether the Da Vinci is authentic. The Guardian
— Forget Da Vinci: If you are a rich guy looking to shop, there is always the massive Grateful Dead banner created by Polish architect and poster artist Jan Sawka. Los Angeles Times
— Barbara Carrasco's censored mural "L.A. History: A Mexican Perspective" came out of storage for a brief installation at Union Station as part of PST: LA/LA. Unfortunately, it was shrouded in black fabric for eight days out of its monthlong run due to private events. LA Weekly
— How the "La Raza" exhibition at the Autry Museum has unearthed the stories of Chicano L.A. Columbia Journalism Review
— Los Angeles will be awash in Latino and Latin American performance art next year with a PST: LA/LA performance festival organized by REDCAT and a yearlong series staged by the Broad museum. Los Angeles Times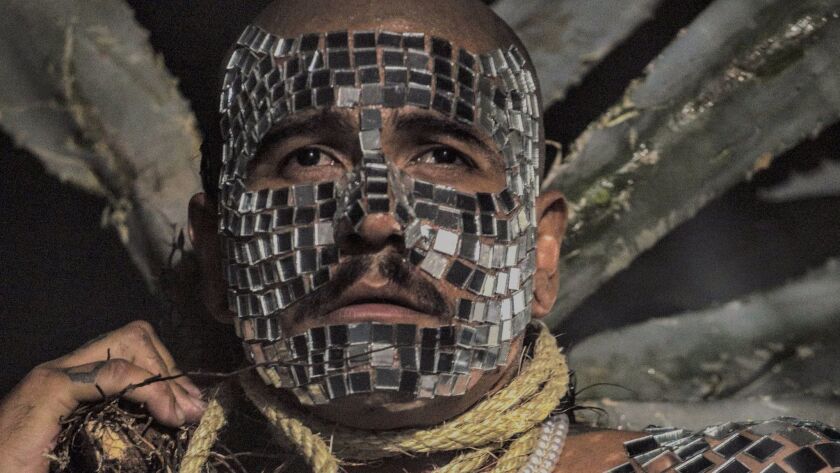 — The Center Theatre Group has announced three new productions for its 2018-19 season: "Come From Away," "Falsettos" and "The Play That Goes Wrong." Los Angeles Times
— "They did or said something awful, and made something great." What to do about the art of monstrous men. Paris Review
— Architect Elizabeth Diller talks art, architecture and the building of museums. Artforum
— High-end blight — or what to do about New York City's dead spaces. New York Times
AND LAST BUT NOT LEAST
Dante's nine circles of hell re-imagined for linguistic transgressions. McSweeney's
Sign up for our weekly Essential Arts & Culture newsletter »
---
Inside the business of entertainment
The Wide Shot brings you news, analysis and insights on everything from streaming wars to production — and what it all means for the future.
You may occasionally receive promotional content from the Los Angeles Times.