The fall arts season is upon us! With paintings and operas and a play about atomic scientists, oh my. I'm Carolina A. Miranda, staff writer at the Los Angeles Times, with your essential guide to culture:
PREVIEW THE FALL
Fall is upon us, and The Times has the definitive guide to all things artsy fartsy!!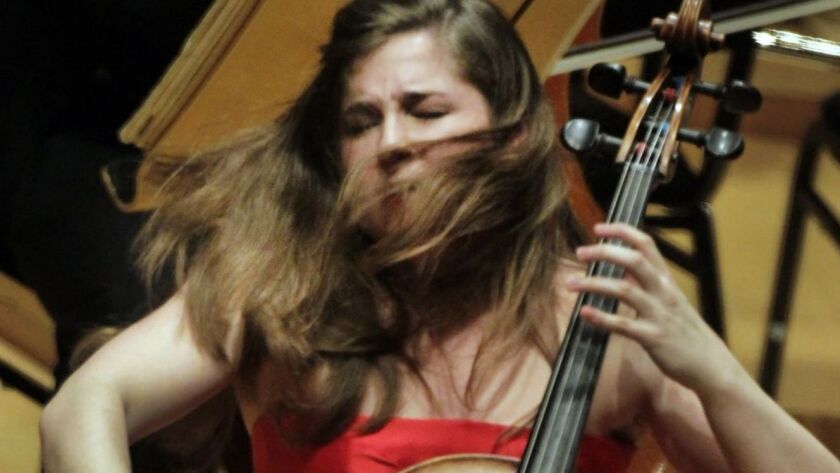 — Times art critic Christopher Knight's visual arts picks include Ai Weiwei's first "substantive solo museum show in Los Angeles" and the rarely seen drawings of a 19th century poet. Los Angeles Times
— Matt Cooper has the lowdown on Broadway fare in SoCal, including "Hello, Dolly!" and a Tony-winning musical about being stranded in an airport on 9/11. Los Angeles Times
— Times theater critic Charles McNulty is looking forward to a play for the Huntington's Chinese garden and Tom Morton Smith's drama about J. Robert Oppenheimer. Los Angeles Times
— Contributor Christina Campodonico rounds up fall dance, including performances by "Britain's brainiest choreographer." Los Angeles Times
— In classical music, Times critic Mark Swed has a special guide to Los Angeles Philharmonic performances during its centennial year, including a show by L.A. Phil "favorite" Andrew Norman. Los Angeles Times
— Separately, Swed has other opera and classical music offerings, including a mile-long opera in New York and a show by experimental composer about another experimental composer: Arnold Schoenberg. Los Angeles Times
— I run down essential architecture, including three shows related to California design and a biography on a key Postmodernist. Los Angeles Times
We've compiled all of our picks for the fall arts season into a single handy page that you should definitely bookmark or have tattooed on your forearm.
BLUE BOY RENEWED
"The Blue Boy," a 250-year-old master work by British portraitist Thomas Gainsborough, on permanent view at the Huntington Library, Art Collections, and Botanical Gardens, is getting some work done. The Times' Deborah Vankin spent time with conservators who have studied the its materials and history, and have stories to tell about a mysterious man and a vanishing dog. Los Angeles Times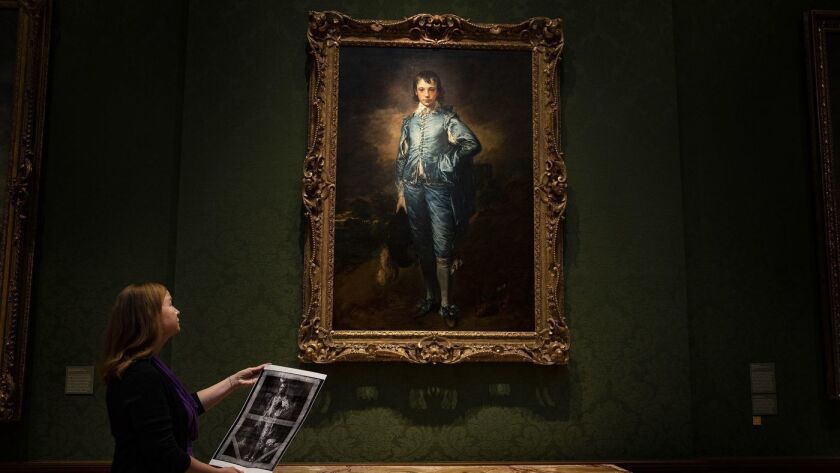 In a sidebar, Vankin looks at the array of high-tech gadgets that conservators employ. Los Angeles Times
And she also reports on a Getty Foundation initiative is supporting the science of conserving canvas. Los Angeles Times
ON STAGE
Charles McNulty has had a whirlwind theater week. He begins with the ancient: Anne Bogart's staging of Euripides' "Bacchae" at the Getty Villa. "Her combination of directorial freedom and formal elegance is exactly what's required to make 'Bacchae' live again," he writes. Los Angeles Times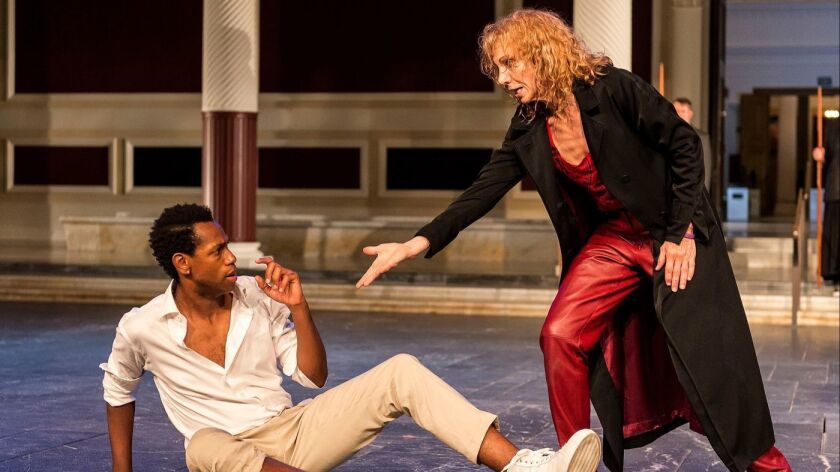 He also reviews Jocelyn Bioh's "School Girls; Or, the African Mean Girls Play," currently at the Kirk Douglas Theatre in Culver City. The story of school girls in a Ghana pitted against each other in a beauty contest is formulaic, says McNulty, "but the experience of these young women is deliciously brought to life by a terrific ensemble." Los Angeles Times
Also on his docket was José Rivera's "The Untranslatable Secrets of Nikki Corona," which he reports is audacious, but suffers from "clumsy execution," and Karen Zacarías "Native Gardens," which contains some hackneyed scenes, but offers "a quartet of acting pros volleying lines with athletic finesse."
For more theater, there is Daryl H. Miller's 99-seat Beat round-up, which features a work about white-collar office politics and short plays about the '60s. Los Angeles Times
CONTROVERSIAL RENOVATION
Seven dozen critics and architectural historians signed an open letter to the leadership of the Museum of Contemporary Art San Diego this summer protesting a renovation by architect Annabelle Selldorf that would do away with Postmodern features designed by Robert Venturi and Denise Scott Brown. After spending some time looking at MCASD's ever-evolving complex, I wrote a report on what that open letter overlooks. Los Angeles Times
IN THE GALLERIES
Christopher Knight checks out an "engrossing exhibition" about "brute strength" this week. That'd be "Striking Iron: The Art of African Blacksmiths" at UCLA's Fowler Museum. "Whether straightforward spears and daggers or elaborately decorated shields, axes and throwing knives, iron armaments possess physical strength," he writes. "Yet, a very different kind of muscle is represented when a gifted craftsman has the talent and expertise to forge iron into something that is dazzling to look at." Los Angeles Times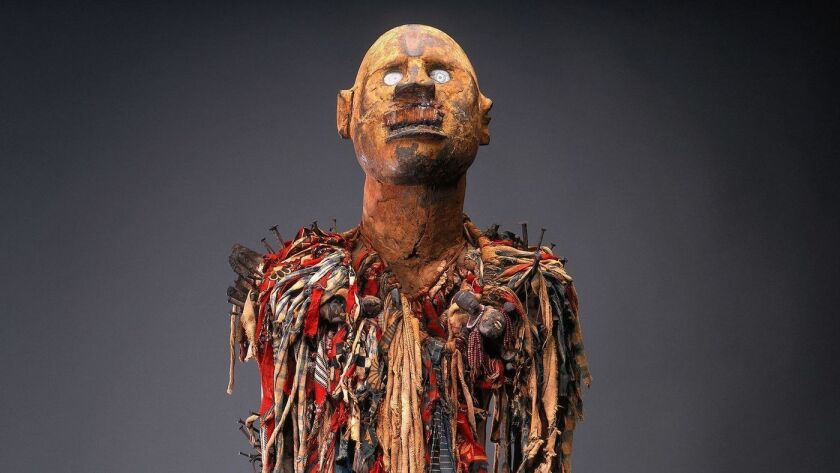 Contributing critic David Pagel, in the meantime, has been hitting the galleries. This week he finds himself intrigued by a "quietly insightful" exhibition of paintings by Antonia Showering and Simone Kennedy-Doig at Baert Gallery and the "loopy yet whip-smart" group show "BARBARA, or Ardor" at Grice Bench.
Because the fall arts season is exploding hard, my weekly Datebook has everything from an installation inspired by Chicano youth to a show about L.A. oil production housed, appropriately, inside a truck. Los Angeles Times
And Tanja Laden reports on how Christopher Cichocki's foraging has found its way into the halls of the Lancaster Museum of Art and History. Los Angeles Times
A CONCERT WORTH THE WAIT
Many of the principal celebrations for the 100th anniversary of Leonard Bernstein's birth are behind us. But Richard S. Ginnell reports that seeing Karina Canellakis lead the LA Phil in a performance of Bernstein's Symphony No. 2, with Jean Yves-Thibaudet on piano, was "a bold choice." Los Angeles Times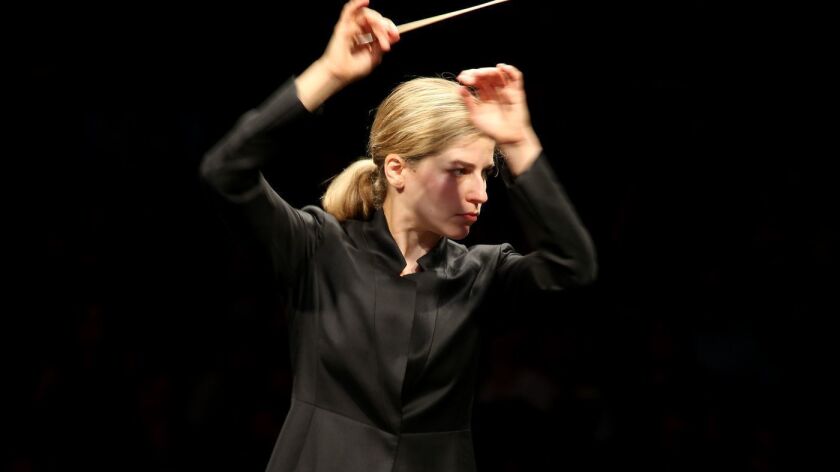 'GAME OF THRONES' TO THE GEFFEN
"You can't pass on great opportunities when they come," says Matt Shakman, who set aside a career in TV (he's been a director on "Game of Thrones") to take over as artistic director at the Geffen Playhouse. The founder of the Black Dahlia Theatre Company tells Lisa Fung he is committed to new work: "Adding things to the canon and the future of theater seems to be a worthwhile goal." Los Angeles Times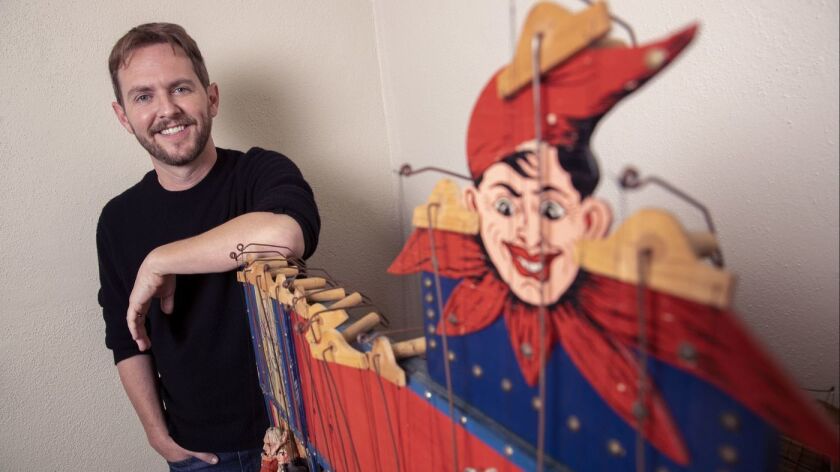 IN OTHER NEWS…
— "A spaceship that's pulled up its jet bridge." A look at the architecture of Bruce Goff, the designer behind LACMA's Pavilion for Japanese Art. T Magazine
— L.A. city officials are set to recommend monument status for The Times buildings in downtown. Los Angeles Times
— Urbanism writer Alissa Walker on how Sweden makes public transit easy on families. Curbed
— A stone found in South Africa may contain the oldest-known example of human drawing. Reuters
— Kanye West saying he's teaching a class at the Art Institute of Chicago that doesn't exist is totally art world. Artnet
— A fascinating story about color: the historic pigments of the Forbes Collection at Harvard University. New Yorker
— Related: the history of "biblical blue." Los Angeles Times
— Elizabeth Armstrong has unexpectedly resigned as director at the Palm Springs Art Museum. Desert Sun
— The Nazis stole a Renoir that once belonged to Alfred Weinberger. His granddaughter has finally gotten it back. New York Times
— More than 800 literary aficionados have signed a petition raising concerns about the future of the ALOUD series at the Los Angeles Public Library after the dismissal of key leadership. Los Angeles Times
— Broadway star Marin Mazzie, who appeared in revivals of stage musicals such as "Ragtime" and "The King and I" has died at 57. New York Times
— Ballet inspired by Mad Max. San Francisco Chronicle
— A new streaming service called Primephonic is devoted to classical music and has more than 1 million tracks. Los Angeles Times
AND LAST BUT NOT LEAST…
How a naked Burt Reynolds ended up in a gallery of Native art in Seattle. Booking my ticket now. KUOW (Hat tip to Weisslink for this gem.)
Sign up for our weekly Essential Arts & Culture newsletter »
carolina.miranda@latimes.com | Twitter: @cmonstah
---