Essential Arts & Culture: Pirates on stage, the cult of Shakespeare, an actor investigates poverty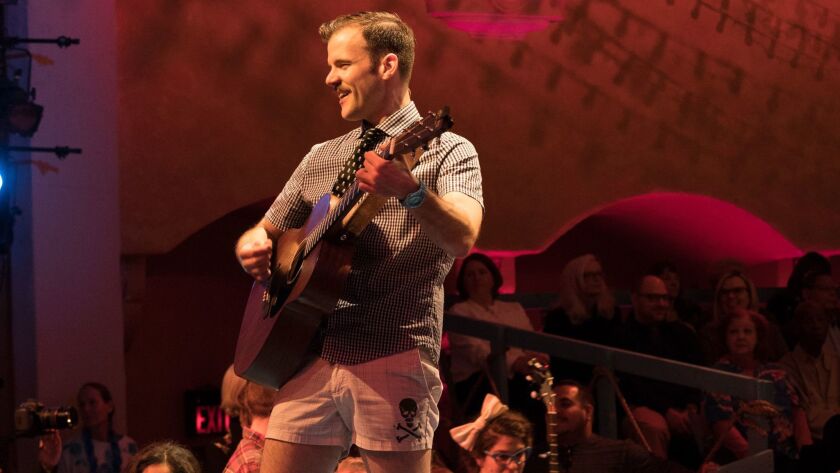 It has been a week bursting with artistic activity — including wild musicals, new conductors atop the podium and art that takes on poverty and social justice. I'm Carolina A. Miranda, staff writer at the Los Angeles Times, with your week's blazing culture news:
GETTING PIRATICAL
"Pirates of Penzance" has gotten an overhaul courtesy of the Hypocrites, a Chicago troupe that Times theater critic Charles McNulty describes as "vibrantly inventive," and it's currently on view at the Pasadena Playhouse. Aspects of the story are lost in the rehash, notes McNulty, but "the delight of the staging overrides (for the most part) the blurriness of the storytelling." Los Angeles Times
NOT SO IN LOVE WITH SHAKESPEARE
Charles McNulty also reports on two shows that fit within the phenomenon he dubs the "Shakespeare Emporium" — that "worldwide supplier of everything Shakespeare" that has caused his plays to have "taken a backseat to his branded image." In this context he looks at two new plays: "Shakespeare in Love" at South Coast Repertory, a stage adaptation of the '98 film, and Phillip Whitchurch's "Shakespeare his wife and the dog" at the Broad Stage. The results? Kind of meh. "Theaters wishing to honor [Shakespeare]," writes McNulty, "would be better advised to grapple with his works." Los Angeles Times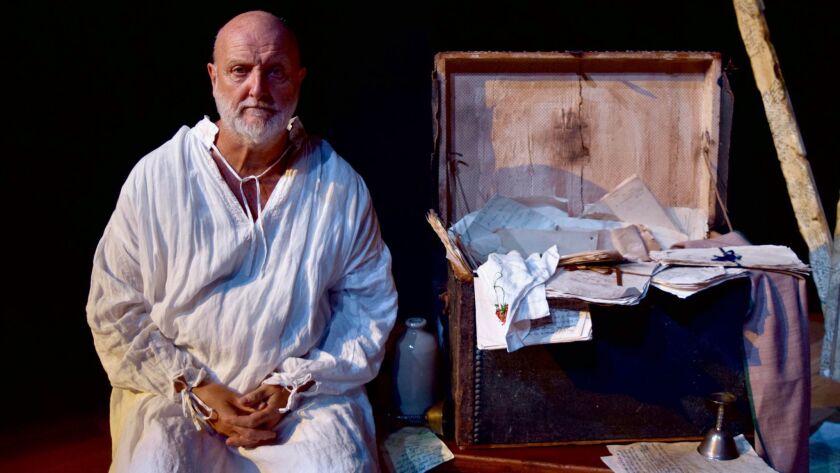 AN ACTOR TACKLES POVERTY
As part of the Pacific Standard Time Festival: Live Art LA/LA, I caught a captivating performance of "Tijuana" by the Mexican collective Lagartijas Tiradas al Sol at the Skirball Cultural Center. This work of "documentary theater" was centered on the experiences of actor Gabino Rodríguez, who spent five months as a minimum-wage factory work in Tijuana. "The result was a work that was as much bracing sociological study as it was a psychological one," I report, "one that steers clear of romanticized poverty porn." Los Angeles Times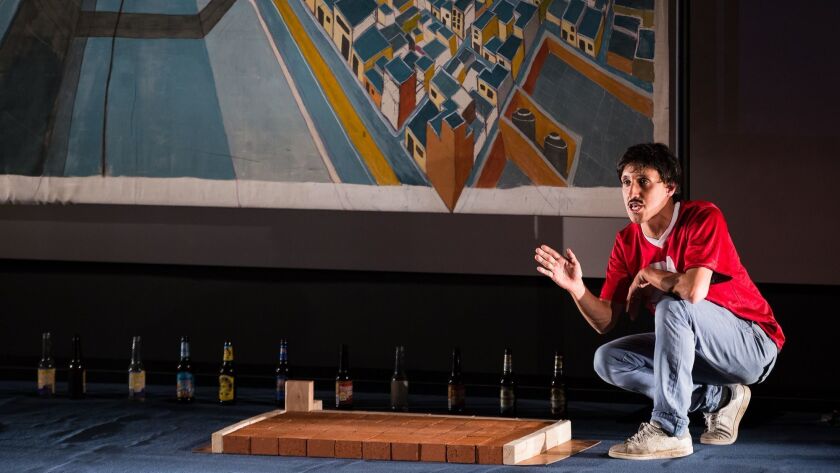 IN THE THEATERS
Times contributing reviewer Margaret Gray takes a gander at "Aladdin," currently playing at the Hollywood Pantages, offering a combination of staged magic and stalled narrative. Los Angeles Times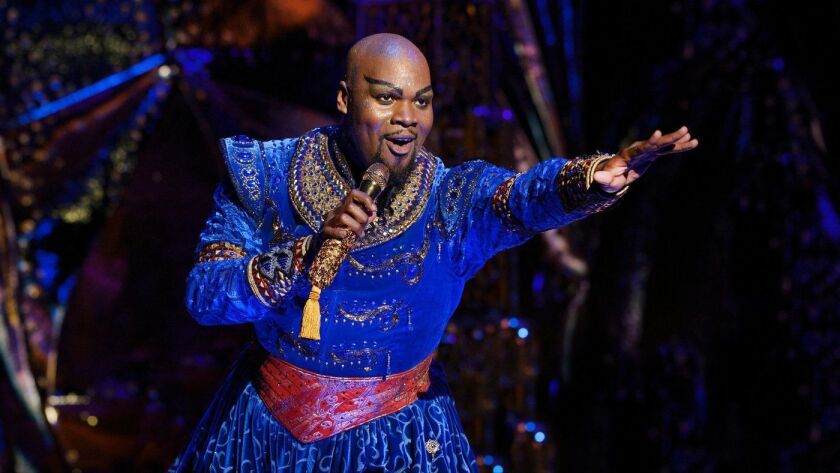 And F. Kathleen Foley reports on the West Coast premiere of Anna Ziegler's "Delicate Ship" at the Road Theatre on Magnolia. It offers some superb acting and a story of "poignant loss and keen regret." Los Angeles Times
Plus, remember to check in weekly for what's showing in L.A.'s 99-seat theaters. The Times' Daryl H. Miller has the latest picks. Los Angeles Times
CLASSICAL NOTES
Charles Dutoit of London's Royal Philharmonic Orchestra was forced to withdraw from conducting engagements after being accused of sexual assault. Taking the reins at a Thursday night show at the Segerstrom Concert Hall was Swiss conductor Thierry Fischer. The change, reports Times classical music critic Mark Swed, "might not be such a bad thing." The performance of works by Saint-Saëns and Stravinksy was "cinematically old-fashioned," but in the concert hall the performance was a "a blast — and a blast is just what the Royal Philharmonic needs." Los Angeles Times
Swed also checked out director Susanna Mälkki's first Green Umbrella concert with the LA Phil's New Music Group, which featured a rare program of works by composer Helmut Lachenmann. "There is only one way to play Lachenmann, and that is with total commitment," he writes. "Mälkki kept the players intensely focused, and the New Music Group sounded for all the world like one of Europe's top new music ensembles." Los Angeles Times
There was also Mälkki's imaginative presentation of Bernd Alois Zimmermann's Cello Concerto, which featured exotic instrumentation and a pas de trois with three dancers choreographed by Tero Saarinen. Los Angeles Times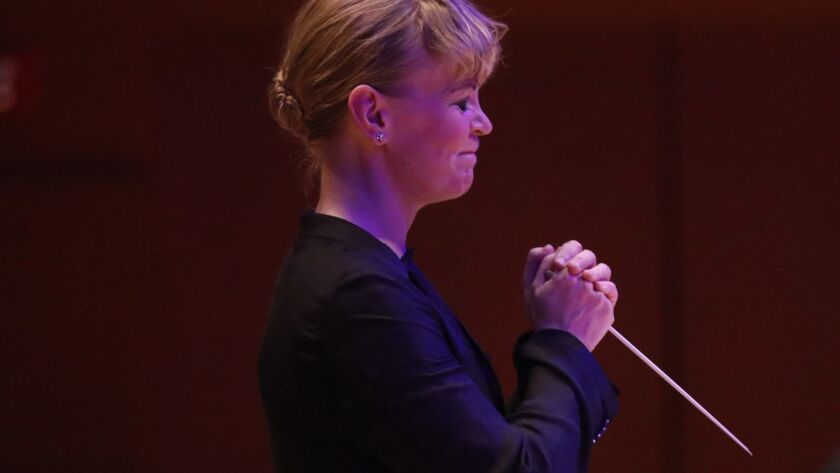 And because too much is never enough, Swed also reports on the latest celebrations marking the 100th anniversary of Leonard Bernstein's birth: a series of four concert performances of his operetta "Candide" by the San Francisco Symphony — with none other than Bernstein pal Michael Tilson Thomas in the conductor's chair. Los Angeles Times
Plus: Some recently unearthed footage of one of Bernstein's last rehearsals. New York Times
A MEDITATION ON MOURNING
The death of a mentor left artist Pouya Afshar reeling, so he poured his grief into his work — creating paintings, drawings and animated videos that get at the ephemeral nature of memory. Those works, inspired by Shiite mourning rituals (Afshar is Iranian by birth), are the subject of an exhibition on view through Sunday at the Space by Advocartsy in San Pedro. The Times' Deborah Vankin chats with the artist about his inspirations. Los Angeles Times
ART AND SOCIAL JUSTICE
The Church of the Epiphany in Lincoln Heights, a base for the Chicano civil rights movement during the '60s and '70s, is currently displaying art among its pews as part of the exhibition "The Art of Protest: Epiphany and the Culture of Empowerment." The Times' Jessica Gelt has a look. Los Angeles Times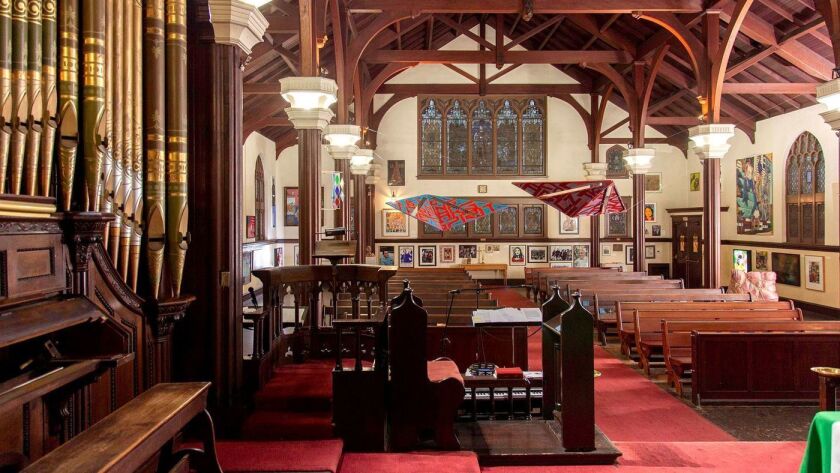 IN THE GALLERIES
Times contributing reviewer Sharon Mizota finds joy in the paintings of Judith Linhares, currently the subject of a solo show at Various Small Fires in Hollywood. Her work "shines with the confidence of a woman who has been painting for five decades," she writes. Los Angeles Times
Mizota also has a gander at photographer Catherine Opie's new experimental film, now on view at Regen Projects. Through the eyes of an arsonist, it's a work that examines our fascination with Modernist design. Los Angeles Times
IN OTHER NEWS …
— The White House asked the Guggenheim Museum if it could borrow a painting by Vincent van Gogh for the president's private living quarters. The museum offered a gold toilet by Maurizio Cattelan instead. Washington Post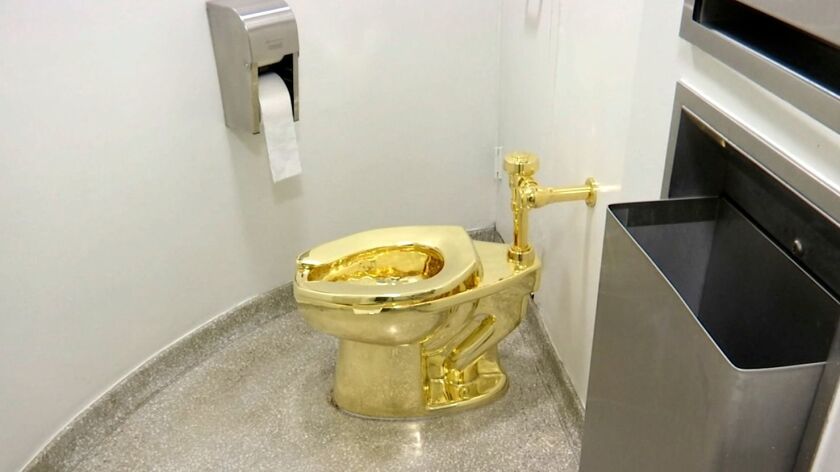 — More than 250 scientists have signed a letter calling on New York's American Museum of Natural History (AMNH) to remove funder Rebekah Mercer from its board of trustees over her support of groups that "politicize climate change science." Hyperallergic
— Speaking of the AMNH: An estimated 65,000 members of the Herero ethnic group of Southern Africa were killed in what is described as the first genocide of the 20th century. How did some of their skulls end up in the museum? New Yorker
— The Los Angeles County Museum of Art is planning to expand to a campus in South Los Angeles, where it will offer exhibitions, after-school programming and other events. New York Times
— If you didn't get to see some of the Pacific Standard Time: LA/LA exhibitions in Southern California, they may be coming to you. The Times' Deborah Vankin has a list of all the shows that will travel. Los Angeles Times
— The Google Arts & Culture app matches selfies with famous works in art history. Adrian Chen parses what it means for art and data mining. A really smart piece. New Yorker
— Catherine Wagley has a terrific piece on the female gallerists who have shaped the art world in L.A. — but have often been written out of its history. Carla
— "Ain't Too Proud — The Life and Times of the Temptations," based on the group's music, has just been added to the Center Theatre Group's 2018-19 season. Los Angeles Times
— American Conservatory Theater in San Francisco has named Carey Perloff its artistic director. Los Angeles Times
— Meet Kurt Froman, the dancer who trains Hollywood actors to dance like ballerinas. Playbill
LAST BUT NOT LEAST …
The mariachi freeway dancer of San Diego is the person I aspire to be. San Diego Union Tribune
Sign up for our weekly Essential Arts & Culture newsletter »
---
Your essential guide to the arts in L.A.
Get Carolina A. Miranda's weekly newsletter for what's happening, plus openings, critics' picks and more.
You may occasionally receive promotional content from the Los Angeles Times.