Newsletter: Essential Arts: A forgotten ballet, Philip Glass on Bowie, new work by Culture Clash and Tracy Letts
The new year is cooking with a forgotten ballet, a musical tribute to David Bowie and a comedic riposte about the U.S. in the O.C. I'm Carolina A. Miranda, staff writer at the Los Angeles Times, with this week's essential arts news:
GLASS AND BOWIE
Composer Philip Glass has created two symphonies inspired by David Bowie albums. This week, he debuted a third: "Symphony No. 12, Lodger, from the music of David Bowie and Brian Eno," at Walt Disney Concert Hall. Glass tells Times music writer Randall Roberts that at first the music on Bowie's album "didn't interest me at all." But in subsequent listens, he found that the record contained something remarkable: the writing. "It was someone who had created a political language for themselves." Los Angeles Times
Times music critic Mark Swed, naturally, was in attendance at one of the shows, conducted by John Adams. "'Lodger' is a stupendous symphony," he writes. "It adds a new dimension to symphonic thought by expansively expounding on the essence of the lyrics written by Bowie and Brian Eno that the music of the 1979 album only hints at." Los Angeles Times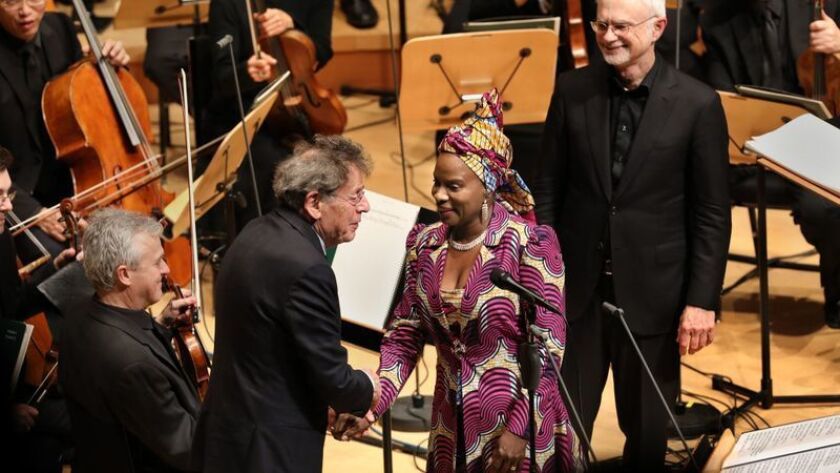 ACTOR AND WRITER
Tracy Letts is known for his acting — he scored a 2013 Tony Award for his performance in "Who's Afraid of Virginia Woolf?" He is also known for his writing, with a Pulitzer and Tony to his name for "August: Osage County." Now his latest work, "Linda Vista," has landed at the Mark Taper Forum. Times contributor Barbara Isenberg talked with Letts about Dick Wheeler, the play's thoughtless 50-something lead character. "My friend [director] Anna Shapiro said to me that Wheeler is a version of a man I might have become if I made different choices in my life," he tells her. "I think there's probably some truth to that." Los Angeles Times
INCREDIBLE COSTUMES
Times contributing reviewer Laura Bleiberg previews the wondrous costumes that will be employed by American Ballet Theatre in "Harlequinade," which lands Jan. 17 at Segerstrom Center for the Arts. The ballet, choreographed by the influential Marius Petipa in 1900, was one of his last. ABT artist in residence Alexei Ratmansky did a lot of sleuthing to come up with functional yet resplendent designs. Los Angeles Times
HYBRID DANCE
Bleiberg was also at the kickoff of the Odyssey Dance Festival, in which dancer Shade Théret teamed up with artist Lukas Paneks for "Maybe," a performance that fused dance and visual arts. The duo turned a black-box space into a gallery and asked the audience to take to the stage. "With the audience invited to ignore the normal rules of drama, 'Maybe' became an experiment in human psychology," she writes. "What would everyone do?" Los Angeles Times
Bleiberg also reviewed Hubbard Street Dance Chicago's recent performance at the Wallis Annenberg Center for the Performing Arts. "The group has demonstrated a penchant for humongous physicality and established a repertory that's edgy but still pleasing to audiences," she writes. "Even pieces that fail to land their punch still exhibit an infectious brio." Los Angeles Times
PRODIGAL SON
Zubin Mehta, the conductor who led the Los Angeles Philharmonic in the 1960s, was back in L.A. to lead the orchestra in a Brahms cycle. Times classical music critic Mark Swed says the concerts offered a reconsideration of both composer and conductor: "At Mehta's first Brahms concert last month, it felt like time to rethink that standard Mehta wisdom of an imperious conductor strong on bravura and drama, less heralded for depth. After the full cycle, there is no question." Los Angeles Times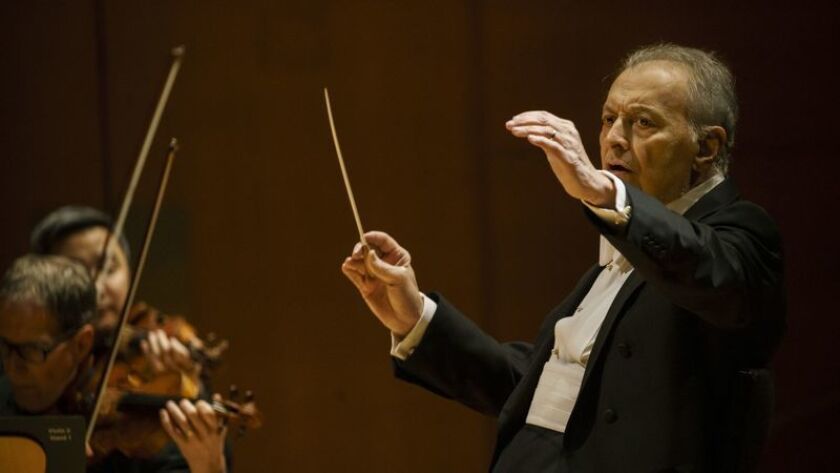 RIGHT AT HOME
HomeLA, an art project that takes dance and other performance into private homes, will stage two events at the Sowden House in Los Feliz this weekend. The house, designed by architect Lloyd Wright in 1926, was always intended as a stage for performance — though it is often better known as the rumored site of the Black Dahlia murder. The event is "a culmination" of months of research, says homeLA founder Rebecca Bruno. "Each of the artists stretch a little bit and relate to the home space and we create a performance out of that. We spend a lot of time in the home." Los Angeles Times
BRUTAL IS BEAUTIFUL
Times contributor Mimi Zeiger sat down with Phaidon's hefty 560-page "Atlas of Brutalist Architecture," which features 878 works in more than 100 countries — a volume she describes as "part reference tool, part coffee table book." But she notes that the book is not for purists: "For every building that clearly falls within canonical parameters, there's another that provoked me to yell a stream of '-isms' at the page: 'That's not Brutalism; it's Constructivism, Late Modernism, Metabolism …'" Los Angeles Times
AMERICA AT THE FRINGES
Culture Clash, the comedic, politically incisive trio, is back with "Culture Clash (Still) in America," through Jan. 20 at South Coast Rep. It is born of the actors' interviews with Americans of all stripes: a Muslim man caught between worlds, a blue-collar couple, a transgender social worker and a father and daughter separated by ICE agents. Some bits are funny, reports reviewer Margaret Gray. Others, she notes, "have teeth, and their bite cuts deep." Los Angeles Times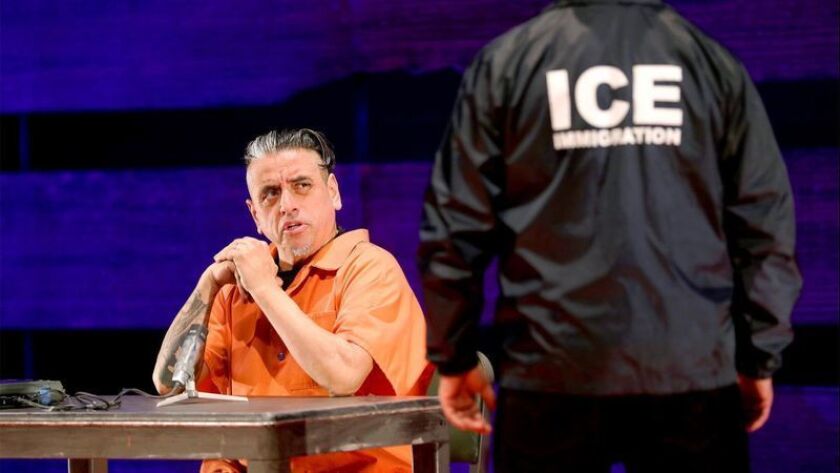 READY FOR THE WEEKEND
Matt Cooper has the week ahead in theater, classical music, museums and dance, as well as his weekend picks — including dance premieres by choreographers Dimitris Papaioannou and Benjamin Millepied.
Margaret Gray has her picks for the 99-Seat Beat, which includes three new plays, as well as the classic "Driving Miss Daisy." Los Angeles Times
And I round up the week's art openings in my weekly Datebook, which includes a new show by L.A. painter Lisa Adams. Los Angeles Times
IN OTHER NEWS…
— All eight border wall prototypes fail a basic penetrability test. Architect's Newspaper
— Innovation is all good, but in an age of crumbling infrastructure, maintenance has taken on a new resonance. A good long read from Shannon Mattern. Places Journal
— Climate change is affecting cities — to the point where rebuilding as-is will not always be an option. Alissa Walker says it's time to think long and hard about how we build. Curbed
— A great overview of what happened when the Norwegian architecture firm Snøhetta attempted to redo 550 Madison, an important work of Postmodernism by the late architect Philip Johnson. Real Deal
— A bus designed to look like the Bauhaus school in Dessau, Germany, will travel to four international schools to help people "unlearn" Eurocentric attitudes in architecture. Dezeen
— Google has leased the Westside Pavilion, which will become tech offices. Los Angeles Times
— Outgoing Getty Foundation director Deborah Marrow looks back. Art Newspaper
— When the dance critic doesn't quite retire. Dance Magazine
— Lin-Manuel Miranda has come to the rescue of a Manhattan bookstore devoted to theater. Los Angeles Times
— Digging this essay by Joanne McNeil on why Alex Rivera's 2008 border sci-fi flick remains wildly underrated. Filmmaker Magazine
— The trailer for "Velvet Buzzsaw," the Netflix art world horror film is heeeeere. YouTube
AND LAST BUT NOT LEAST….
I spent my last trip to Mexico City eating pizza smothered with chiles rellenos. Los Angeles Times
Sign up for our weekly Essential Arts & Culture newsletter »
carolina.miranda@latimes.com | Twitter: @cmonstah
---
Get our daily Entertainment newsletter
Get the day's top stories on Hollywood, film, television, music, arts, culture and more.
You may occasionally receive promotional content from the Los Angeles Times.