Why artist Rafa Esparza led a surreal art parade through the heart of L.A.'s fashion district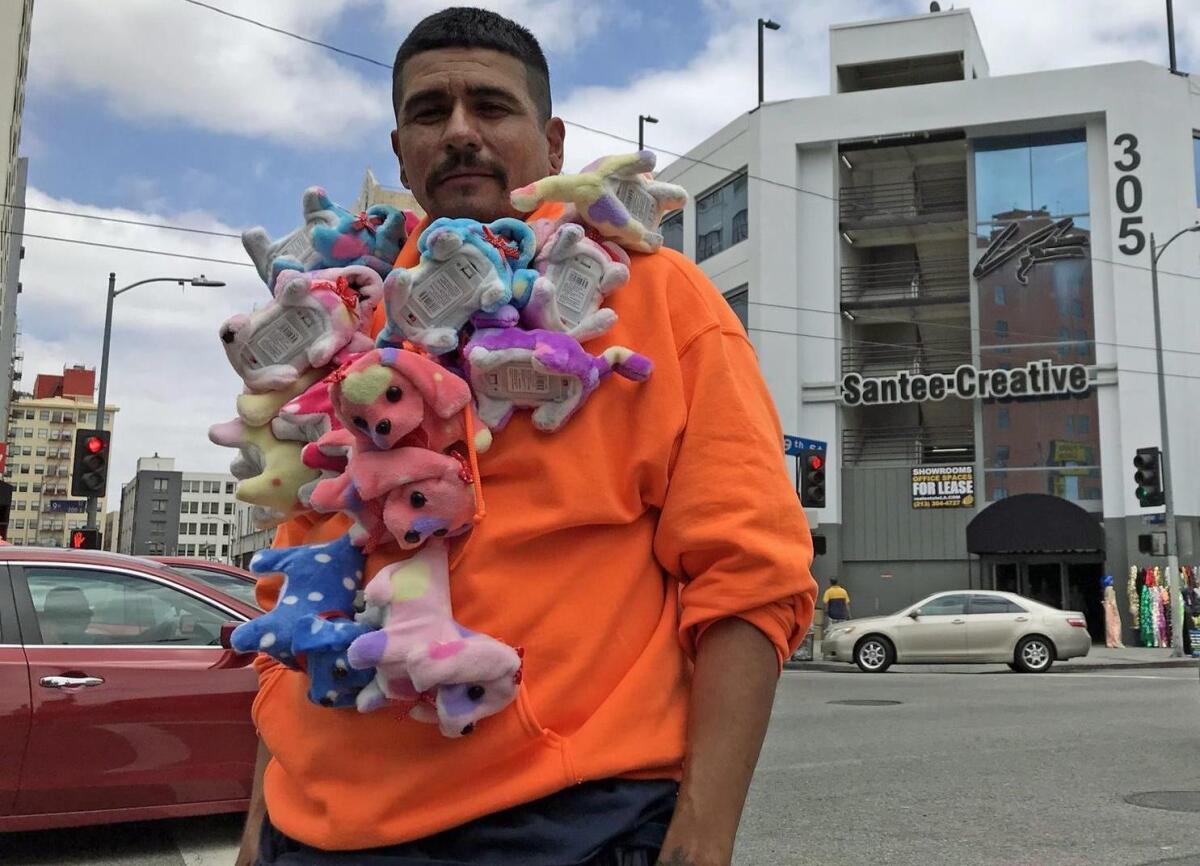 If you happened to be wandering through the crowded sidewalks around the arcades of Santee Alley on a recent Saturday, you may have encountered a most unusual procession in the heart of downtown L.A. fashion district. There was a woman in a blue ball gown accompanied by a pack of demons in shades of cobalt blue. Two red devils appeared in three-quarter-length gloves and chiffon skirts. Then there was the slow-moving performer who swayed gently through arcades, decked out in yellow dish gloves and a ball gown crafted from industrial mop heads, cleaning the floor as he went.
The spectacle was led by Los Angeles artist Rafa Esparza — who was decked out in a noisy necklace of mechanical toy dogs for the occasion — and who is the subject of an exhibition at the Institute of Contemporary Art Los Angeles. The show, "de la Calle," meaning "of the street," is as much about bringing elements of the outdoors into the museum — say, a floor covered in a slab of cracked adobe — as it is about taking some of the museum's contents into the surrounding streets of downtown Los Angeles. Hence the Santee Alley performance — titled "a la calle" or "to the street" — a guerrilla affair whose time and location was disseminated only via word of mouth.
I bumped into a friend at Santee Alley I only ever see at a nightclub. And it was like, 'Ohhh.' This is where a lot of us shop for our looks.
— Rafa Esparza, artist
For Esparza, the exhibition and the performance have been a bit of a homecoming.
Last year, he was one of 63 artists chosen by New York's Whitney Museum of American Art to participate in the Whitney Biennial, for which he built an earthen gallery-within-a-gallery crafted out of adobe bricks — then invited fellow artists to hang their work. Later that year, he created a series of adobe structures, large and small, at the Ballroom Marfa gallery in Marfa, Tex., structures that showcased work by colleagues. Last month, he served as an artist in residence at Artpace in San Antonio.
Not that he has been entirely absent from Los Angeles: In January, he collaborated with sculptor Beatriz Cortez on an installation that explored ideas about gardens in a show at the Koreatown art space Commonwealth and Council.
But Santee Alley, lined with arcades that run parallel to Santee Street from Olympic Boulevard to 12th Street, offered a much different panorama from some of the white-box settings he has been working in recently.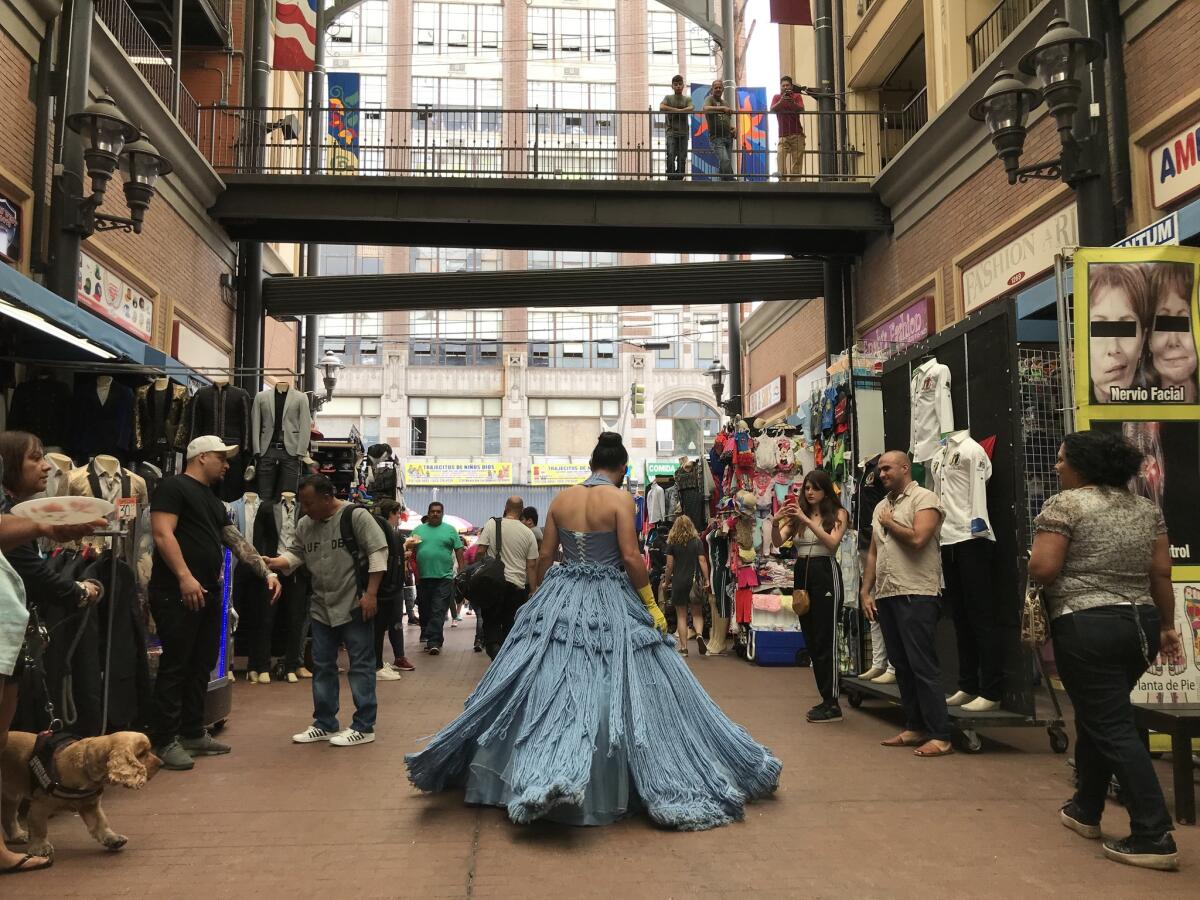 The crowded fashion district arcades are bustling with vendors — of clothing, jewelry, T-shirts, churros and scented oils named for celebrities like Rihanna. Through this teeming human scrum, Esparza led his chaotic ensemble, which included drag performer Kiki Xtravaganza, multimedia artist Gabriela Ruiz (known as Leather Papi), who was accompanied by the aforementioned blue demons, as well as models wearing pieces by the designer Tanya Melendez (otherwise known as Nena Soul Fly).
In this edited conversation, Esparza discusses the chance encounter that helped inspire the performance, the continuing evolution of his adobe installations and what it's like to face a Santee Alley security guard while wearing a mound of barking mechanical puppies.
What inspired you to take to the streets of Santee Alley for a performance?
This is an idea I've had for years. I initially was thinking of downtown because I used to live off of 7th and Spring. I saw a lot of shops that were owned by Latinx families that were disappearing — quickly. Then I started having a conversation with [ICA curator] Jamillah [James] and it became more apparent and more important to me to bring this idea to life.
One day I bumped into a friend there at Santee Alley — a friend I only ever see at a nightclub. And it was like, "Ohhh." This is where a lot of us shop for our looks because it's cheap and because it's great fashion. And that's where the idea came from. So many people who are thinking about fashion [and] who are queer have a specific relationship to the callejones [arcades]. And what's great about the Alley is seeing the people there, what they wear. A lot of the materials we used were made from materials pulled from the callejones.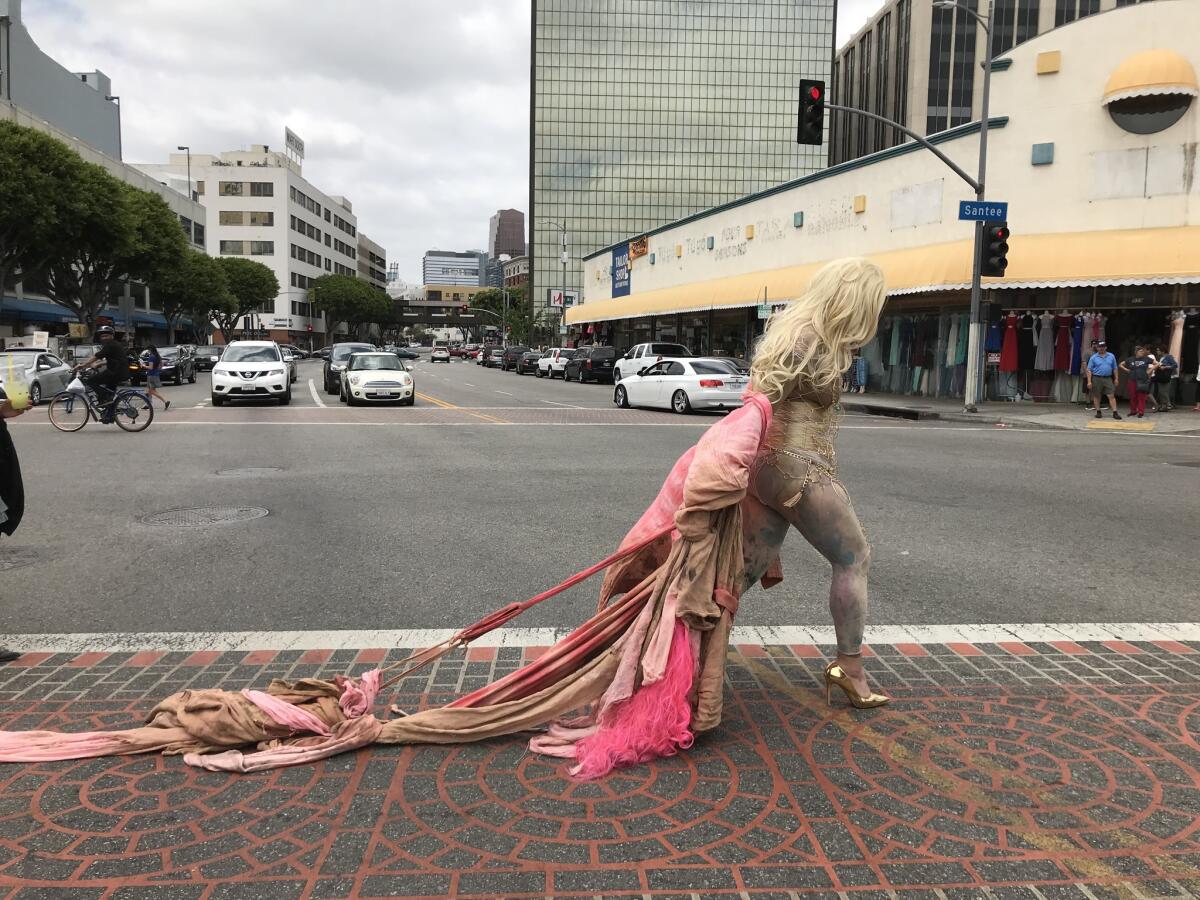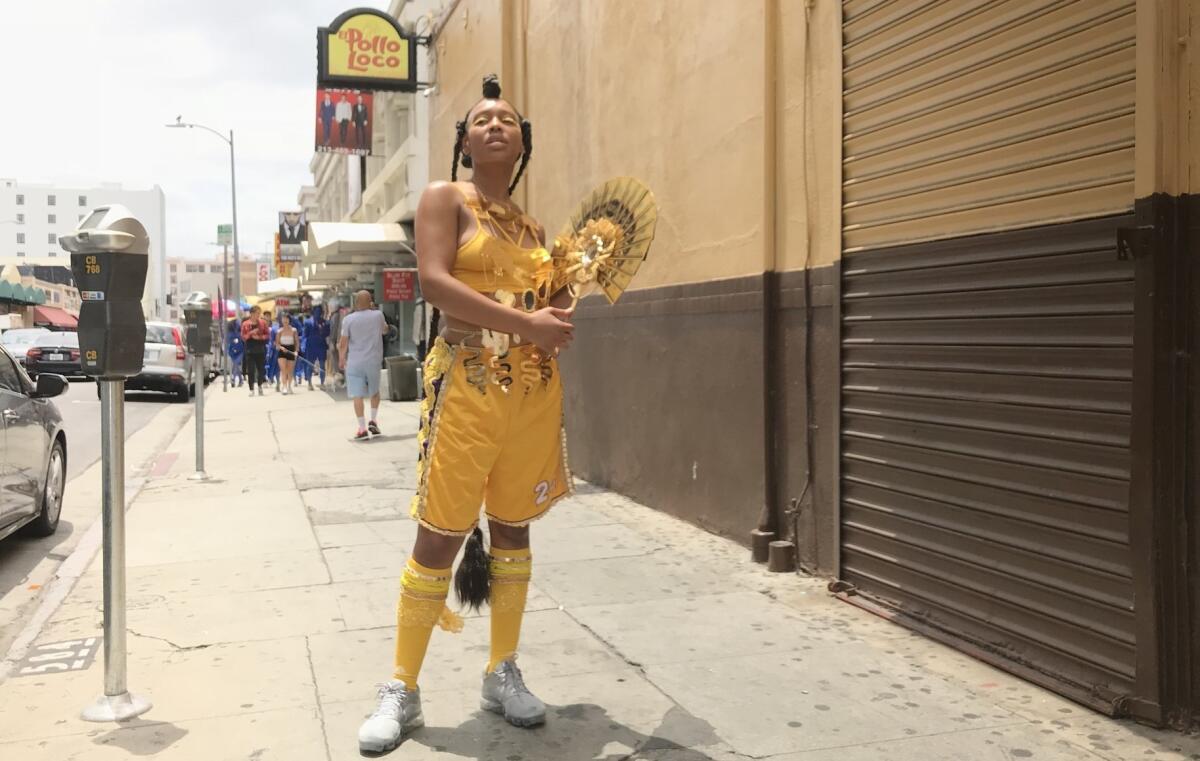 You wanted the performance to proceed through Santee Alley's arcades. But things didn't go as planned. What happened?
It turns out that Santee Alley is privately owned. When we arrived, I was standing with Kiki and I said, "All right, girl, go ahead." And she started to go with her vacuum — she was doing this performance where she was using a vacuum to clean through the alley — and this gentleman told her, "You can't go in." She came and got me and said, "We can't go in." So I go to the security guy and I say, "We need to go into the alleys."
But I'm wearing this hoodie with a couple of dozen barking puppies and I'm trying to have this serious conversation. [Laughs.] And I just realized that I needed to be lighthearted about this. I told him, "We need to find parts for this vacuum." I felt like the security guard just needed to be validated. And then we just started the performance.
We improvised. Gabby [Gabriela Ruiz — Leather Papi] was the second to last person and she had this platform and it had wheels on it. And they were like, "You can't come in." So we said, "We'll ditch the platform." And they said, "You can't come in." So Gabby's crew [the blue demons] just walked around the block and joined the rest of the group a third of the way in. It still happened — it just happened differently.
A slab of adobe is on the floor of the ICA installation. But the adobe, a material you often work with, isn't simply a sculpture. It's also a staging area for performances such as this. How has your adobe work evolved?
I don't have a studio, so spaces like the ICA become where I experiment. At the Whitney, I had a really wonderful time building up a space — being in this brown rotunda with everyone I invited. I was using the adobe as a building material. But [for the ICA] I wanted to pull away from building a container. I wanted to use it as more of a vehicle to drive these experimental collaborations.
I wanted this to be an exhibition space and a work space — where artists I invite can come and make garments and make looks and make their work. And the things that they made would be used for the performance that we were all working toward in Santee Alley.
What was the crowd's response to the parade?
There was everything. There was someone saying we were going to hell. But you know what I also heard? Gabby said that she overheard this little girl telling her parents, "Omigod, I just saw these two devils and a bunch of blue people with horns and a guy was wearing puppies on his hoodie!" And she was so excited. We brought this fairy tale. It's so much in those moments — these fleeting, three-second glimpses of extraordinary things we see in the world.
There were many wild sights during the performance. Which are the ones you will remember the most?
There were so many. I'm still thinking about Noé Olivas [dressed in the gown made from mops]. There was this kind of varying degrees of spectacle as Noé performed. There was a quietness that was so powerful and that has so many layers — it speaks to labor, to brown labor. That he could be so quiet with such an extravagant gown in such a place, I'm still in awe about it.
And then Kiki being one of the main inspirations for this performance, it felt like such an honor to have this living legend join us in this processional performance. I've never seen her this wild ever. Kiki [who was wearing a pair of clear exotic dancer heels, a mask and a blond wig] was in the streets. She was in between lanes. She was trying to get into people's cars. She'd say, "Are you my Uber? Are you my Uber?"
Someone was driving a truck and said, "We don't have room in here, but we have room in the back!" And she jumped in and her legs were kicking. She was being so vivacious and fearless and playful. That kind of improvisation is the riskiest and the most challenging kind of performance work.
There was this moment when we were walking back and I put my arm around her waist and I said, "You made my year." And she said, "Omigod, darling! You have no idea. I've wanted to do this forever."
"Rafa Esparza: de la Calle"
Where: Institute of Contemporary Art Los Angeles, 1717 E. Seventh St., downtown Los Angeles
When: Through July 15
Info: theicala.org
ALSO
Artist Rafa Esparza is using 5,000 adobe bricks to make a building-inside-a-building in Hollywood
From a motorcycle obstacle course to experimental vocals: Latino performance art coming to L.A. in 2018
What the dismantling of the Berlin Wall can teach us as Trump tries to build his wall
A new U.S.-Mexico border? At the Venice Biennale, imagining a binational region called MEXUS
Sign up for our weekly Essential Arts & Culture newsletter »
Get our L.A. Goes Out newsletter, with the week's best events, to help you explore and experience our city.
You may occasionally receive promotional content from the Los Angeles Times.