Essential Arts & Culture: Art and guns, the Obama portraits and 'Urban Light' turns 10
Urban lights, presidential portraits and art and guns. It's been a quite a week in the culture arena. I'm Carolina A. Miranda, staff writer for the Los Angeles Times, with the week's essential arts news:
CITY LIGHTS
"Urban Light," the vintage lightpost installation that greets visitors to the Los Angeles County Museum of Art, is turning 10. The Times' Deborah Vankin tells you everything you need to know about our city's iconic sculpture by the late Chris Burden. Los Angeles Times
BUILDING L.A.'S IDENTITY
Since we're on the subject of LACMA: L.A. Times architecture critic Christopher Hawthorne has a look at "Found in Translation," one of the museum's contributions to PST: LA/LA. The exhibition looks at the ways architects, artists and civic leaders have attempted to build an identity for Southern California through Spanish colonial architecture. "Among the most striking of those ironies: An architectural style that looked lovingly on California's pre-Anglo past was among the most effective mechanisms for the elite attempt, roughly a century ago, to establish Anglo control over civic and cultural institutions," he writes. Los Angeles Times
THE OBAMA PORTRAITS
President Obama and First Lady Michelle Obama unveiled their portraits for the National Portrait Gallery, painted by Kehinde Wiley and Amy Sherald, respectively. Times art critic Christopher Knight hasn't yet seen the portraits in person, but he weighs in from a distance: "Reproductions peel off a painting's complex formalism, leaving behind composition and iconography as the bare bones with which to read the work," he writes. "Wiley and Sherald had a lot to work with in that regard. They're the first African American artists to receive such a commission, and they are representing the first African Americans to occupy the White House — which was built with slave labor." Los Angeles Times
Critic Ben Davis, in the meantime, describes Wiley's portrait of President Obama as "weird" and "memorable" even though it is rather inert when it comes to capturing his character. Artnet
Plus, what various art critics are saying about the paintings. Observer
ART AND GUN VIOLENCE
This week, the Hirshhorn Museum in Washington, D.C., was scheduled to project a piece by Krzysztof Wodiczko onto its exterior walls — but decided against it in the wake of the Florida shootings because the work featured a prominent image of a gun. Critic Philip Kennicott says this is a mistake. "One fundamental strategy of political art is to say: This ugly image is who we are, and then challenge the audience to deny that, in word and deed," he writes. Washington Post
Plus: An Instagram account features portraits of victims of mass shootings. Mass Shooting Victims' Portraits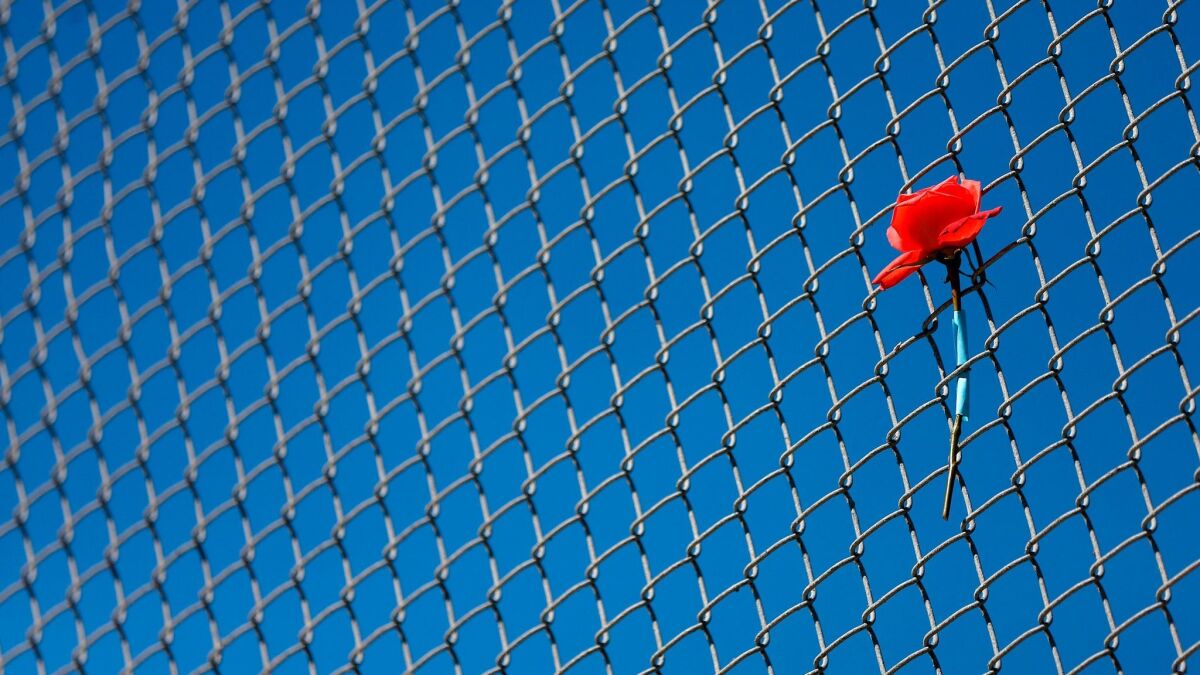 AN ELECTRONIC PIONEER
When composer Morton Subotnick released "Silver Apples of the Moon" in 1968 it was revolutionary: the first electronic music composition commissioned for a recording — it took 13 months to produce, given the limited nature of technology at the time. Subotnick revisited the composition with new tech in a gig at REDCAT this week. "It's mellower music now, beginning quietly and gradually perking up," reports Times classical music critic Mark Swed. "The result is more seductive than ever." Los Angeles Times
Swed also took in a performance of Handel's "Exodus: Gods and Kings" by the the Los Angeles Master Chorale at Walt Disney Concert Hall. Director Grant Gershon, he reports, "conducted a magnificent performance" of the piece — which included a live video work by Syrian Armenian artist Kevork Mourad. Los Angeles Times
ENLIGHTENED DANCE
"Betroffenheit" is a dance theater piece created by Jonathon Young and choreographer Crystal Pite, and inspired by the tragic deaths of several of Young's family members in an accidental fire. The work could have been "a bludgeoning tool," writes contributing reviewer Laura Bleiberg, but its able direction and choreography made for "a more enlightening conclusion." Los Angeles Times
FRACTURED FAMILY
Times theater critic Charles McNulty describes "Water by the Spoonful," the Pulitzer Prize-winning play by Quiara Alegría Hudes as a "supple and deeply felt play." The story follows the intersecting lives of a composer named Yaz, her traumatized war vet cousin Elliot and Elliot's mother, Odessa, who is in recovery from an addiction. The play is now at the Mark Taper Forum, where Lauren Vélez gives Odessa "a bristling authenticity," writes McNulty. But unfortunately it can't make up for a production that is "disappointingly shaky." Los Angeles Times
Also on McNulty's docket was Martyna Majok's "Ironbound" at the Geffen Playhouse. The play is centered on Darja, a Polish immigrant living in New Jersey who carries disillusionment in her core. The staging may be uneven. But Darja, as played by Marin Ireland, is a role that "will not soon be forgotten," writes McNulty. "The actress creates a scrupulously honest portrait in a palette of grays." Los Angeles Times
THEATER NOTES
The Times' Daryl H. Miller reports on a production of Edward Albee's "Occupant" (based on the life of sculptor Louise Nevelson) at the Garry Marshall Theatre, which features "finely wrought details" but tis "fairly cerebral and insiderish." And he checks out a "buoyant production" of "Violet" at the Chance Theater in Anaheim, scored by Jeanine Tesori (of "Fun Home" fame).
In the meantime, Times contributor Scott Timberg heads to the San Fernando Valley for a story about an unusual musical hybrid: the "mariachi opera" "Cruzar la Cara de la Luna," which is being staged at the Younes and Soraya Nazarian Center for the Performing Arts.
AN L.A. MURAL REEMERGES
Barbara Carrasco's 43-panel mural "L.A. History: A Mexican Perspective" has, over the years, spent more time in storage than on view. In fact, the mural was censored when Carrasco first produced it in 1981. But the work, which was briefly installed at Union Station as part of PST: LA/LA, is now going on long-term view at the Natural History Museum of Los Angeles. "I'm just so happy," Carrasco tells Deborah Vankin. "The people who go there are a lot of young people — and really diverse." Los Angeles Times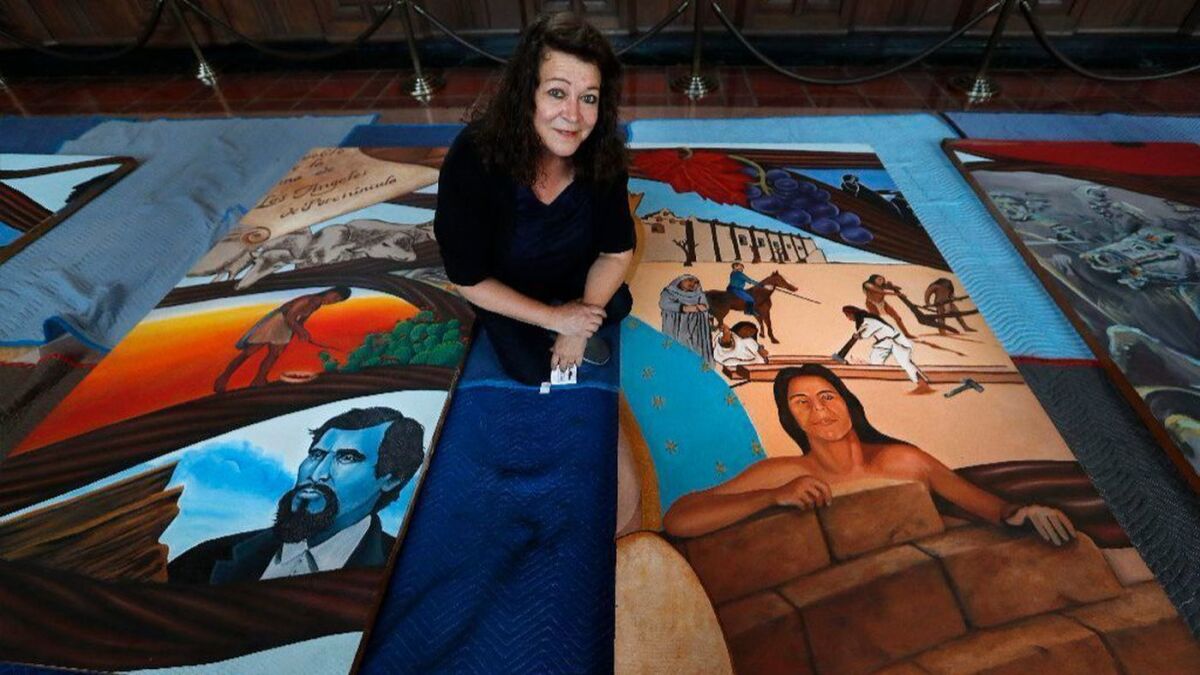 A WAY WITH WORDS
Oklahoma-based artist Edgar Heap of Birds is in the Southern California area with two exhibitions: one at Pitzer College Art Galleries in Claremont, the other at Garis & Hahn in downtown Los Angeles. The artist creates collaged installations that employ text — phrases, song lyrics, words drawn from texts — that explore the American Indian experience. "I hear things, I go to movies, I'm listening to people talk, I read history and think of phrases," he tells me — for work that can feel like protest placard, note to self, cut-up poem and urgent reminder all rolled into one. Los Angeles Times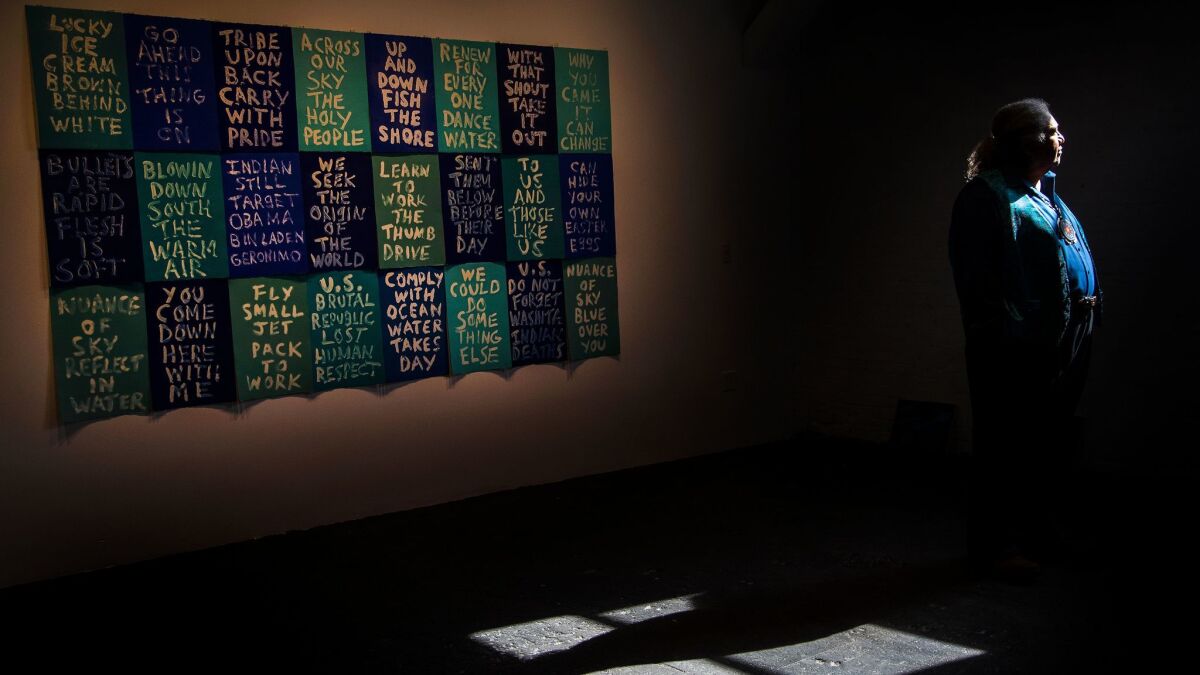 IN OTHER NEWS…
— Audiences are livestreaming theater. The Stage
— Tom Hanks and Rita Wilson are slated to star in "Henry IV" at Veterans Affairs' West Los Angeles campus in a production staged by the Shakespeare Center of Los Angeles. Los Angeles Times
— The Hammer Museum has announced its list of artists for its "Made in L.A." biennial. Deborah Vankin has all the deets. Los Angeles Times
— The Broad museum's Joanne Heyler talks about their Jasper Johns show, which was four years in the making. New York Times
— And the Getty Museum scores pages from a rare, illuminated Renaissance choir book. The Iris
— A new initiative in New York City will help artists pay for studio space. Artnet
— An aluminum panel from an Albert Frey house created for a New York expo in 1931 can currently be found in Palm Springs. Los Angeles Times
— A photographer has shot all 531 extant buildings by Frank Lloyd Wright. Curbed
— Five-time Tony Award nominee Jan Maxwell, known for her comedic abilities, has passed away. Deadline
— Daniel Breaker, who plays Aaron Burr in "Hamilton" on Broadway rilly rilly likes to cook. NPR The Salt
— A two-month investigation into former New York City Ballet chief Peter Martin concludes that allegations of sexual harassment against him could not be corroborated. New York Times
— L.A. Dance Project's Benjamin Millepied has choreographed a fashion video for Rag & Bone. Dance
AND LAST BUT NOT LEAST…
"Schnauzers rioting outside Madison Square Garden following Westminster Dog Show defeat" definitely takes the cake for mad Photoshopping skillz. The Onion
Sign up for our weekly Essential Arts & Culture newsletter »
ALSO
Is it inspired or irresponsible to call Donald Trump's border wall prototypes 'art'?
It's not just Chief Wahoo. Why American Indian images became potent, cartoonish advertising symbols
L.A. artist Rodney McMillian peels back the facade on the ultimate symbol of power: the White House
---
Get our L.A. Goes Out newsletter, with the week's best events, to help you explore and experience our city.
You may occasionally receive promotional content from the Los Angeles Times.