Review: Grasping for Dad's story in 'The Institute of Memory (TIMe)'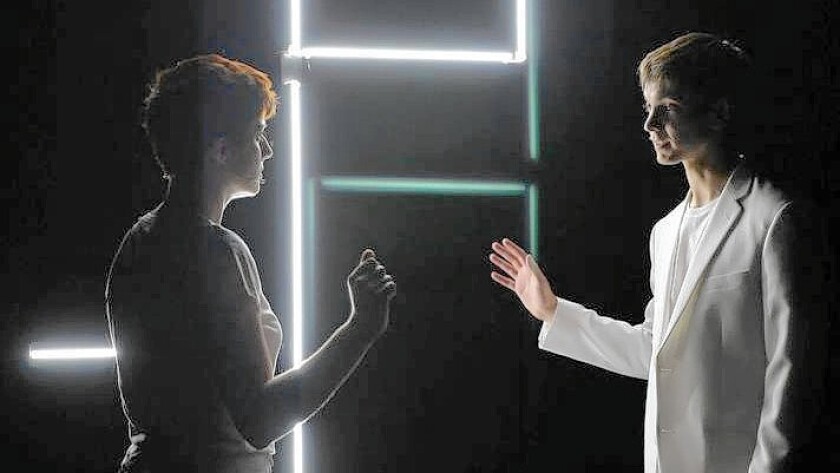 Los Angeles Times Theater Critic
Time veils the past in mystery for everyone, but theater artist Lars Jan's case is exceptional. His late father, an enigmatic Polish-born Cold War operative, remains an elusive figure despite the extensive documentary trail he left behind.
In "The Institute of Memory (TIMe)," which concluded its world premiere run at REDCAT on Sunday, Jan meditated on the available facts, traced the rippling effects of his uncertainty and considered some of the broader issues concerning identity, data and privacy — subjects that have ignited a national debate post-Edward Snowden, who figured playfully in the piece.
Created by Early Morning Opera, Jan's genre-bending performance lab that supplied the collaborative team, and produced by the CalArts Center for New Performance, this still-germinating collage was gamely performed by Ryan Masson and Annie Saunders (both dressed in blinding white suits) on a spare, abstract set that evoked both an apartment study and a sterile institution. The physical production, which Jan directed and designed, was meticulously if cryptically worked out.
A typewriter was an early focal point, with Nathan Ruyle's sound design exploiting the vintage tone of dancing keys and an incessantly dinging carriage return. Fluorescent light bars were rearranged like a hipster game of Lego. Archive boxes lurked on the periphery of the playing area, their secrets buried in bureaucratese.
Pablo N. Molina provided background video that was suggestive rather than illustrative. Christopher Kuhl's lighting cordoned off a distinctive theatrical world. Original music by Mariana Sadovska cast a primeval spell with ritualistic vocals.
Unfortunately, this performance mélange, which began with actors directly addressing the audience before moving less persuasively into meta-theatrical role-playing and high-cardio movement theater, had the tentative quality of preliminary research notes. The more or less straightforward introduction set up expectations that were meanderingly subverted.
Saunders, a wide-ranging theater artist who was a creator and cast member of the immersive dance-theater piece "The Day Shall Declare It," elicited chuckles from the audience after introducing herself as Lars Henrick Jan. (The mood was relaxed even when the manner was highly stylized.) She became a conduit for a son's hazy and incomplete memories of a distant parent.
Information dribbled out about Jan's father, an economist who was born in Poland in 1922 (as most accounts have it), became a U.S. citizen and died a broken man with an extensive psychiatric file and a shadowy history that intersected with 20th century European political horror.
The fragmentary writing, although marked with literary care, failed to accrue deeper resonance. But then Jan abruptly switched gears, arbitrarily testing other performance modes, perhaps in an attempt to avoid being overly confessional or sentimental.
One adventurous, though wobbly, segment involved the casual impersonation of photographer Ansel Adams and National Security Agency whistle-blower Snowden — two pioneers of innovative technologies portrayed by a man and woman who seemed to be working out relationship issues not unrelated to Jan's confounding past. The final section had Masson and Saunders running frenetically in place while intoning lines that touched on recurring thematic concerns but that were far too random to add up to anything coherent.
At this stage of development, "The Institute of Memory (TIMe)" seems like an experimental trial for a future theatrical production that's still figuring out the public-private balance of achingly personal subject matter.
---
The complete guide to home viewing
Get Screen Gab for weekly recommendations, analysis, interviews and irreverent discussion of the TV and streaming movies everyone's talking about.
You may occasionally receive promotional content from the Los Angeles Times.