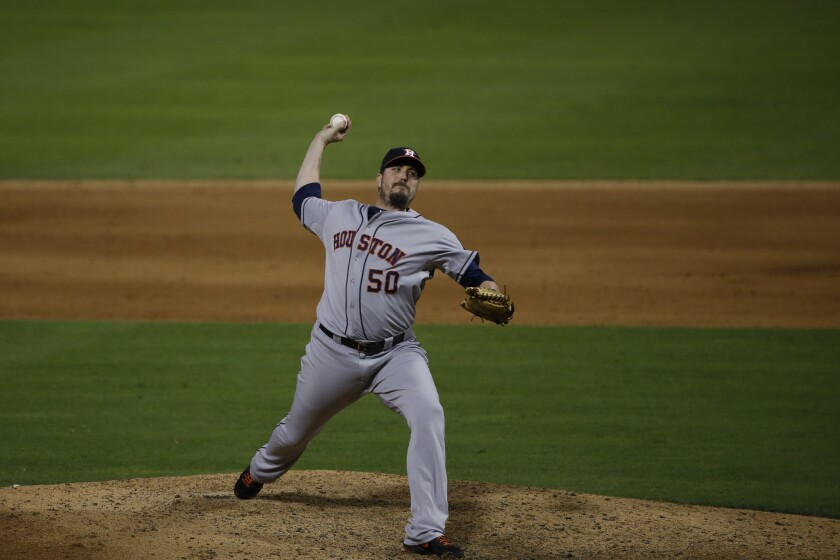 AT&T's $49-billion deal to buy satellite broadcaster DirecTV has a long way to go before closing, but the two companies are already partnering on a Houston sports channel.
DirecTV and AT&T have submitted a plan to a U.S. Bankruptcy Court judge in Houston to take control of Comcast SportsNet Houston, a troubled sports channel that has rights to both the Astros baseball team and the Rockets basketball team.
Launched in 2012 as a partnership among Comcast, the Rockets and the Astros, CSN Houston struggled to get distribution. Comcast carried it but none of the other major distributors in the area, including DirecTV and AT&T's U-Verse, struck deals for the network, citing its price.
With little distributioin, CSN Houston struggled financially and eventually filed for bankruptcy.
If the plan is approved, the channel will be renamed Root Sports Houston and be 60% owned by DirecTV and 40% owned by AT&T. Combined, the two companies have close to 800,000 subscribers in the Houston market, according to the Houston Chronicle. DirecTV also has regional sports networks in Denver, Pittsburgh and Seattle.
DirecTV will distribute the channel to all its subscribers in the market, a spokesman for the company said.
Time Warner Cable, which has been unable to cut a deal with DirecTV to carry SportsNet LA, the new TV home of the Dodgers, finds this somewhat ironic. DirecTV has indicated it is willing to offer SportsNet LA to subscribers who want it, but not to every home in the market, saying the price is too high.
"DirecTV has been very vocal about a new paradigm for sports programming, and we're looking forward to seeing how an a-la-carte model will work for them," said a sarcastic Andrew Fegyveresi, senior director of sports and news for Time Warner Cable.
A DirecTV spokesman said the company "would hope to offer any regional sports network throughout the entire community, but when when the price of that access grows too steep for the average family, then you have to look at new ways to continue making those teams available to their most loyal fans."
Time Warner Cable and DirecTV's standoff over SportsNet LA shows no sign of ending anytime soon. Time Warner Cable, which distributes the Dodgers-owned SportsNet LA, has indicated it does not expect to reach an agreement with DirecTV this season for carriage of the channel.
Lawmakers including Rep. Brad Sherman (D-Calif.) have advocated that the two companies enter some sort of arbitration or mediation to end the stalemate, but DirecTV has shown no interest in going down that road. Time Warner Cable has indicated it is willing to enter binding arbitration to determine a price for SportsNet LA.
"We've agreed to let an independent third party set the price for Dodgers TV and believe Congressman Sherman's proposed terms are constructive," Fegyveresi said. "We're disappointed that DirecTV has refused his proposal as arbitration is the fastest and surest route to providing Los Angeles fans with Dodger games immediately."
A ruling on DirecTV and AT&T's plan for CSN Houston is expected within two months.
Follow Joe Flint on Twitter @JBFlint.
---