Why Capitol Records' vinyl master Ron McMaster is busier than ever
Ron McMaster, skilled in the art of cutting vinyl records, had been planning to retire. To the longtime Capitol Studios mastering engineer, the era of digital streaming services such as Spotify seemed to sound a death knell for his profession.
He'd watched album sales plummet after Napster and LimeWire came on to the scene. Record labels and retailers went out of business. The venerable Tower Records closed its doors.
"There was a time when I really didn't think I was going to be able to pass this on to anyone," said McMaster, 67. "Nobody cared."
Then something unexpected happened: Vinyl made a serious comeback.
Sales of the old-school LPs are at a nearly 30-year high and rising, making it one of the only growth areas in the long-troubled music business. LP and EP sales hit $416 million in the U.S. last year, nearly five times their revenue from five years ago and hitting their highest point since 1988, according to the Recording Industry Assn. of America.
Delivery subscription clubs and online retailers have stepped in to fill the demand. Amazon has become a go-to online seller of new discs, and physical stores including the youth-oriented clothing chain Urban Outfitters and bookseller Barnes & Noble are dedicating increasing floor space to the throwback format.
See the most-read stories in Entertainment this hour »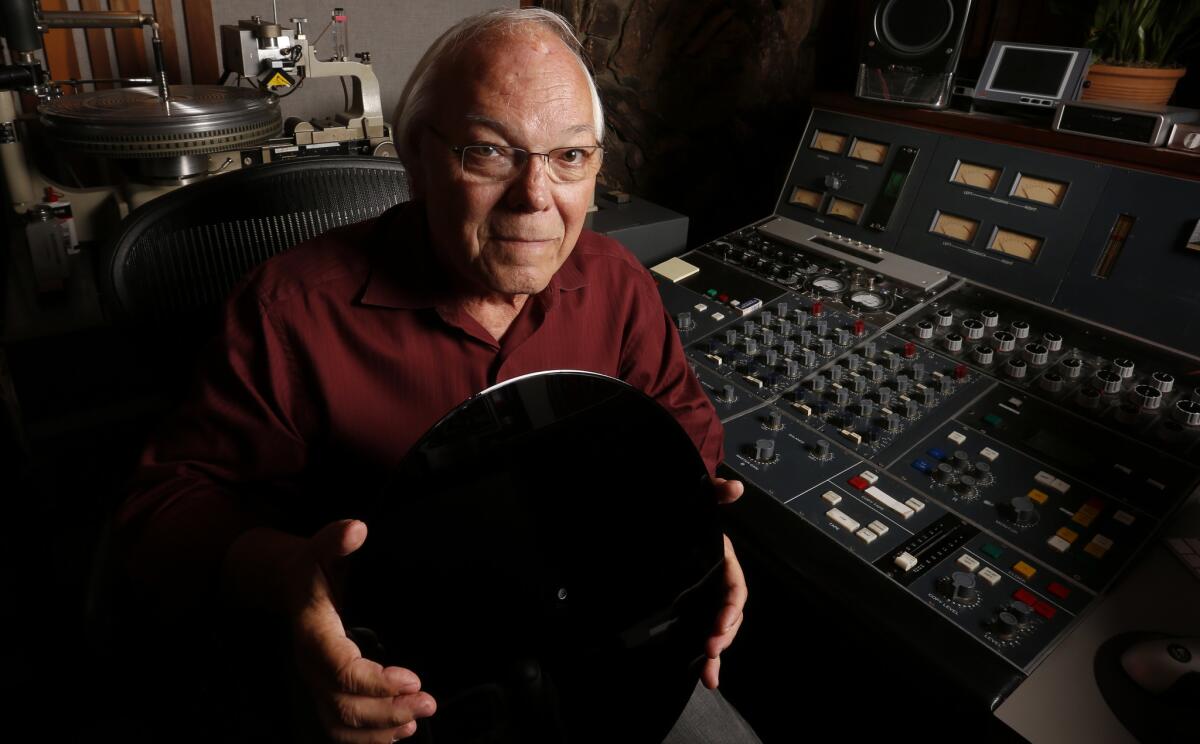 Vinyl remains a small fraction of the overall music industry — about 6% of total sales — but the increase has given the music business a silver lining to point to. Vinyl sales are up 11% in the first half of 2016, according to Nielsen.
"That's a healthy increase when other segments of the business, particularly downloads and CDs, are in decline," said Vince Szydlowski, Capitol Music Group's senior vice president of label sales.
In a world of cloud-based streaming where music is rented, not owned, many music fans have gravitated toward vinyl as something that can be physically collected and held in one's hands. It's the type of medium that invites people to listen to music together with friends. And many say vinyl exudes a warmer timbre and more interesting textures than digital files.
"It sounds so brilliant when it's completed," said Capitol Music Group Chairman and Chief Executive Steve Barnett.
Many music industry executives anticipate vinyl sales will eventually reach a saturation point and level off, unless even more retailers pour in. Yet the surge in interest has provided new business to mastering engineers, not only for Capitol but for unsung heroes like Los Angeles-based Bernie Grundman and London-based company Metropolis Mastering.
The vinyl revival has kept people like McMaster working around the clock. He's had to start working on Christmas albums in May just to get the masters to the plants on time. A corner of his office is covered in a pile of records he's finished — "Pet Sounds" by the Beach Boys, "American Pie" by Don McLean and "The Phosphorescent Blues" by the Punch Brothers.
McMaster, who grew up in Sacramento, started cutting lacquers as an apprentice mastering engineer in 1980 at Liberty Records in Los Angeles, known as the home of country music star Kenny Rogers. After the Liberty Records facility shut down, he moved to the Capitol building and cut records by everyone from Frank Sinatra, Horace Silver and Chet Baker to current acts like the Red Hot Chili Peppers and David Guetta.
McMaster's work, while technical and unglamorous, is essential to the production of vinyl records and can dramatically change how an album sounds when people play it at home on their living room turntables.
Ron, and the people who do what they do, are creative artists. They're closer to creative artists than technicians.
— T Bone Burnett
How he cuts the grooves changes how much bass comes out of a booming reggae album or how much volume and warmth emits from a Herbie Hancock jazz classic or an Edgar Winter track. He represents the last stage of record making, before his cut goes to a factory to be copied and packaged for sale. The few plants that exist in the U.S. and European countries like France and Germany are struggling to keep up with demand.
Though his trade is the epitome of behind-the-scenes work in the music industry, McMaster's profile has risen within the company of late, thanks to the renewed consumer interest in vinyl and artists' fascination with the process. Even contemporary acts like Arcade Fire and major names such as Scott Borchetta of Big Machine Records have visited his studio.
"He's the final aesthetic arbiter of the work," said T Bone Burnett, whose work with McMaster includes Alison Krauss' Grammy-winning 2007 collaboration with Robert Plant and the New Basement Tapes record, where the likes of Elvis Costello and My Morning Jacket's Jim James recorded uncovered Bob Dylan lyrics. "Ron, and the people who do what they do, are creative artists. They're closer to creative artists than technicians."
A physical disc has a finite amount of space to put information, and that presents challenges. Try to pack too much into one side, and the grooves crash into each other, which creates skipping. Make the album too loud, and that will cause the turntable to shake. McMaster, by reputation, is an expert at balancing dynamics (meaning, changes in loudness) and making sure the music sounds the way the artists intended.
"He's got great taste and great ears and a thorough knowledge of the fundamentals," says Don Was, a veteran musician and head of Blue Note Records, the venerable jazz label that is home to recordings of John Coltrane and Herbie Hancock. "There is a personality, the same way it is playing an instrument. … It's a little mystical. You can't quite put your finger on it, but it impacts the emotional content of the art."
Now McMaster is helping to train a new generation of vinyl cutters, both to keep up with the current demand and to make sure someone can take over for him when he retires later this year. Only a handful of people have the skills to cut masters professionally. Once vinyl came roaring back, Capitol brought a second lathe out of storage — a decades-old machine the company had considered selling during the LP's slowest years.
The vinyl boom, which began in 2012, has become particularly beneficial to Capitol, which owns specialty labels Blue Note, Motown, Harvest and Astralwerks that make the kind of music that goes best through a turntable. Capitol's vinyl sales are up 19% for the first six months of the year, compared with the same period in 2015.
Capitol Records' 44-year-old studio technician Ian Sefchick rehabbed the machine. Once he got it running, McMaster taught him the old tricks of the trade, while Sefchick applied his own modern digital know-how.
It wasn't easy. One of his first projects was a reissue of Public Enemy's "It Takes a Nation of Millions to Hold Us Back," a landmark rap album with long, 30-minute sides. It took seven tries to get it right.
"It took me a while, because I was kind of thrown into it," Sefchick said. "The lathe cuts into a physical medium, so there are a lot of limitations to it."
A few years ago, amid the beginnings of vinyl's comeback, McMaster faced his most difficult project: mastering his own record. Before his current career, he played drums in a late-1960s Sacramento garage rock band called Public Nuisance, which signed to Terry Melcher's Equinox Records. But hopes for that promising project evaporated when Melcher was swept up in the Charles Manson "family" murder case. After the murders of Sharon Tate and four others at the Los Angeles home Melcher had leased to film director Roman Polanski, Melcher shut down the label and shelved all his projects.
In 2012, though, McMaster heard through a friend that Jack White, formerly of the White Stripes, had started covering some of the old Public Nuisance songs in concert. When White's label, Third Man Records, offered to release the band's recordings as a full-length album, McMaster agreed -- on the condition that he would be able to master the record, titled "Gotta Survive."
"That's what I tell my kids," McMaster said. "I'm 67 years old. If I can sign a record contract on something I did when I was 18 years old, don't give up."
Follow Ryan Faughnder on Twitter for more entertainment business coverage: @rfaughnder
ALSO
Can YouTube make it big on the small screen?
Pop Obscure offers a new old-fashioned record store feeling in downtown L.A.
Death of an Echo Park record store: What happens when vinyl goes mainstream
From the Oscars to the Emmys.
Get the Envelope newsletter for exclusive awards season coverage, behind-the-scenes stories from the Envelope podcast and columnist Glenn Whipp's must-read analysis.
You may occasionally receive promotional content from the Los Angeles Times.