'The Florida Project' is probably the best movie you'll see this year
A year after "Moonlight," could A24 Films have another best picture contender on its hands?
Welcome to the Gold Standard, the newsletter from the Los Angeles Times that helps guide you through the ins and outs of the awards season leading up to the Oscars.
I'm Glenn Whipp, The Times' awards columnist and your newsletter host.
'The Florida Project' is (probably) the best movie you'll see this year
I say "probably" because the year isn't over and I haven't caught Paul Thomas Anderson's upcoming collaboration with Daniel Day-Lewis (let's call it "Phantom Thread," though it still doesn't officially have a title) or Steven Spielberg's Pentagon Papers drama, "The Post." And there are a few other possibilities. Maybe "Coco" will leave me in a puddle of tears. Pixar has a way of doing that. (Hey, strong men also cry.)
But let's just say that "The Florida Project," an unforgettable, immersive film about itinerant families (particularly their mischievous children) living in the cheap motels in Disney World's shadow, has set the bar very, very high.
Directed and co-written by Sean Baker ("Tangerine"), the movie is also, as my colleague Justin Chang points out in his rave review, as rousing and vivid a portrait of childhood as you'll ever see on the big screen. "A dazzling neorealist sugar rush of a movie," Justin writes in his review, which you can read here.
"The Florida Project" opens Oct. 6 in Los Angeles and New York. I'll be leading Q&As with Baker, co-writer and producer Chris Bergoch and cinematographer Alexis Zabe on Saturday evening at the Landmark and the Arclight Hollywood, in case you'd like to stop by and say hello.
And, yes, I think the sky's the limit with this one in terms of awards potential. "The Florida Project" is the kind of movie that critics groups will wholeheartedly embrace with the academy following suit. Willem Dafoe, who anchors the film playing the big-hearted manager of one of the budget motels, has never been better. (And he's played Jesus and Count Orlok, so that's saying something.)
Oscar foreign language submissions hit new record
Five years ago, 71 countries submitted movies for Oscar consideration in the foreign-language film category. This year, there were 92, a new record, eclipsing 2016's milestone mark of 85.
I wrote about the abundance of submissions here and broke down some of the early favorites. One of them is "First They Killed My Father," Angelina Jolie's adaptation of Cambodian author Loung Ung's memoir of surviving the deadly Khmer Rouge regime. You can read my colleague Kenneth Turan's review of the movie here. He called it "more disturbing than moving."
Times' film writer Josh Rottenberg interviewed Jolie at the Telluride Film Festival, a story you can read here. The movie is currently streaming on Netflix. It will be interesting to see if "First They Killed My Father" makes the academy's shortlist of nine movies. Those titles will be announced in December.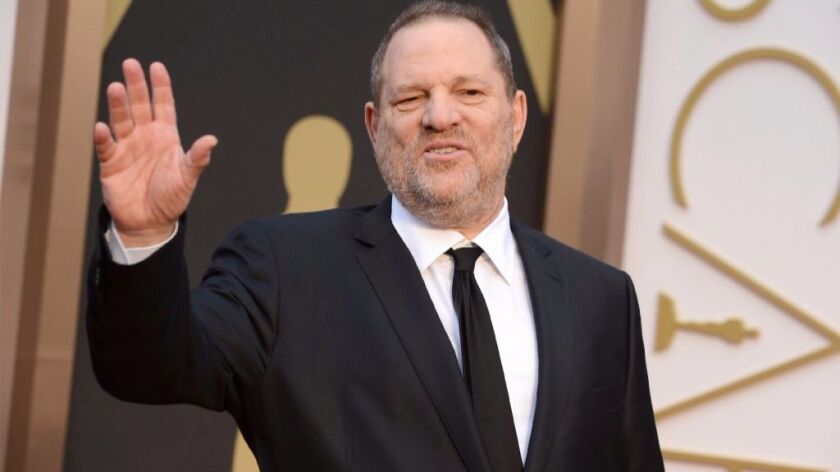 Weinstein taking leave amid sexual harassment claims
Harvey Weinstein is taking a leave of absence from his eponymous production company after a New York Times story detailed decades of sexual harassment accusations against him.
In a statement to the Los Angeles Times, Weinstein repeated some comments made to the New York Times, apologizing for behavior "with colleagues in the past [that] has caused a lot of pain" and said he would take the leave to deal with his issues "head on."
Apparently, one way of dealing will involve suing the New York Times for publishing the story in the first place. (All proceeds will be donated to women's organizations!)
So … Weinstein is sorry for his actions … and he's going to go after the news organization that reported them? Check. Weinstein's attorney says he's an "old dinosaur learning new ways." But judging from this response and his weird, rambling statement, it would appear instead that he's heading toward extinction.
Feedback?
I'd love to hear from you. Email me at glenn.whipp@latimes.com.
Can't get enough about awards season? Follow me at @glennwhipp on Twitter.
Twitter: @glennwhipp
---
From the Emmys to the Oscars.
Get our revamped Envelope newsletter for exclusive awards season coverage, behind-the-scenes insights and columnist Glenn Whipp's commentary.
You may occasionally receive promotional content from the Los Angeles Times.