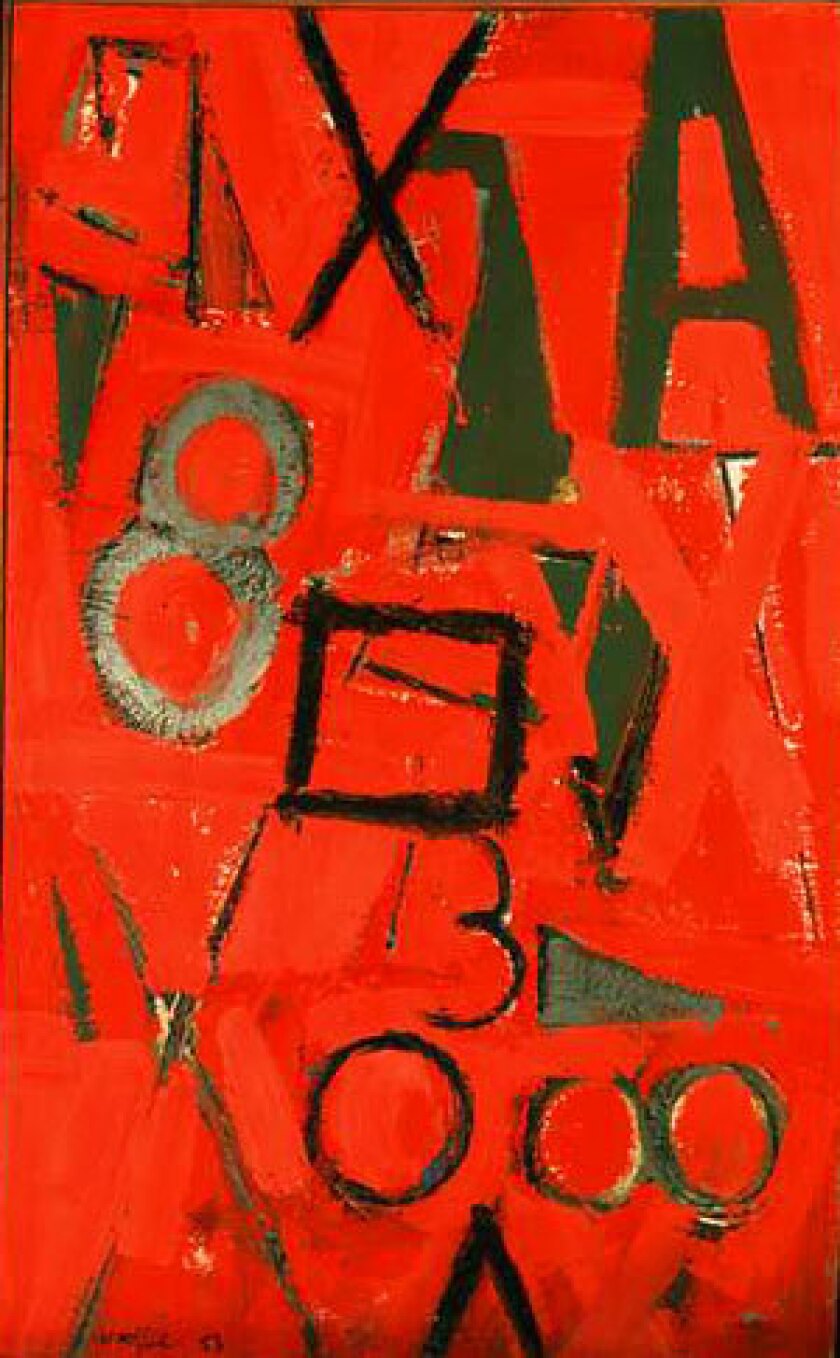 Art Critic
Remember the Pacific Rim? The term isn't heard much in art circles anymore, but in the last dozen years of the 20th century, it was everywhere.
The 1980s had seen the prominent return of European art (especially from Germany) and the lively resurgence of Los Angeles art to a contemporary scene long narrowly centered in New York. The new variety got people looking elsewhere, and the first place they began to look was around the Pacific -- to Japan first, probably because of its wealth and historic associations with Modern art, but soon enough to Southeast Asia, Australia and the geographically appropriate Latin American countries.
California was touted as America's gateway to the Pacific Rim -- although it was never quite clear just what being a gateway actually meant, especially given an emerging digital world of commonplace jet travel. Ultimately, it didn't matter. Staking a claim on a region just seemed like jockeying for advantage, while communications technology and the export of Western popular culture internationally dissolved older borders. Contemporary art quickly evolved into today's global conversation.
All of this is by way of explaining that, when I think of the Gallery at REDCAT, I think of it first as a venue for artists of the Pacific Rim. Of 26 exhibitions, only eight have featured artists principally based outside Pacific Rim areas. (That includes the multichannel video installation "9 Scripts From a Nation at War" that just opened, which was made by a five-artist team based in New York and Berlin as well as L.A.) Los Angeles, Seoul, Mexico City, Monterrey, Tokyo, San Francisco, Bangkok, Ho Chi Minh City, Beijing -- the emphasis has been both clear and welcome.
The gallery has presented just two historical exhibitions in the last five years, and both of them have also fit that bill.
REDCAT opened in November 2003 with a lovely survey of 50 paintings by Emerson Woelffer (1914-2003). The guest curator was artist Ed Ruscha, who had been Woelffer's student in the late 1950s at CalArts' predecessor, Chouinard Art Institute. The inaugural show was a posthumous homage from one generation to another, and it reflected the way contemporary art evolves most profoundly as a conversation among artists.
The second look backward was "An Image Bank for Everyday Revolutionary Life" in 2006, selections from a vast photographic archive compiled between the 1930s and the 1970s by Mexican muralist David Alfaro Siqueiros (1896-1974). Long before German painter Gerhard Richter began to compile a not dissimilar "Atlas" composed of mass-media and other pictures that interested him, both independently and as source material for his own paintings, Siqueiros gathered his image bank as a means of inspiration for himself and other artists.
These two shows remind us what REDCAT is -- a college gallery, open to the public but organized for the conversation among artists that any art school worth its salt is built around. The space is a straightforward, unembellished, 3,000-square-foot room -- virtually a lobby just outside a well-equipped black box theater. Partly as a result of its off-the-beaten-track location beneath Walt Disney Concert Hall, I expect most gallery visitors are students, artists and black-box theater patrons waiting for the show to begin. But if its public profile is low, no matter.
REDCAT hasn't billed itself as offering a Pacific Rim program, and artists based in New York, Berlin, Marseilles, Copenhagen and elsewhere have also been shown. There's a certain dissonance too between a dated 20th century term like Pacific Rim and a contemporary venue born in the 21s century. But I don't apply it to REDCAT in a negative sense, either, as indicating something musty or behind the times. Instead, whatever one might think of any individual exhibition, the program overall during the last five years has been a healthy reflection of the city's shifting demographics.
REDCAT reflects L.A. looking outward. Founding director and curator Eungie Joo, who left last year to become curator of public programs for New York's New Museum of Contemporary Art, and her REDCAT successor, Clara Kim, established a productive direction.
In light of that, it is certainly ironic that when I scan the list of gallery exhibitions over the last five years, something unexpected occurs: Both my least favorite and most favorite shows featured artists who didn't fit the larger Pacific Rim profile. Let's call them the exceptions that prove the rule.
By coincidence, these two also came back to back. Superflex, a three-artist Danish collective, practices a form of appropriation art that is socially useful and artistically bland -- to the point of inducing narcolepsy. Julie Mehretu, an Ethiopian-born painter raised in Michigan, makes explosive abstract paintings that, despite a lack of topical subject matter, were the first I saw that spoke without sentimentality or bathos of post-9/11 experience. Between these poles, REDCAT is doing its job.
---