Canceled after Thousand Oaks shooting, Cal Lutheran's Columbine play is back on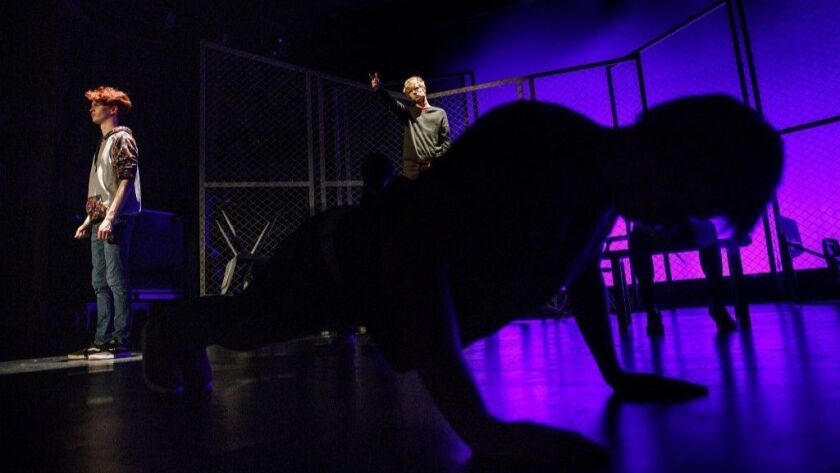 The morning after the Thousand Oaks shooting in early November, in which a gunman opened fire on a local bar, killing 12 people, California Lutheran University swiftly canceled all public performances of "columbinus," a play that centers on the infamous Columbine High School massacre.
For months, the eight student actors had undergone lengthy preparations, including watching documentaries, survivor interviews and news coverage of the 1999 tragedy. After pleading with the school administration that a performance could help their community grieve, the cast was allowed to put on an invite-only show for 160 people back in November.
Amber Marroquin, a sophomore in the show, found the tearful experience therapeutic.
"I didn't know how the audience was gonna react, but I personally felt like they were really warm and supportive," she recalled in an interview earlier this week. "Right when we walked onstage, they gave us an applause. Like, it's OK, we can deal with our grief safely in here."
Three months after the cancellation, their staging of the play will be performed for the public after all, as part of the regional Kennedy Center American College Theater Festival next week, as well as two free performances on campus this Sunday.
It is one of seven shows selected from more than 200 in Southern California, Arizona, Guam, Hawaii, Nevada and Utah. Judges will select a handful of productions from the eight regions to showcase at the national festival in Washington, D.C. This is the fifth time a Cal Lutheran play has been selected for the regional competition.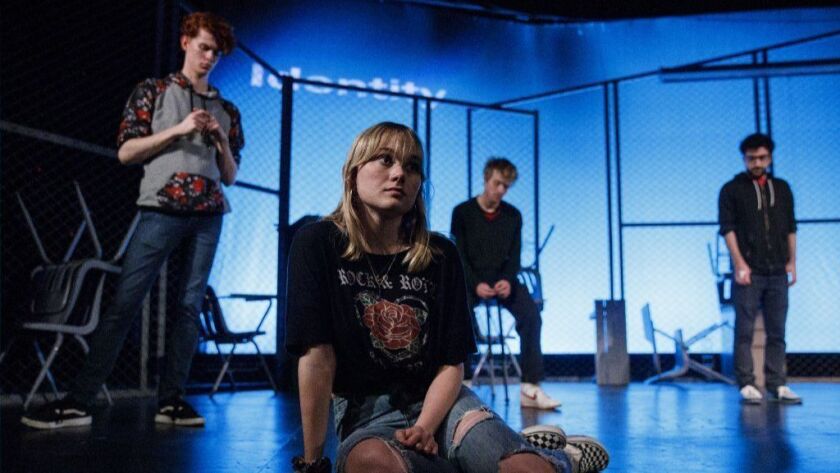 As the cast gathered for a rehearsal on Monday night, director Brett Elliott told The Times about the importance of discussing gun control, especially in the wake of such a tragedy.
"This topic has only become more important than when we first started this process," he said. "Even in the weeks since the shooting, the topic might have somewhat faded from people's consciousness; there's an impulse to look away because it's so horrific. It feels important to resist that urge, return to it and continue the conversation in some small way."
The play — a 2005 documentary drama written by "The Humans" playwright Stephen Karam and the late PJ Paparelli — depicts the Columbine school shooting on April 20, 1999, as well as its aftermath. It draws from police evidence, excerpts from the two shooters' journals and interviews with parents, survivors and Littleton, Colo., community leaders to illuminate the realities of America's adolescent culture.
As part of the Kennedy Center American College Theater Festival, the cast is tasked with staging the show three times on Feb. 14 at the Los Angeles Theatre Center.
"I'm not so much worried about performing this three times in one day," said Jacob White. "I'm more worried about the fact that we have to start at 8 a.m.!"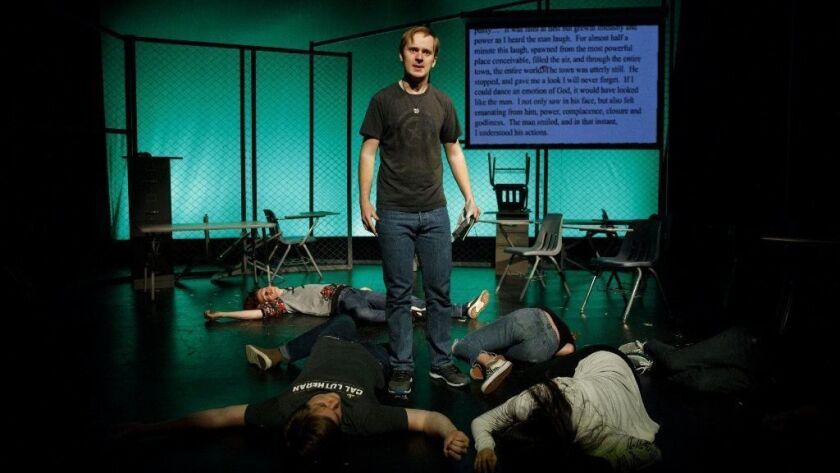 Additionally, the school administration has green-lit two free on-campus performances, to be presented on Sunday at 2 and 7 p.m. Faculty members from Cal Lutheran's psychology and criminal justice departments will participate in discussions with the audience after each show.
"It's amazing that we get to keep spreading the message — that's the No. 1 thing that's important for us, besides the fact that we all like to do theater as a form," said Mahyar Mirzazadeh, an actor in the show who graduated in December. "This is actually a play that means a lot and it's a conversation that needs to be had. We're proud to keep doing that."
And if it ends up not being for everyone, that's OK, said sophomore Victoria Karr.
"I get the sense that the people who thought it was too soon to put on the play before [in November] are still not going to come to these performances," she said. "That is completely fine and totally fair. But I'm excited that we get to share this story and hopefully help other people in this small way."
Twitter: @cashleelee
---
Your essential guide to the arts in L.A.
Get Carolina A. Miranda's weekly newsletter for what's happening, plus openings, critics' picks and more.
You may occasionally receive promotional content from the Los Angeles Times.