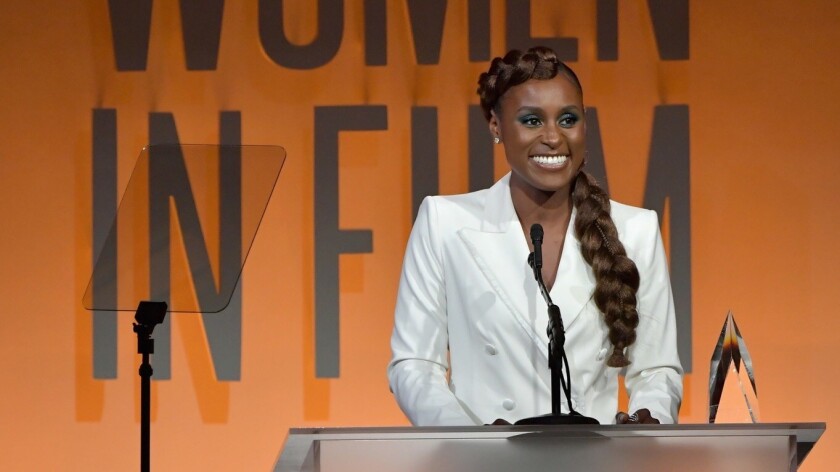 Issa Rae made sure she came off as anything but humble at the Women in Film gala. Too often women downplay their accomplishments, she explained at the Wednesday night event.
Instead, the "Insecure" and ColorCreative chief channeled the hubristic attitudes of her favorite hip-hop artists and delivered an amusingly arrogant speech upon accepting the inaugural Emerging Entrepreneur award.
"I'm the first, so you future hoes need to bow down," she said to loud applause. "I'm closing all doors behind me, so if you didn't make it in, oops, your bad! You're out!"
After cleverly coupling her gratitude with jabs — such as "UTA, worry about that writers' strike instead of about me" and "HBO, keep running me my money, please and thank you" — she concluded with a definitive line: "Entrepreneur till I die; I deserve this, bye."
Though Rae's speech doubled as an onstage bit, her unapologetic confidence was immensely refreshing, and still too rare in a room full of accomplished Hollywood women.
"I was taught by a system that tells women that they should achieve with a kind of humility, and with a kind of silent gratitude, for what we're given," actress Elizabeth Debicki explained upon accepting the Max Mara Face of the Future award. "Which actually stung me a bit and made me realize how important it is for me to personally work at shirking that off."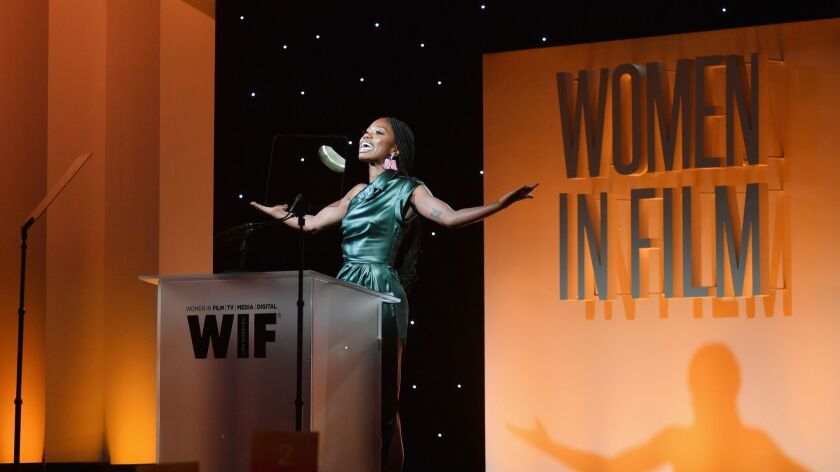 "Mindy Project" breakout Xosha Roquemore hosted the annual gala with a humorous honesty. "The chip on my shoulder is bigger than the pay gap between me and my famous baby daddy," she joked, referring to her relationship with fellow actor Lakeith Stanfield.
And though "the glass ceilings are hella thick," she encouraged attendees at the Beverly Hilton Hotel event "to take off the jackets of oppression and cloaks of marginalization and enjoy yourself."
"Russian Doll" star Natasha Lyonne presented the Entrepreneur in Entertainment award to Amy Poehler, who co-created the Netflix series. Once at the microphone, Poehler spent two minutes listing a range of influences and inspirations, from the 1992 film "A League of Their Own" to the upcoming release "The Farewell," and television shows from "Judge Judy" to "Fleabag."
"To all the mothers, all the sons, all the brothers here tonight, all my sisters in arms — thank you, thank you," Poehler concluded. "More, more, more, more, more."
Viola Davis bestowed the Advocacy in Entertainment award on Cathy Schulman. Their upcoming film, "The Woman King," recounts the powerful all-female military unit in 18th and 19th century Africa. "Think of it as 'Braveheart' with all black women and no Scottish bros," teased Davis.
Schulman, now the seasoned producer of dozens of films including the Oscar-winning "Crash" and the upcoming comedy "Otherhood," opened up about being bullied with lawsuits by industry executives Michael Ovitz and Bob Yari.
"You radicalized me to pave the way for other women in similar situations today who can now boldly walk into a courtroom and tell their truths," she said, thanking Ovitz and Yari for the particularly arduous period.
"Enable your daughters who are artists. They can make it now," she continued. "We in this room have paved the way, and they can lead us to observe and upstand a better world for the media arts."
Women in Film announced a new partnership with Pepperdine University for a study about funding for women-led companies. Additionally, ReFrame — a collaborative initiative of WIF Los Angeles and Sundance Institute — introduced the ReFrame Rise Directors Program, an extensive, two-year sponsorship to accelerate high-level careers for experienced female directors.
Kyra Sedgwick announced that the inaugural class of the program includes Desiree Akhavan, Haifaa al-Mansour, Patricia Cardoso, Hanelle Culpepper, Sydney Freeland, Zetna Fuentes, Tina Mabry and Meera Menon.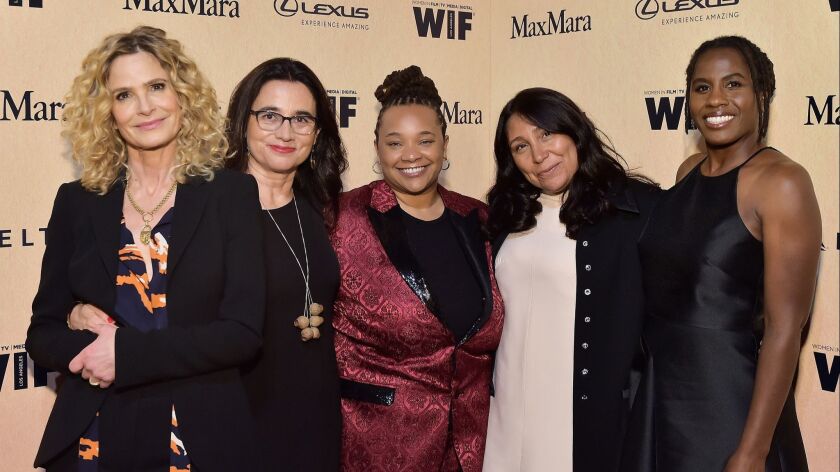 Lake Bell also presented the new Members' Choice award, lauding women directors whose narrative features had a U.S. theatrical release last year. The honor went to Debra Granik ("Leave No Trace"), Marielle Heller ("Can You Ever Forgive Me?"), Chloe Zhao ("The Rider"), Anne Fletcher ("Dumplin'") and Mimi Leder ("On the Basis of Sex").
"Making films is not for the faint of heart," said Leder, accepting the honor. "Tell your stories. Make movies. Lift each other. Hold up that powerful lens of your experience."
Twitter: @cashleelee
---