'Spider-Man: Into the Spider-Verse' producers Chris Miller and Phil Lord plan to celebrate their Golden Globes nod in an English pub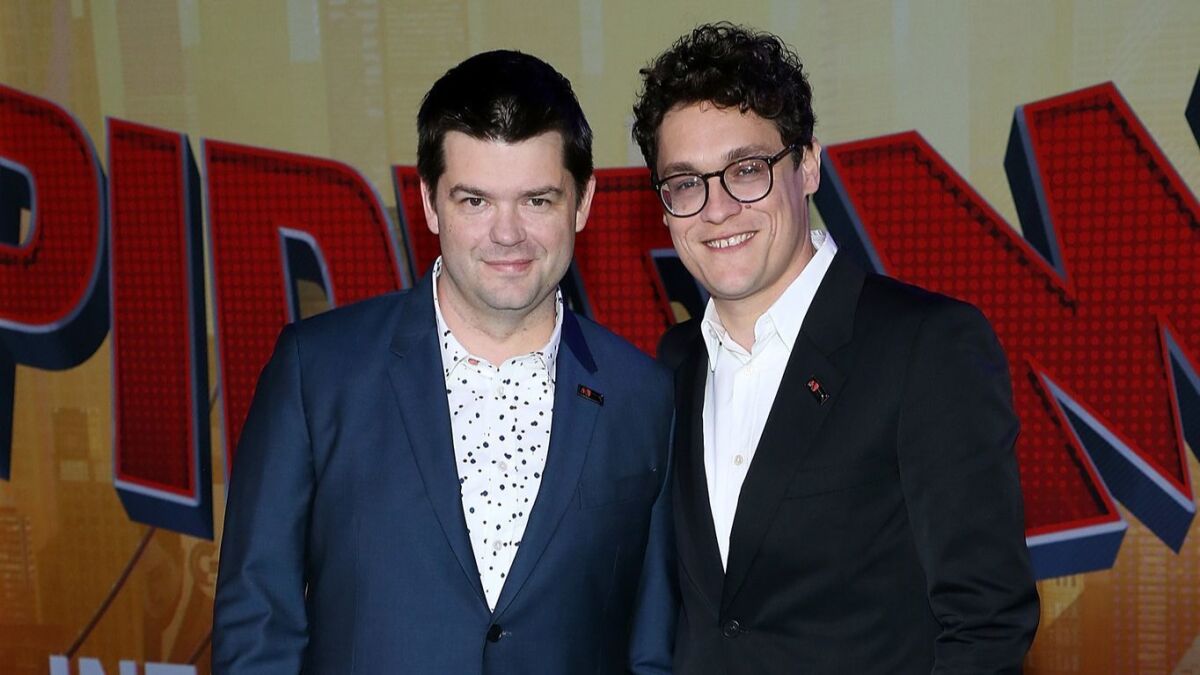 Sony's "Spider-Man: Into the Spider-Verse" is one of two Marvel films to be nominated for a Golden Globe. The film — directed by Bob Persichetti, Peter Ramsey and Rodney Rothman, and produced by Chris Miller and Phil Lord, among others — is up for a statue in the animated motion picture category in advance of its theatrical release Friday.
Where were you when you got the news?
Miller: We are here in beautiful, sunny London, England, on a promotional tour for the film. We were in between interviews when we found out the news.
Who is the first person you told?
Miller: We've been texting with the other filmmakers.
Lord: We've been waking a lot of people up. I woke up my parents and my girlfriend.
With "Black Panther" also a nominee, superhero films are gaining greater recognition by award-granting bodies. How does it feel to be among the pioneers?
Miller: It feels really great. We started this journey four years ago and everybody on the film has worked so hard to create something that's new and groundbreaking and feels like nothing you've ever seen before. It's really gratifying to have the work be recognized for how special it is and how it's trying to push the boundaries of cinema.
Lord: The superhero genre is so different than a Western or a romantic comedy or any other genre of filmmaking; you can have great awards-worthy pictures mixed in with other things. So it's not remotely surprising to us that these movies are getting recognized.
Miller: I think the fact that this was Miles Morales' story and it was such a universal coming-of-age story told in a new, fresh way is what makes it feel like it's something that awards voters can care about. Because it's a very relatable journey that this kid is on with his family and trying to find his place in the world. And even if you don't know anything about superhero movies or care about superhero movies there's a lot to like in this film.
Lord: There's an incredible family drama around Miles, which is at the heart of this very buoyant, fun and really beautiful-looking film. At the end of the day, the thing that we all focus on is Miles' family and the drama of trying to become the best version of yourself. And we thought that was such an interesting emotional center for an unusual film.
FULL COVERAGE: 2019 Golden Globe nominations »
Why do you think Miles Morales' story has resonated so well with audiences and critics alike?
Miller: I think it really reflects the world we live in today. When Stan Lee and Steve Ditko created Spider-Man in the '60s it was a pretty radical idea to have a normal, nerdy teenager from lower-middle-class Queens be a superhero, and someone that wasn't an alien or a billionaire. It was very inclusive and welcoming and it said, "Hey, you could be a superhero too." I think Miles is the modern equivalent of that same story, the exact same theme. And that's what we really wanted audiences to come away feeling. Like, it doesn't matter who you are, what walk of life you came from, you have the potential within you to do great things and you're not alone. I think that feels very contemporary and timeless and I think people have really responded to that.
What will you do to celebrate?
Lord: [Laughs] We are going to screen the movie for BAFTA members this evening and we have two crew members out here including the composer, Daniel Pemberton, and a few of our London buddies and we're going to go celebrate afterwards.
Miller: At the local pub! The public house. So we're going to be celebrating but only after all of our interviews, screenings and Q&A. [Laughs] We will do all of them sober.
---
Get our L.A. Goes Out newsletter, with the week's best events, to help you explore and experience our city.
You may occasionally receive promotional content from the Los Angeles Times.