Column: Oscars: After his first win, a look at the world Spike Lee built
Director Spike Lee jokes about "Green Book's" Oscar win. 
When Ruth E. Carter walked onto the Oscars stage to accept the award for costume design Sunday night, she also walked into history. Not only was she the first African American to win the category but she also had won the first Academy Award in the Marvel Cinematic Universe. In her acceptance speech, she spoke about the roots of her award-winning designs for "Black Panther." She also thanked her roots in the business: Spike Lee.
They met in Los Angeles when he was in pre-production for his second film, "School Daze," in 1988. The two have collaborated on nearly all his movies since, including 1992's "Malcolm X," which earned Carter her first Oscar nomination. When Lee stepped on the stage an hour or so later to accept his first competitive Oscar, for "BlacKkKlansman," he too dedicated a significant amount of his speech to detailing his roots.
But I want to spend some time talking about his branches.
History judges us in many ways, but perhaps no measure is greater than the impact we have on the people we've touched. For they are the ones who will tell our story when we are no longer here. As someone who grew up watching Lee's movies, starting with "She's Gotta Have It" in 1986, I can honestly say my sense of self would be very different today had his work not been present in my life.
Lee has done more than make movies. He has unapologetically told the story of the black experience and in the process illuminated once hidden fibers buried in the fabric of the country.
Consider the current conversation about John Wayne's controversial Playboy interview from 1971 in which Wayne, who was 63 at the time, said he supported "white supremacy until the blacks are educated to a point of responsibility," among other things. For some, Wayne's views are new. But those of us familiar with Lee's "Do the Right Thing," the 1989 movie chronicling racial tension in New York City, and its ubiquitous anthem "Fight the Power," written by Public Enemy for the film at Lee's request — we already knew what was up:
"Elvis was a hero to most but he never meant s--t to me," one verse goes. "You see, straight up racist that sucker was/ simple and plain/ mother f--k him and John Wayne."
The Oscars win — though much deserved and emotional — was not validation. We, the branches that grew from his tree, are.
At his pop cultural height, Lee was the architect of basketball shoe marketing with Michael Jordan and Nike, the face of New York Knicks fandom and the embodiment of 1990s Afrocentricity. As I was coming of age, I discovered the complexity of John Coltrane through his movies, the strength of Jackie Robinson through his movies and the beauty of my kinky hair and dark skin through his movies. That his brilliance was only sometimes acknowledged and never fully embraced by the film academy mattered little to me or a generation of black and brown teenagers who readily embraced an auteur who embraced us. And I am hardly alone, as black film directors such as John Singleton, Ava DuVernay, Ryan Coogler and Barry Jenkins talk about the influence Lee has had on their own lives and careers. The Oscars win — though much deserved and emotional — was not validation. We, the branches that grew from his tree, are.
Ruth E. Carter is a branch.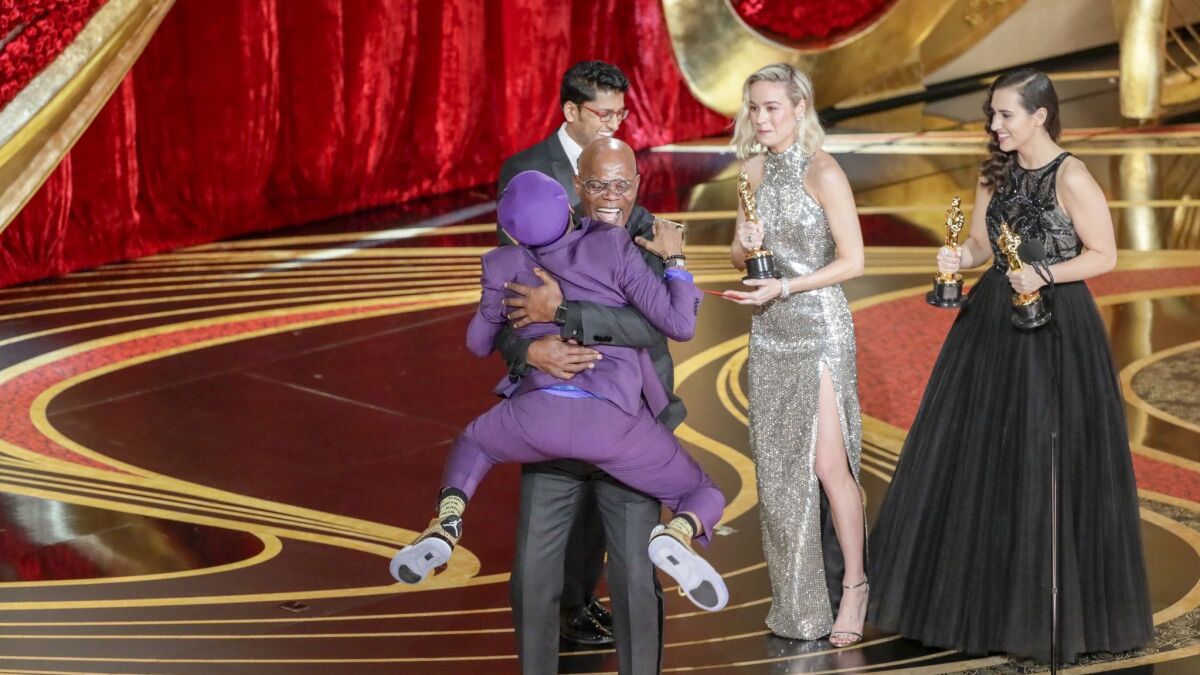 Oscars 2019: Full list of winners and nominees »
Samuel L. Jackson, who presented Lee his first Oscar on Sunday, is a branch, and, like Carter, first joined Lee in "School Daze."
Jazz trumpeter and composer Terence Blanchard, who received his first Oscar nomination this year courtesy of "BlacKkKlansman," is a branch.
Denzel Washington's first lead actor nomination came from "Malcolm X."
Washington's son, John David, is the lead in "BlacKkKlansman."
My son, a senior at New York University, is also in the movie, in a nonspeaking role. He recently workshopped his first play, which, like many of Lee's films, takes a raw look at race relations in this country. Like me, he grew up on Lee movies and is living proof that Lee's work has positively influenced a generation of black men and women, long before the academy finally acknowledged what many of us have known all along. He's more than a filmmaker. He is a mighty oak.
The image of Lee jumping into Jackson's arms when he made it onstage showcased how happy he was for the award but also how small he is in size. Physical size. As a couple of tears slowly made their way down my left cheek. I couldn't help but smile thinking that in a room full of industry giants, no one had been bigger in my life than that diminutive man right there. With his scripted notes visibly shaking in his hands, he spoke of his roots. With my vigorous applause, I proudly proclaimed myself one of his branches.
---
Get our L.A. Goes Out newsletter, with the week's best events, to help you explore and experience our city.
You may occasionally receive promotional content from the Los Angeles Times.