Tilda Swinton is back at Cannes and optimistic about the future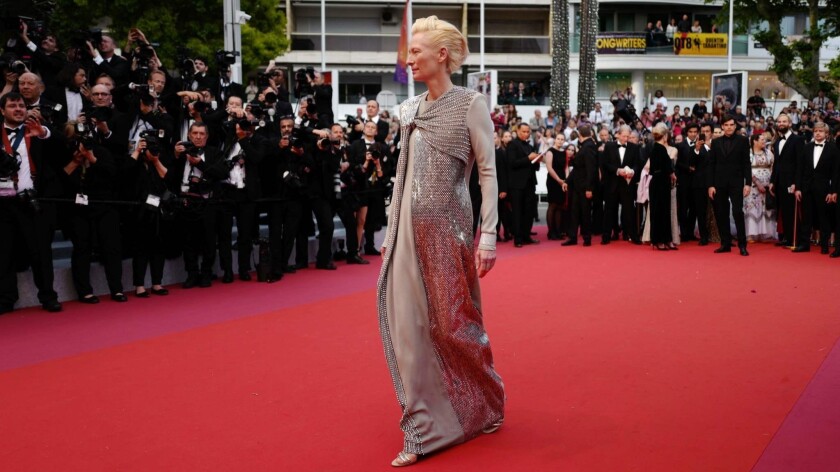 Tilda Swinton learned how to play blackjack at Cannes. It was 1987, and she'd come to the international film festival for the first time as part of the ensemble cast of "Aria," an anthology of 10 short films set to operatic music. The piece she was in had been directed by Derek Jarman, and the others were directed by the likes of Jean-Luc Godard, Bruce Beresford and Robert Altman. In other words: They were rolling deep. Or as the actress likes to say: carousing.
"We came nice and early and were here for days carousing. There was lots of carousing in that crew," she recalled.
Carousing that apparently took her to one of the casinos on the Croisette, where Altman himself taught her how to play blackjack.
"It was wonderful, and we all became firm, lifelong friends," Swinton continued. "And then we all saw the film on the last night and we hated it. But we're all still friends, which is the main point of making films — to make friends."
Swinton, 58, is back in the south of France this week with another of her filmmaker pals, Jim Jarmusch, with whom she's collaborating for the fourth time, on a film called "The Dead Don't Die." The movie, which opened the festival Tuesday to mixed reviews, is a zombie apocalypse comedy in which a picturesque small town is overtaken by the undead. Swinton has perhaps the most memorable turn as an eccentric Scottish mortician named Zelda, whose side hobby wielding Samurai swords pays off mightily when the ghouls rise from the ground.
Since that first fateful trip to Cannes over three decades ago, Swinton has been back to the festival so many times she literally cannot remember them all. She's been with Jarmusch before — most recently in 2013, for "Only Lovers Left Alive" — as well as with the directors Wes Anderson and Lynne Ramsay. One year, she was on the jury of the festival's Cinéfondation program, judging shorts made by student filmmakers alongside Martin Scorsese. She also sat on the festival's main competition jury in 2004 when Quentin Tarantino was president, awarding the Palme d'Or to Michael Moore's "Fahrenheit 9/11."
And yet, the morning after Jarmusch's latest had debuted, she said: "Even though we've made this great list of how many times I've been here, I still feel like a complete newcomer."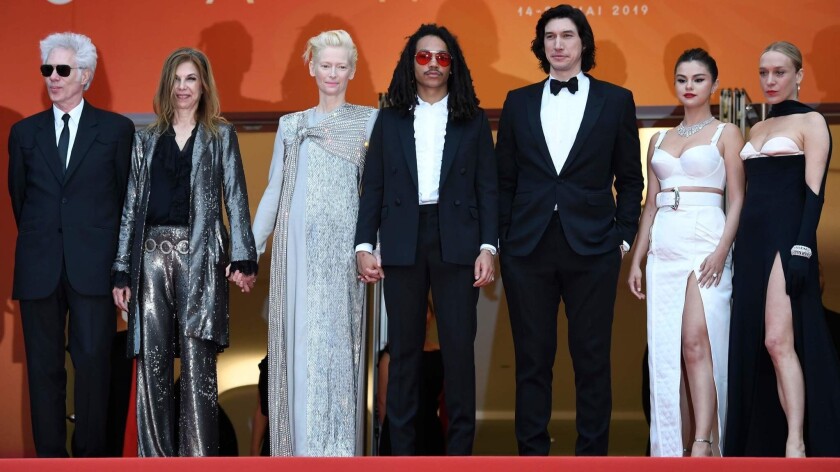 The last time you were at Cannes was in 2017, when you were here with Bong Joon-ho's Netflix film "Okja." That film could not play in competition now, since Cannes has banned the streaming service from the festival. How do you feel about that?
All I know is the cinema — big screen, live entertainment and a massive dark room with lots of strangers — is never, ever going anywhere. People are gonna do it forever. And that's the same with Cannes. There are these fashions that come up and go down and cinema is robust enough to take the talkies; it's robust enough to take television; it's robust enough to take streaming. It's all fine. It's not going anywhere; it's just going to adapt. Let's just have a perspective on it, and everything will evolve. Evolution, that's all I want to say.
OK, so with "The Dead Don't Die," you actually suggested this role to Jim?
He asked me. He said, "Right, we're gonna make a zombie film. What do you want to play? It's going to be set in a small town." The one thing I suggested was that I'd never seen a funeral director who's pissed off because the dead don't die. I was trying to think of someone whose existence was affected by people not dying. But that's all I said.
And then he went away, and two or three years later, he came back. I didn't know I was going to be Scottish or a Samurai swordmaster. We're always talking about the idea of the foreigner and how I could be the foreigner in the American town, so he made me as foreign as I could possibly be, which is Scottish.
Did you train with Samurai swords for the role?
Yes, with a katana swords expert who came to upstate New York. Really great, really inspiring. I'd love to do more of it. It's a very addictive feeling, particularly to go that slow. I've never done Tai Chi, but I imagine it's that sort of thing. That lovely fluid motion.
Did you get one of swords and mount it on your wall?
Absolutely not. I haven't got one. But what I love in the film is the way you see her doing these incredibly beautiful, sort of ceremonial gestures and you realize at the end what they're for — they're really useful when you're decapitating zombies.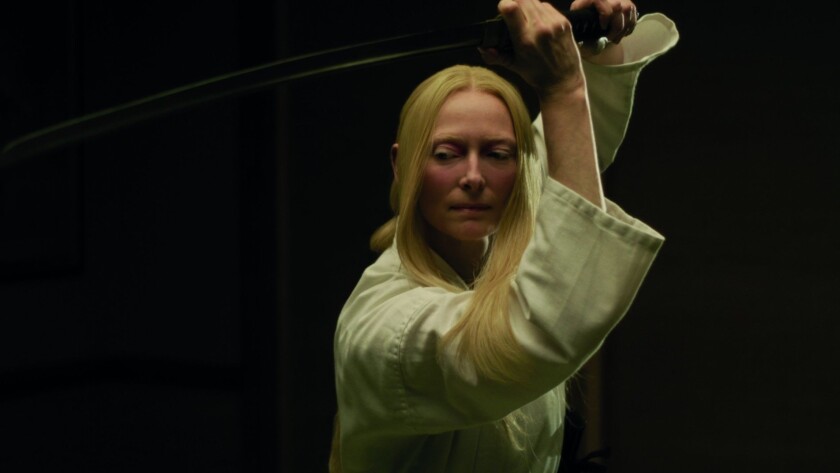 You and Jim have worked together four times now. What makes him unique as a director?
Jim is a musician. I feel that his filmmaking is very musical. The way he works as a director is like we're in a session when we're shooting, meaning that we're not just interpreting what he's written down — whether we're shooting it or lighting it or performing it. We are jamming and refining and inventing as well and throwing stuff out and bringing new stuff in. We're cooking it together.
You love to work with the same directors time and time again. When you first collaborate with someone, how do you suss out if its a long-term partnership you can envision entering into?
I'm trying to think the last time I worked with someone I didn't know. It was actually quite recently — I worked with Armando Iannucci. But I know his work so well and am such an admirer and it was such an easy thing. I felt I knew how to slip into his world. That helps. But usually I get to know people first. I knew Wes [Anderson] for a while before he started to work with me. I met Jim backstage at a Darkness concert before he asked me to be in "Broken Flowers." It just becomes very familial.
At the press conference this morning, you said you'd been "unversed" in the horror genre until quite recently. How did you get into it?
Of course, I've seen horror films all my life, but I have never thought about how horror is made until we made "Suspiria." I never had thought about how you build a horror film. This, of course, is not a horror film — this is a zombie film. A horror film is different, because you're dealing with dread and suspense. There's a modicum of suspense in zombies, but it's a played on a different instrument, somehow.
In a funny way, I think one's attention to the audience's eye view is really sharpened when you're dealing with horror because you're really having to think about pacing and expectation a lot more. You can send all these little signals and red herrings and obfuscations. It depends whether you're going for jump scares or not, but you need to plot the rhythm of expectation. It's like building a roller coaster.
"The Dead Don't Die" has a rather fatalistic viewpoint, suggesting it may be too late to control the damage we've inflicted on society via politics and climate change. What's your opinion on that?
This is still a film. Adam Driver's character, who is extremely fatalistic and keeps saying "it's not going to end well" — he's in a film. The character actually talks about being in a film and having read a script. We — all of us, so we're going very meta here — we've just seen a film, but we're not in a film. What is happening now can actually be changed. It's not on a downward turn that we can do nothing about. We actually can change things.
The film is a warning and shows us what we fear, like a scary film does. [Slovenian philosopher Slavoj] Zizek says we need cinema to see what we desire, but I would say we also need cinema to see what we fear. We fear that it's not going to end well, but that's in the movies.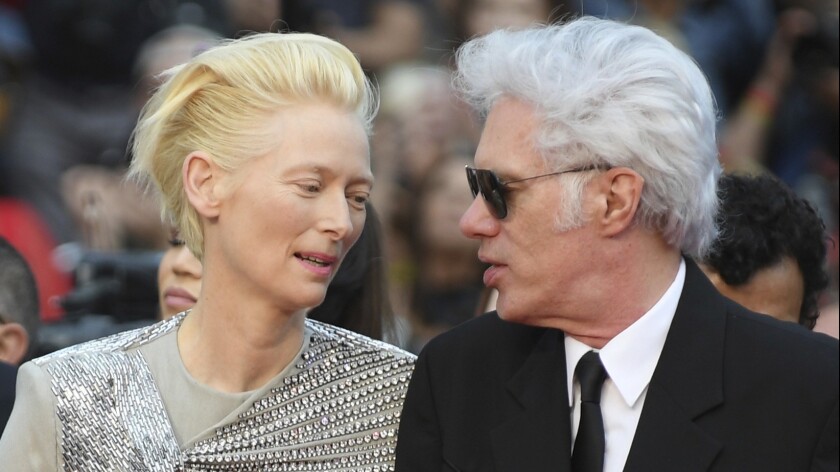 So you're still optimistic?
Is there not an election next year? You can't just throw up your hands. That's what I'm suggesting. I do think that there's a temptation and a tendency for all of us to just write it off as a bad lot. And what are we really saying when we do that? We're writing what off? First of all, you're writing the American election off. You're writing the planet off. You're writing humanity off. It just feels slightly wrong-headed to me, to be that lazy, frankly. It ain't over. None of it is over. None of it is written in stone and anything can happen. It's up to us.
Yeah, we've had some shocks, and we just have to make sure they wake us up and don't send us into some sort of coma. It is not true that there's nothing we can do. I do think it's like a kind of mesmerism — it's a feature of shock. I'm not a neurologist, but it is a feature of shock, that sense of being out of control, and we have to snap out of it. Because life is way too short.
Do you view your art as a way of expressing your own political views?
When I think of a film like this — this film is seriously meant. It's pretty silly and it's peopled by clowns, but it is a very serious film, and we mean it. And that's a good feeling, to be able to do that, to put it out there. Especially if a lot of people see it, and if it resonates with a lot of people. That's a good thing. It's certainly better than not saying anything at all.
So you're conscious of the message each of your films is sending.
It's so interesting, this question of message. The truth is, a piece of work is so much more than a message. Who was it who said that if you want to send a message, send a telegram — that's actually not what a feature film can do best. A feature film or any work of art is there for much more than that. Is there, I would suggest, it's like an empathy machine. It's there for you to stand in someone else's shoes and think what that person thinks for an hour and a half or whatever — and that person is the filmmaker.
That's really important, beyond the message. That gesture of being in someone else's consciousness. It's like an avatar. I think that's what cinema's for, really, not for sending messages. For encouraging us to be fluid in our thinking and our feeling and be open in our mind.
Cannes is the hub of world cinema, and you're here while simultaneously in the No. 1 film in the world — "Avengers: Endgame." How does it feel to be part of its success?
I haven't really been a part of its success. I've been at home in Scotland, but I did go and see it in my local cineplex. I thought it was really great. None of us knew what was going to happen — none of us knew all the pieces. We had to go all see it to work it out. It's really, really impressive — the platting of all those strands. I always describe [Marvel Studios president] Kevin Feige as the true sorcerer supreme.
Yeah, do you think he can help with climate change?
I wouldn't put anything past that man. He certainly knows what's coming in the next 15 years — or has ideas about what he might be able to do about it. His universe, as we know from the box-office figures, is actually something he shares with billions of people across the planet, so it's important.
Follow me on Twitter @AmyKinLA
---
The complete guide to home viewing
Get Screen Gab for weekly recommendations, analysis, interviews and irreverent discussion of the TV and streaming movies everyone's talking about.
You may occasionally receive promotional content from the Los Angeles Times.