Indie Focus: Enigmas return with 'Burning,' 'The Other Side of the Wind' and 'A Private War'
Hello! I'm Mark Olsen. Welcome to another edition of your regular field guide to a world of Only Good Movies.
This weekend the LAT is publishing our 2018 holiday movie preview.
Jen Yamato speaks to Emily Blunt and Rob Marshall about their "joybomb" with "Mary Poppins Returns." Yamato also speaks to Christina Hodson about how she became a go-to franchise screenwriter, including "Bumblebee" and "Birds of Prey."
Emily Zemler take a look at both "The Girl In the Spider's Web" and "Fantastic Beasts: The Crimes of Grindelwald."
Tre'vell Anderson talks to Octavia Spencer about acting in "Instant Family" and producing "Green Book."
And Glenn Whipp takes a look at holiday releases' effect on the Oscar race, including "Widows," "Roma," "Green Book" and others.
This coming week will see the kickoff of this year's AFI Fest, which is always a highlight of the annual movie year here in L.A.
Among the festival's program are world premieres of Mimi Leder's "On the Basis of Sex," Josie Rourke's "Mary Queen of Scots" and Susanne Bier's "Bird Box," plus local premieres of many anticipated titles, including the Coen brothers' "The Ballad of Buster Scruggs," Yorgos Lanthimos' "The Favourite," Alfonso Cuarón's "Roma," Brady Corbet's "Vox Lux," Mia Hansen-Love's "Maya," Olivier Assayas' "Non-Fiction" and David Robert Mitchell's "Under the Silver Lake."
However, this past week also saw the news that the recently concluded L.A. Film Festival will be no more, as Film Independent will shut down the festival to put the staff and resources to different use within the organization. Justin Chang and myself each took a look at what that means for the festival landscape in the city.
For awards season, upcoming L.A. Times events include screenings and Q&As for "Private Life" and "Capernaum," plus a panel conversation featuring the costume designers behind titles such as "A Star Is Born," "Black Panther," "If Beale Street Could Talk" and more. For info on all these events, go to events.latimes.com/screenings
'Burning'
Lee Chang-dong's "Burning" has been selected as South Korea's submission for the foreign language Oscar, which could possibly be the first film from the country to receive a nomination. An enigmatic mystery-thriller adapted from a short story by Haruki Murakami, the film is about Jong-su (Yoo Ah-in), a lonely young man who becomes involved with Hae-mi (Jeon Jong-seo), a young woman who says they knew each other when they were kids. As they become closer, she is suddenly whisked off her feet by the mysterious Ben (Steven Yeun) and their triangle becomes increasingly complicated.
In his review for The Times, Justin Chang wrote: "At any given moment you can be nearly certain of what story is being told — a romantic triangle, a crime thriller, a dark comedy of class rage, a parable for a divided nation — only for the shape of the picture to suddenly bend, morph and slip once more through your fingers. … Remarkably, Lee achieves this ambiguity not by coyly withholding information, but by etching his characters and their environments with a startling richness of detail."
Sonaiya Kelley spoke to Yeun about the film for a story that will be publishing soon. There is a central, unexplained mystery at the center of the film in which Yeun's character is possibly implicated. As for his thoughts on his character's guilt or innocence he said, "Director Lee was, like, 'You'll be the only person that knows, and you will make that decision for yourself.' And then he asked me at the end of the shoot which one I chose. I told him that I wasn't going to tell him either. So I'm the only one that knows."
At Slate, Inkoo Kang wrote "As 'Burning' unfolds, it reveals new thematic layers until the film brims with allegorical potential. The portrayal of the main trio comprises a threnody for a lost generation, and the conflicts between them an indictment of class divides and a lament for a traditional Asia that's being bulldozed in favor of a bland, anonymous cosmopolitanism. … The world will tolerate many more destroyers than dreamers. Things are all too easy to demolish. Sometimes people are, too."
'The Other Side of the Wind'
A movie that has been the stuff of legend and myth for more than 40 years, Orson Welles' final film, "The Other Side of the Wind," remained unfinished following the filmmaker's death in 1985. Now, over 100 hours of footage have been edited into a stylistically bold, emotionally rhapsodic saga of an aging film director, played by John Huston, struggling to complete one final project.
Reviewing the movie for The Times, Justin Chang wrote "Whatever else it may be — a wrecked, towering monument to its own incompletion, a howl of rage at the industry that Welles helped build and forever define — 'The Other Side of the Wind' increasingly comes to resemble a shattered cinematic hall of mirrors. … What would Welles have made of this posthumous assemblage? Would he have minded its undeniable lapses into tedium? How much of it are we meant to read as thinly veiled auto-critique versus a wickedly funny jape? Frankly, I'm not sure Welles drew much of a distinction: Every time you sense him veering toward the confessional, you can hear his cackle booming loudly right behind it."
"The Other Side of the Wind" also arrives with its own making-of doc, "They'll Love Me When I'm Dead," courtesy of Morgan Neville, the prolific filmmaker behind this year's Mr. Rogers movie "Won't You Be My Neighbor?" The Times' Josh Rottenberg met with Neville to talk about his version of Welles' vision.
As Neville said of the overall project to restore and reclaim Welles' lost final work, "I guess I would just say that, like with Orson and most of his art, there's no one way to see it. I think how I feel about the film changes with the day and the mood and the temperature. … In a way, I think 'The Other Side of the Wind' is still a mystery. What would Orson have done? Should it even have been attempted to finish it? These are sort of unanswerable questions."
For the New York Times, Manohla Dargis wrote: "In time, a vision of a film artist worn down by life — or fame or disappointment — emerges, though it would be a mistake to assume that Welles was making a self-portrait. His traces are scattered throughout, inviting you to chase bread crumbs here or there."
For the New Yorker, Richard Brody wrote: "Incompletion, frustration, desolation — the ruins of grand schemes and grand schemers — were his lifelong themes; they're at the center of 'The Other Side of the Wind,' and they nearly swallowed it up. … It is a belated work of his colossal artistry, and one of the great last dramatic features by any director."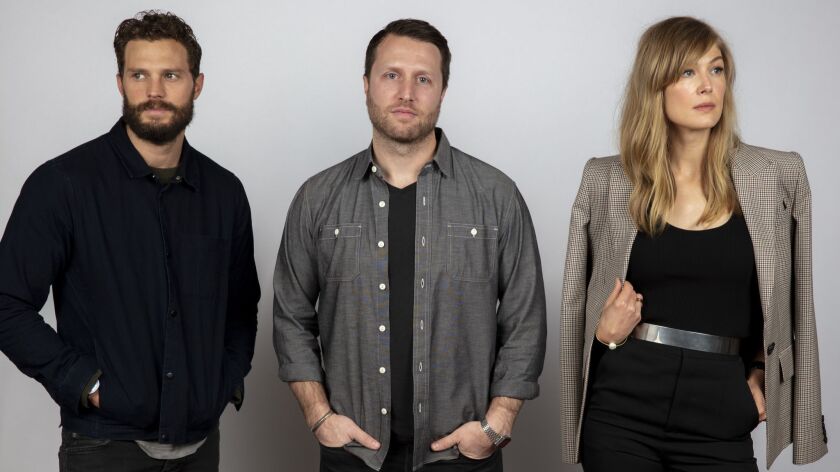 'A Private War'
The fiction feature debut for Oscar-nominated documentarian Matthew Heineman, "A Private War" is nevertheless grounded in reality and truth, telling the story of award-winning war correspondent Marie Colvin. In the lead role, actress Rosamund Pike gives a rich, multifaceted performance that has brought her wild praise.
In his review for The Times, Kenneth Turan wrote, "this impressive film pulls few punches in unflinchingly detailing from the inside — graphic nightmares included — the complexity of the effect war had on Colvin and the world surrounding her."
Emily Zemler spoke to Pike for an article that will be publishing soon. The actress said of the role, "Modern warfare is a very, very scary place to be. There are images I've now seen I will never, ever forget. That I will never be able to un-see. That's a tiny fraction of what Marie would have been exposed to. But Marie was amazing. She was such a romantic, she was such an optimist. She saw all that and she remained such an optimist, in such a lovely way."
At Vulture, Emily Yoshida declared Pike's turn in the film "one of her best performances to date," before adding that, "Heineman's film is, in many ways, the movie so many people say they want: a portrait of a deeply complex, flawed, but brilliant and forceful woman. But as tempting as it is to think of Pike's Colvin, with her eyepatch and sailor's mouth, as a 'badass,' there's not much that's aspirational about the film. It's wise enough to see both the courage and the immense value in her work, and the tremendous toll it took on her life, all the way to the end."
Email me if you have questions, comments or suggestions, and follow me on Twitter @IndieFocus.
SIGN UP for the free Indie Focus movies newsletter »
---
Inside the business of entertainment
The Wide Shot brings you news, analysis and insights on everything from streaming wars to production — and what it all means for the future.
You may occasionally receive promotional content from the Los Angeles Times.